A 6-foot-tall granite monument inscribed with the Ten Commandments was removed from the Oklahoma Capitol grounds on Oct. 6 after judges ruled that its placement on government land violated state law.
Oklahoma's state constitution prohibits the use of state property to further any religious agenda, which makes sense given the United States' foundational principle of the separation of church and state.
But to Franklin Graham, president of the Billy Graham Evangelistic Association and Samaritan's Purse charity, the monument's removal was nothing short of an assault on Christianity akin to the rampages of the Islamic State.
Graham claimed on his public Facebook page that "[a]theists, activists, and anti-God groups like the ACLU, the Freedom From Religion Foundation, and the Military Freedom of Religion Foundation" are out to destroy the Christian faith.
Last year, militants told all "People of the Book" -- including Christians, Jews and Zoroastrians -- in Iraq and Syria they could either convert or pay a special tax if they wished to remain in their homes, according to The New York Times. If they refused, they could be killed, raped or enslaved.
The Islamic State has targeted sites that are sacred to many faiths in the Middle East, not even sparing those of importance to Islamic cultural heritage. In July 2014, a Twitter user claiming to be a member of the Islamic State threatened to destroy the Kaaba, a building at the center of Mecca's mosque and one of the most sacred sites in Islam.
In comparing the removal of Oklahoma's Ten Commandments monument to the attacks of the Islamic State, Graham joins a chorus of conservative Christians, including GOP presidential hopeful and former Arkansas Gov. Mike Huckabee, and TV host Bill O'Reilly and others, who claim that American Christians like Kim Davis -- the Kentucky county clerk who was jailed briefly for refusing to issue same-sex marriage licenses -- are being persecuted for their beliefs. But the atrocities being committed against Christians, and all faiths, by the Islamic State are horrifying and draw no comparison in the U.S.
Ironically, the supposed champions of religious liberty were silent when Muslim Americans were forced to walk by hateful protesters on their way to mosques around the country this weekend.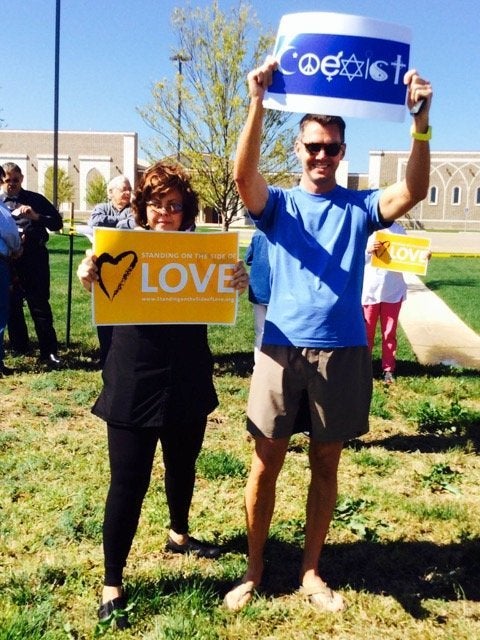 Interfaith Community Stands In Solidarity With American Muslims
Related
Popular in the Community