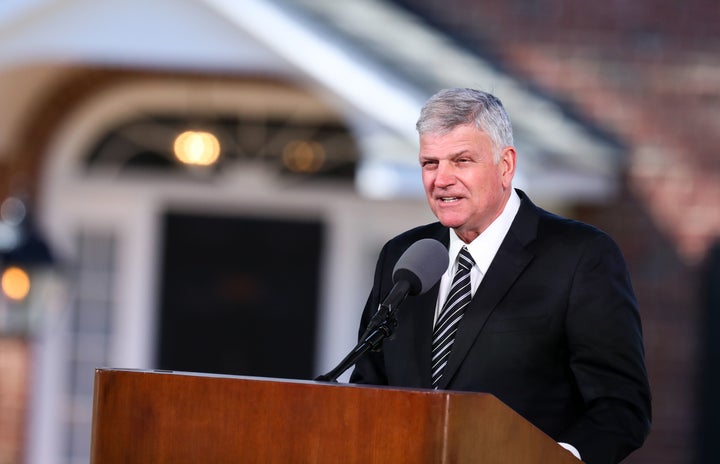 Evangelical preacher Franklin Graham is buckling in against heated criticism of his upcoming U.K. rally after a local bus company pulled advertisements for the controversial event.
Graham, a staunch supporter of President Donald Trump, plans to preach at the Lancashire Festival of Hope in Blackpool in September. He has held numerous similar three-day rallies in cities around the world, in the style of the "crusades" once led by his famous father, the late Billy Graham. But progressive Christians in these cities ― who criticize Graham for his overt anti-Muslim and anti-queer views ― haven't always given the preacher a wholehearted welcome. 
Late last year, British pastors and politicians tried urging the U.K.'s home secretary, Amber Rudd, to ban Graham from entering the country altogether ― a plan that never quite got off the ground. This month, Graham's detractors took aim at advertisements that Festival of Hope organizers placed on the sides of some Blackpool buses. 
After receiving customer feedback and reactions on social media, Blackpool Transport announced on July 10 that it would be removing all ads for Graham's event.
"The removal of these adverts is as a result of us listening and acting on customer and public feedback which we aim to do at all times," the company's managing director, Jane Cole, said in a statement released to HuffPost. "Blackpool Transport is a proud ongoing supporter of the Pride and LGBT+ communities and in no way did we intend to cause any distress or upset."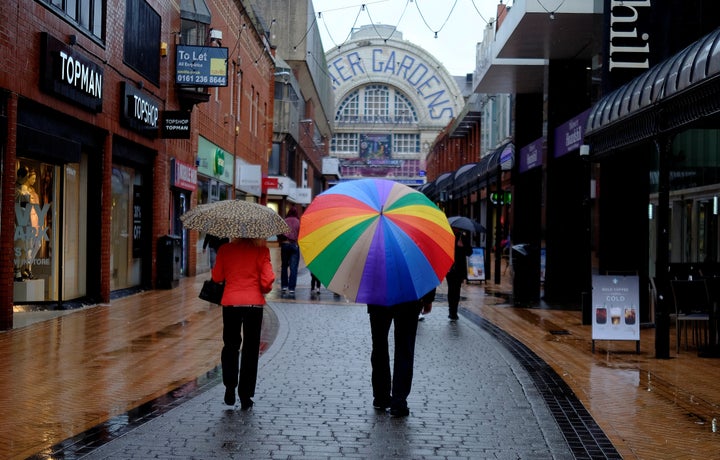 Leaders with the Lancashire Festival of Hope called the decision to remove the bus ads a "travesty." In a statement posted to their website after the July 10 decision, they said the event had the support of nearly 200 local churches and claimed its sole purpose was to "share the hope of Jesus Christ."
"Because the Christian community is also a customer, we hope Blackpool Transport will listen to our public feedback as well, and not show what appears to be a potential bias toward Christians," the leaders said.
On Friday, a representative for the Blackpool Council told HuffPost that the transportation company hadn't changed its decision. The council, which owns both Blackpool Transport and the Winter Gardens venue where the festival is taking place, has chosen not to promote Graham's event, the representative said, adding that it wasn't "appropriate" for the company to do so either.
Blackpool Council previously said it has a "contractual obligation" to allow the Billy Graham Evangelical Association, which is led by Franklin Graham, to hold the festival at the Winter Gardens. However, the council pledged to make it clear that festival organizers should comply with U.K. laws against inciting hatred.
"If matters are brought to our attention, that could constitute incitement to hatred, we will forward these to the relevant public authorities and should this be proved we will not hesitate to terminate this booking," the council said in a statement last year. 
Graham himself hit back against Blackpool Transport's decision on his popular Facebook page. He insisted that he was coming to Blackpool to preach about "hope for today, hope for tomorrow, and hope for eternity."
"I'm sorry that some see hope as offensive, but I can assure you that tens of thousands of people in Blackpool and across the United Kingdom are searching for hope," he wrote in a July 13 post.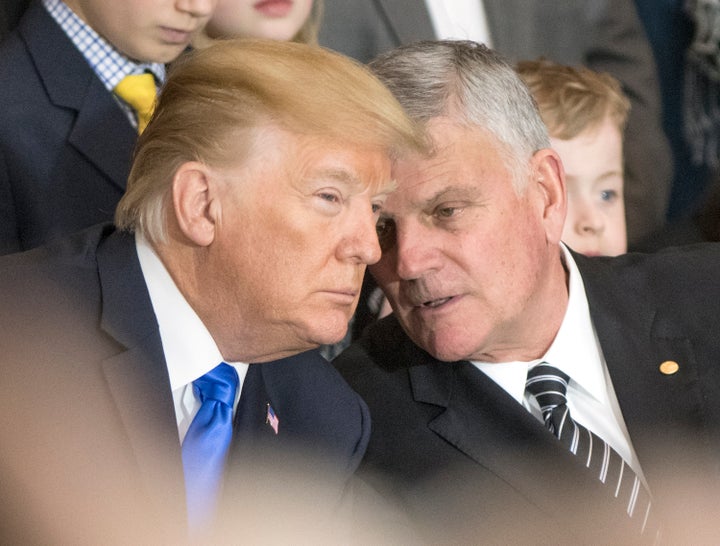 But some British Christians are saying the "hope" Graham promises to bring to Blackpool is divisive and discriminatory.
In the past, Graham has railed against the "LGBT agenda," which he equates with "sin." He's been staunchly opposed to LGBTQ advocacy, claiming that Satan is behind the movement for queer rights. 
He's also been highly disparaging of Muslims, claiming that Islam is an "evil and wicked religion" and even proposing a ban on Muslims entering the U.S. in July 2015, months before Trump did the same. 
These views, along with Graham's other political positions, have meant that Christian leaders in some of the cities he visits have been divided over whether to receive him with open arms. Even some some conservative Christians, who may agree with Graham on matters of sexuality, have withdrawn their support from his Festivals of Hope. Graham has faced resistance from Christian leaders in Japan, Norway, Canada, Puerto Rico and now the U.K.
Jayne Ozanne, a gay British Christian activist, told HuffPost she thinks Graham probably holds his controversial views "in good faith." But she questions whether the gospel he's preaching is one that witnesses "Christ's unconditional love and acceptance of all."
"This event will not model 'good disagreement', but will rather provide a platform for espousing bigotry and hate in Christ's name," Ozanne wrote in an email. "It seems particularly unfortunate that this is occurring during a time when many of us are trying to build bridges of understanding between groups who hold widely opposing views."
Tracey Byrne is chief executive of the queer Christian organization OneBodyOneFaith, which works for the full inclusion of queer Christians in the church. She told HuffPost she believes Blackpool Transport "absolutely" made the right decision in choosing to remove festival advertisements from its buses. 
She's concerned about the event because "LGBT+ people have been hurt, humiliated, silenced, abused and 'prayed for' in the past," she said. 
Despite their good intentions, festival leaders are most likely brushing the "ugly reality" of their theology under the carpet, she said. 
"With [the festival's] on-trend branding and benign images of unquestionably well-motivated community engagement, people could be forgiven for not realizing that the underlying theology is one which does grave damage to LGBT people, in the name of God," Byrne wrote in an email. "This theology ... has to be called out in the strongest possible terms." 
Calling all HuffPost superfans!
Sign up for membership to become a founding member and help shape HuffPost's next chapter
BEFORE YOU GO
PHOTO GALLERY
15 Moments In Queer Religious History That Give Us Hope