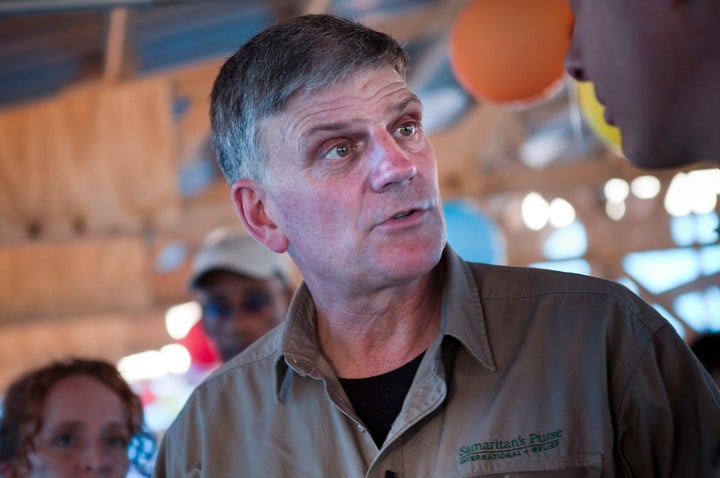 Rev. Franklin Graham, an evangelical pastor and the president of the international Christian relief organization Samaritan's Purse, sees no problem with the White House's plans to prevent refugees fleeing war-torn Syria from entering the United States.
For Graham, it's simply "not a Bible issue."
President Donald Trump is expected to sign executive orders later this week that could temporarily ban refugees and immigrants from countries his administration deems high-risk, like Iraq, Syria, Iran, Sudan, Libya, Somalia, and Yemen. According to a draft version of the document obtained by The Huffington Post, priority will be given to religious minorities ― which means Christians in these Muslim-majority countries could be favored over Muslims.
Graham, son of the famous evangelist Billy Graham, has stood firmly behind Trump's administration since the election, joining the president's "Thank You" tour and offering a Bible reading at the inauguration.
As the leader of a humanitarian organization that provides relief to victims of war, poverty, and persecution in over 100 countries, Graham is acutely aware of the needs facing refugees in the world's most troubled regions. Samaritan's Purse stated mission is to "to follow the example of Christ by helping those in need and proclaiming the hope of the Gospel."
Graham said he doesn't believe those two things need to be reconciled.
"It's not a biblical command for the country to let everyone in who wants to come, that's not a Bible issue," Graham told HuffPost. "We want to love people, we want to be kind to people, we want to be considerate, but we have a country and a country should have order and there are laws that relate to immigration and I think we should follow those laws. Because of the dangers we see today in this world, we need to be very careful."
For Graham, this vetting process isn't good enough.
"I think it can be better," he said. "There are some very dangerous people in the world today, especially coming out of the Middle East."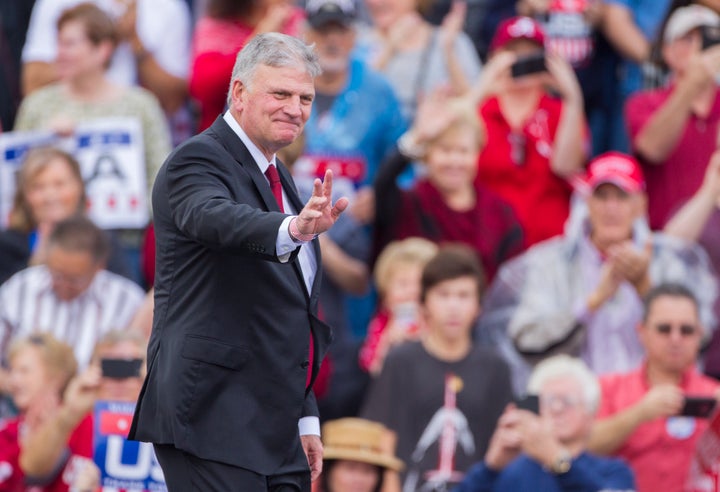 In 2015, Graham proposed a ban on Muslims entering the United States.
In a Facebook post, Graham wrote: "We are under attack by Muslims at home and abroad. We should stop all immigration of Muslims to the U.S. until this threat with Islam has been settled. Every Muslim that comes into this country has the potential to be radicalized―and they do their killing to honor their religion and Muhammad."
During the interview with HuffPost, Graham mentioned that Samaritan's Purse operates an emergency field hospital near Mosul, Iraq. The hospital is prepared to assist civilians who are injured during conflicts between Iraqi Security Forces and Islamic State fighters.
"A lot of our patients are women and children who have been shot in the back as they're fleeing ISIS, I've seen this first hand," Graham said. "We need to know who we're letting in this country."
When asked whether he believes religion should be used to determine whether which refugees should be allowed to enter the United States, Graham told The Huffington Post that he believes persecuted religious minorities around the world ― Jews, Yazidis, and Christians, in particular ― should be given priority.
"We live in a very dangerous world and I think the president's first priority is to protect the American people and until there is a better system in place for vetting and knowing who comes into America, I believe every person who comes unto the U.S. should be vetted," Graham said. "We need to know who they are and what they believe, if they share the same core values of freedom and liberty."
Popular in the Community