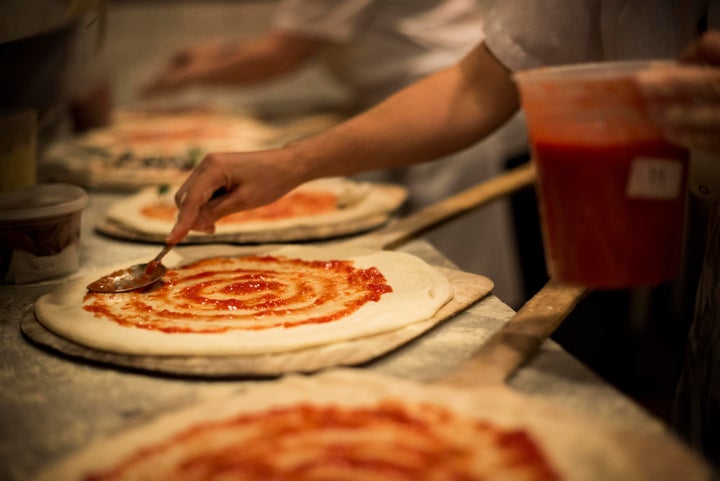 UPDATE: 10:30 a.m. -- In response to customers who perceived the surcharge as a protest of Obamacare, Franny's on Wednesday said it would remove the 3 percent fee on checks and instead incorporate it directly into higher menu prices.
"Clearly our intent was misunderstood and our guests have made it clear that they would prefer to see higher prices as opposed to a surcharge," the owners wrote in a letter to guests. "Initially, we thought, before we start putting $22 pizza on the menu, let's be transparent about what that money is actually going towards."
From a shortage of cooks to mounting pressure over eliminating tips, the restaurant industry is grappling with how to meet changing expectations. Franny's, a Brooklyn pizzeria, announced a new plan to help absorb increasing costs: adding an Obamacare fee to checks and raising menu prices. 
Beginning Tuesday, Franny's will add a 3 percent surcharge on checks to offset the cost of offering employees health insurance. The Affordable Care Act, also known as Obamacare, stipulates that businesses with more than 50 full-time employees provide insurance or risk being fined. Franny's owners run two other local establishments, Rose's Bar and Grilled and Bklyn Larder, altogether employing more than 50 workers. 
Franny's co-owner Francine Stephens told The Huffington Post that the surcharge is not meant to be a "protest against Obamacare," adding, "it's quite the opposite."
The popular restaurant will also hike the price of certain menu items so it can pay its cooks more. Pasta will now be $19, and pizzas (including Franny's well-known clam pie) will be $20.
As support for a higher minimum wage grows across the country, employers are feeling the strain, and bigger paychecks have often gone hand-in-hand with price increases.
Noted restaurateur Danny Meyer made headlines last month for banning tipping outright and increasing menu prices at his Union Square Hospitality Group eateries. But such a move isn't feasible for smaller companies whose workers rely on gratuity.
"Franny's is not in a position to eliminate tipping at this point," said Stephens, who opened the popular joint with husband Andrew Feinberg in 2004. "The risk of attrition is too large. It's the sole support of our livelihood."
Stephens said she anticipates that some customers will be turned off by the increases. "We wanted to offer transparency in our decision," she added. "We raised it to enable us to give cooks a living wage and to cover wage laws."
By raising cooks' pay, the owners also hope to improve retention rates and attract more talent. "The overall costs of living in New York have increased so significantly that many of the talented cooks we employ are leaving, choosing to cook elsewhere, because they can't afford to live in New York," they wrote in an email to customers.
This post has been updated to include Franny's decision to remove the Obamacare surcharge. 
Calling all HuffPost superfans!
Sign up for membership to become a founding member and help shape HuffPost's next chapter