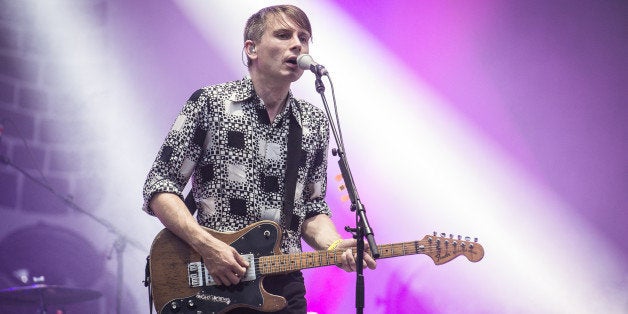 The members of Franz Ferdinand are in a good mood. In fact, they usually are. It's something I ask lead singer Alex Kapranos about when I speak to him via phone call from London. Unlike some indie-rock outfits, Franz Ferdinand's lyrics tend to be sanguine -- less melancholic. Kapranos recognizes this quality about his band, even if he chuckles at the question like the observation is foreign to him.
It may help that Franz Ferdinand has maintained a pretty even level of fame for quite some time. After hitting mainstream success with 2004's "Take Me Out," the quartet from Glasgow was everywhere, at least as far as indie crossovers go. The group hasn't seen a single as monstrous as that breakout, but the band remains a staple among fans. They recently performed on "The Late Show with David Letterman" and "Conan," ushering in the release of their fourth album, "Right Thoughts, Right Words, Right Action," which hit stores Tuesday.
The band returns after a four-year hiatus, preparing to embark on a North American tour that includes some of Kapranos' favorite cities. The lead singer spoke with HuffPost Entertainment about the reception Franz Ferdinand sees stateside, as well as the collaborations on their new album and, of course, Miley Cyrus' Video Music Awards twerking.
It's been a while since we heard from you guys, a good four years since the last record. What have you and the rest of the band been up to in the interim?
I guess after we finished our last record we took about a year and a half; it was a really, really long time, and we kind of, as a band, realized that people want to see us in all sorts of countries in the world, and it takes awhile to get around them all. But then after that, we felt exhausted, so we took a bit of a time-out, a bit of a rest. And then about a year and a half ago, we got back together and decided we were going to make another record.
This album is quite strong, and the lead single is particularly impressive. You guys have always selected interesting lead singles to promote the albums. How do you select which song will be the lead single? Is it often the first song completed for the album?
That's interesting, yeah. Funny enough, the song "Right Action" was one of the first. It maybe wasn't one of the first we started working on, but it was one of the first that was recorded. But there's often a fair amount of debate as to which song should go out first, particularly with this record. I think we felt that there were quite a few songs that would represent the mood of the record in different ways, but I guess we chose it because the album title is taken from a line in the song. It represents the mood of the band right now pretty well, and the way that we are feeling. ... It's a pretty positive line for the record, and it's a line in the song itself.
That's an interesting thought. One thing that I've always loved about you guys is that you seem like a very happy band. Your lyrics are mostly positive and your songs are upbeat, which is not something that you always see in indie-rock bands.
[Laughs] I guess that's true. There are definitely other sides to the lyrics, and I'd say a song on this record like "The Universe Expanded" is definitely a type of sweet melancholia, which I'm very fond of. ... You can address that type of lyric and still have an upbeat song at the same time. ... For me -- and I suppose this is true of the songs that are on the record -- the emotions that we come across in our lives are usually paradoxical. You never have any pure emotions; you never have pure happiness or pure joy or pure anything -- they're always mixed with other feelings. We usually feel several emotions simultaneously, and the first line of "Right Action" is this line which I discovered on a postcard, which are the words "Come home, practically all is nearly forgiven." And at first glance, it seems to be this wonderful welcome home to somebody who has been forgiven of their errant ways, but it really is about "practically all" and "nearly forgiven," and I don't actually want to return home if I got that message. So that made me think about these situations where we find ourselves in life riding these emotional paradoxes. How do we deal with them? What's the right way to deal with them? And that's what the cause is for -- having right words and right thoughts and right actions. It's about having a frame of mind.
How did some of the collaborations you guys have on this album, namely with Hot Chip and a couple of other A-list contributors, come about?
These are just guys whose music we really admired. We're particularly drawn to other musicians who work in production like ourselves and are a little bit more quirky, sort of not mainstream career producers who work solely in production, because we wanted it to be a collaboration. We're a very human and a bit of a quirky band, and I guess we were drawn to other people like that: Bjorn Yttling of Peter Bjorn and John, whose music has a lot of character and whose production has a lot of character. And also Todd Terje, who's worked on a couple of tracks as well: He's a Norwegian producer and DJ, and his music, while coming from the electronic world, has such -- wow, I don't even know the word -- humanity. It has this really lovely, warm brand of humanity about it. That's what drew me toward the people we worked with.
What differences do you see in the reception you receive in the United States, particularly during live gigs, as opposed to what you get back home? Does the energy of the crowd feel different when you're playing a gig in America?
You know what, I think it's often a more difference between cities than there is between countries or continents. There are certain cities that regard themselves as cool, and they often take a little more convincing than a city that's a little more easygoing. So the cities that, regardless of being a little cooler, are usually the ones that are spoiled with their choices of bands. You know, the major points on any band's touring schedule. You'll find that a city like London and New York will have a similar type of audience, whereas a city like, I don't know, Glasgow and Detroit probably have a more similar frame of mind and a similar attitude toward each other.
Do you have a favorite American city that you guys have played in, or a few favorites?
There are a few cities that I really enjoy visiting and going back to, and New York is one of them. I love going to New York; I've spent a lot of time in New York. I do like the Midwest a lot as well; I enjoy Chicago and I like Detroit. I'm just beginning to get my head around L.A., and San Francisco, sure. I like some of the university towns as well like Lawrence, Kan., or Columbus, places like that, where there's a very different personality in all these different places. To me, I still love it. I never thought in my life until Franz Ferdinand took off that I would get to travel the States in the way that I have, and when I do it, I'm still kind of pinching myself.
I didn't know until preparing for this interview that your middle name is named after Paul McCartney.
That's right! My dad didn't know either until quite some time.
Really?
Yeah, my mom had a hush crush on Paul McCartney, as many women her age, or girls her age, did. And I think when they were naming me -- my dad is Greek, and Alexander is a very Greek name -- and my mom would say, "You know, Paul's a really lovely name, I've always loved Paul. How about a nice middle name like Paul?" And it only came out years later, the truth of her inspiration. I'm very touched by it.
Have you gotten to meet Paul McCartney since joining the music world?
I did, yes! I have met him. I've never mentioned it to him. I decided against it -- didn't want to make the poor chap feel uncomfortable.
On that note, I know this is a little outside your genre, but I'm always curious how bands with more eclectic audiences, as you guys have, feel about the state of pop music. Have you been in tune with what happened at the VMAs on Sunday and everything that's been coming out of the mainstream realm as of recently?
Sure, well, the way I feel about pop music is the way I feel about music in general, which is that there's a slice of it which excites me intensely, carries me on and makes life worth living, and a tiny, tiny little fraction that I don't really like, and then a big chunk in the middle that I'm fairly ambivalent about: It's meh, it's kind of background and it doesn't affect me in any way. What I do feel is that pop music has a role that is to be provocative, to intimidate the more established end of society and to provoke conversation and debate. And the VMAs this year definitely did that.
Do you have a reaction to Miley Cyrus and all the controversy she's created for herself?
The way I feel is, I hope Miley Cyrus is having a really good laugh about the whole thing. How old is Miley Cyrus? She's pretty young, right?
Yeah, she's 20.
20 years old! Great! If I was 20 years old and wilding up so many millions of people around the world, I'd be loving it. I mean, good on yourself, Miley, you go. You enjoy winding up the older generation; that's exactly what you should be doing.
I feel like a lot of indie fans feel their bands are fighting the good fight for music by going against the grain of this pop music that allegedly all sounds the same. Do you guys take approach, or what's your stance on the way indie music plays that role in pop culture?
When we write music -- in particular when we were working on this record -- I prefer to be completely removed from whatever's going on around me in music. I don't think you should be writing music that should either fit into what's going on around you or enter a preexisting role of rebellion against what's going on. You should write in a way that's completely independent of that, and as for the idea of pop music, well, any pop music is different for different people. Some people do consider pop music as purely what happens to be in the Top 40 charts. I see it in a slightly different way. To me, pop music is music that is direct and doesn't necessarily have to be shallow. In fact, the best pop music to me isn't shallow. The best pop music has a depth to it, but above all, it's like being stabbed in the heart or stabbed in the brain with the melody or an emotion immediately, and that's got to be a good thing.
"Right Thoughts, Right Words, Right Action" is in stores now.
Before You Go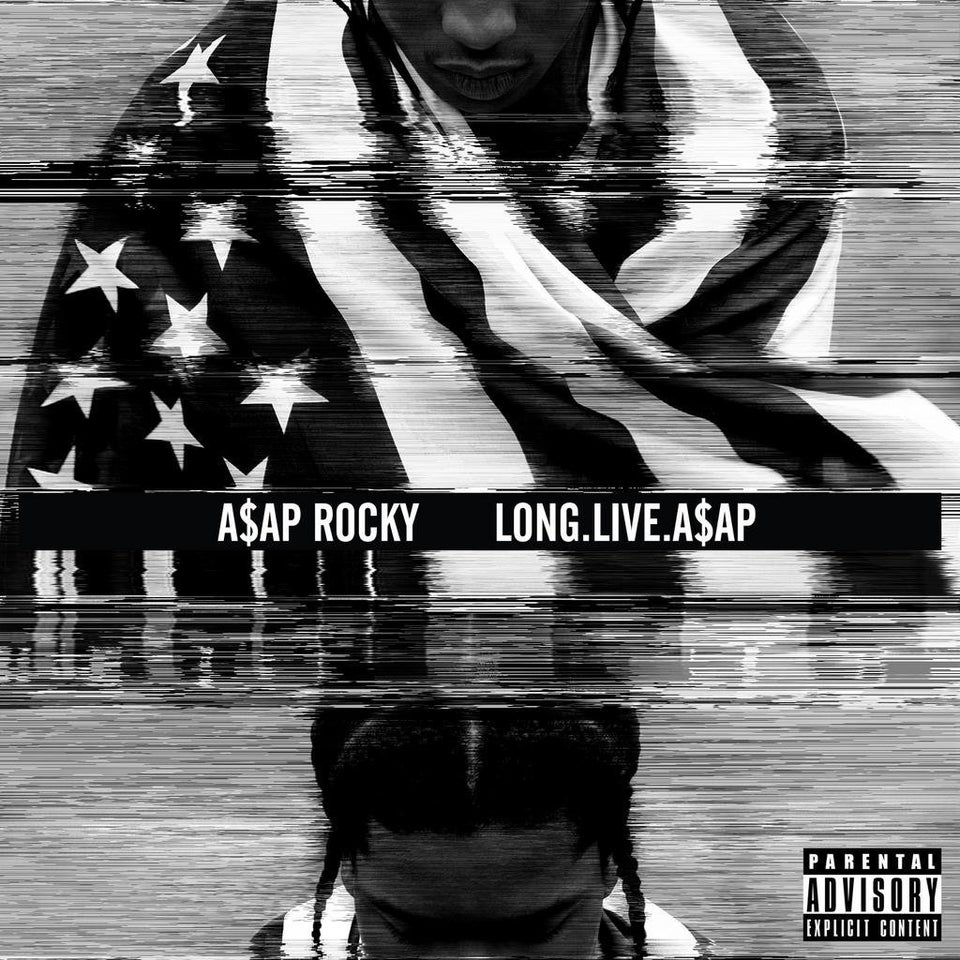 2013 Music Preview
Popular in the Community