A fraternity chapter is working and raising money to make its house more accessible to people with disabilities.
They also have plans to chop up the chapter president's large bedroom to add a wheelchair-accessible bathroom so freshman Greyson Jennings can eventually move in, a brother told The Huffington Post.
Jennings was born with arthrogryposis, a condition that causes contractions of the joints. He told WYCB that joining a fraternity was a goal as he started college.
He found a good match in Sigma Chi.
"We knew right away we wanted him based on his character," junior Brandon Johnson told The Huffington Post.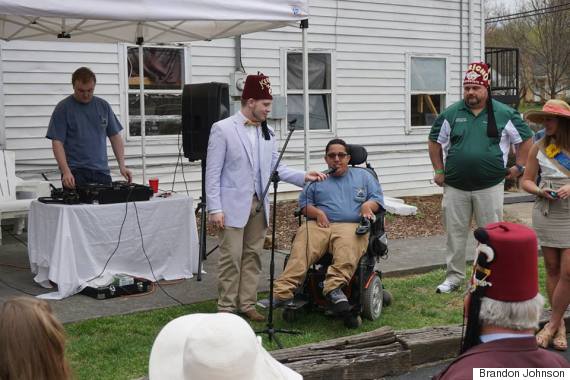 Unfortunately, their fraternity-owned house was built 80 years ago and is not compliant with disability codes. On Jennings' first visit to the house, Johnson said the brothers chopped the legs off an old bed and laid it over the steps to form a makeshift ramp.
That wouldn't work in the long term. Johnson said the fraternity raised $6,000 in donations "basically overnight," much of it from the fraternity's local alumni. Most of the wood for the ramp was donated by members who work in construction.
Sigma Chi is in the middle of "Derby Days," a week-long series of fundraising events. All the funds they raise will go to Shriners Hospitals For Children, where Greyson was treated as a child.
"Without them, I wouldn't be here today," he told WCYB.
Fraternities have been in the news for all the wrong reasons lately, and Johnson says the chapter is trying to paint Greek life in a positive light. Fraternity members "may mess up sometimes and do some pretty stupid things," he admitted. "But they do also come together to support the community and make a difference in someone else's life."
Jennings said he hopes Greek organizations everywhere will be more inclusive of people with disabilities.
"I look forward to the future. Hopefully each fraternity at ETSU, maybe nationwide, will look at this and grow -- and for the disabled community to participate in the change," he said.
Calling all HuffPost superfans!
Sign up for membership to become a founding member and help shape HuffPost's next chapter
BEFORE YOU GO