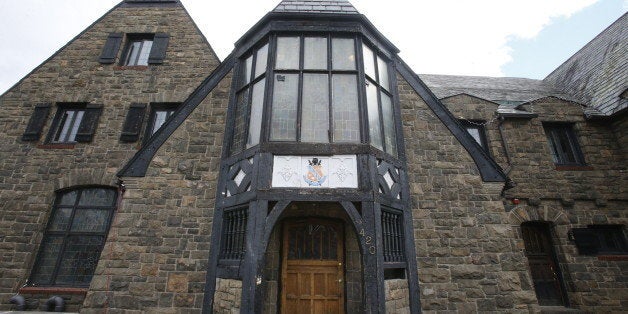 National Greek life organizations are advocating that sexual assault survivors should not be able to pursue adjudication through both their colleges and the police concurrently, according to a talking-points memo distributed by the groups.
The National Panhellenic Conference and the North-American Interfraternity Conference began distributing a fact sheet late last week following revelations that they will support an effort by the Fraternal Government Relations Coalition, an alliance of national fraternity and sorority leaders that uses students as lobbyists, relating to campus sexual assault. The groups say they plan to work with the Fraternity and Sorority Political Action Committee, or FratPAC, to push Congress to keep colleges from investigating and adjudicating sexual assault cases until the completion of a criminal investigation and trial.
Aside from what's outlined in the memo, the Greek life organizations have not said publicly what they plan to advocate to members of Congress. The groups note their proposal is not yet formalized.
Larry Wiese, executive director of Kappa Alpha Order, the fraternity group that donates the most to FratPAC, told The Huffington Post their proposal would not "block" colleges from investigating sexual assault cases. Instead, it would just stop schools from investigating until police announce they are finished with their work.
The fraternity groups are "advocating to make campuses safer by providing a clear path for pursuing those who commit such crimes against students," Wiese said in a statement. "We believe law enforcement should be involved in the investigation of college-based sexual assault claims -- unless the student victim asks the college administrators not to involve the police."
Sorority women are more likely than non-Greek students to experience sexual assault, according to the National Institute of Justice. A review of campus sexual assault cases by United Educators, a liability insurance company, found that fraternity men were not more likely to be accused of sexual assault than men not involved with Greek life, but that they made up a larger proportion of repeat offenders. According to the 2007 Campus Sexual Assault Study, funded by the U.S. Department of Justice, the frequency of attending fraternity parties was "positively associated" with being a victim of incapacitated sexual assault.
Federal guidance currently instructs colleges to investigate reports of sexual assault promptly -- within 60 days, if possible -- but does not provide a comparable timeline to the criminal justice system. A 2015 poll from the research firm Penn Schoen Berland found 85 percent of Americans believe the legal system, not colleges, should be primarily responsible for adjudicating sexual assault cases.
In a March 26 memo, the NIC and NPC fought against the argument that they are trying to "make it harder to bring justice" for sexual assault survivors.
"Student victims have a right to choose whether their cases are investigated and adjudicated by an [institutions of higher education] or the local police," the NIC/NPC memo states. "Student privacy is paramount. If an affected student wishes only to avail themselves of confidential institutional services to protect their physical, emotional and educational well-being, they must be able to do so."
"Because we view sexual violence as such a severe and heinous crime, we believe the involvement of law enforcement plays a crucial role to finding a resolution when a report is submitted," the memo continues. "We recognize that a case may advance through the court system, but many times a case will be handed back to campus to investigate and adjudicate."
The Greek organizations' memo goes on to say interim measures like adjustments to class schedules, university housing or even temporary suspensions are fine, but "deeper [institutions of higher education] investigations of the alleged assault should be postponed while police are investigating."
NIC and NPC say their proposal "will make campuses safer by providing a clear path for pursuing those who commit such crimes against students."
Read the full memo below:
Related
Popular in the Community