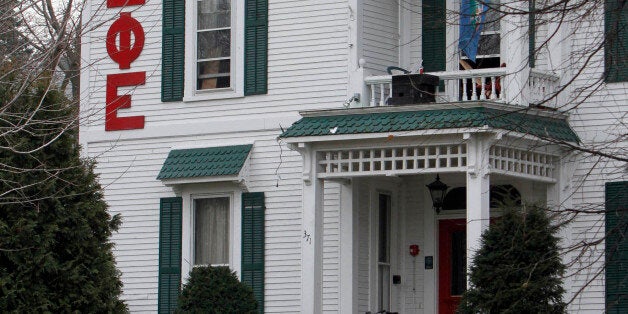 A national fraternity organization this week finalized three presidential committees to study hazing, alcohol abuse and sexual violence among college students in fraternities.
The North-American Interfraternity Conference, representing 75 international and national fraternities, announced in May it planned to set up the commissions. It selected the membership and group leaders over the summer, and those leaders were announced Tuesday.
Dr. Ed Hammond, president emeritus of Fort Hayes State University, will lead a group studying alcohol use within fraternity culture; Allen Groves, University of Virginia dean of students, will lead a group studying sexual violence and abuse prevention; and Dr. Walter Kimbrough, president of Dillard University, will lead a group studying hazing awareness and prevention.
Eight to 12 experts on the issues will make up each commission, and the full membership of each is expected to be posted online this week. The commissions will work until November 2015.
NIC President and CEO Peter Smithhisler said each commission will "take a microscope" to the issue it focuses on. He said it would be difficult to predict whether the commissions would produce specific policy recommendations or white papers, though he did say those would not be "unreasonable" expectations.
"If our goal is to advance the fraternity experience, they're going to have to make recommendations for additions or deletions, or best practices," Smithhisler said in an interview Wednesday.
The three commissions will compile and review research; study the legal and civil landscape related to the issues; and identify "specific, bold, and innovative opportunities for the NIC to exhibit leadership and influence in the prevention" of the dangerous behaviors, according to an announcement from the conference.
Additionally, the group addressing sexual violence will study attitudes supportive of rape, and the alcohol group will study curbing the misuse and abuse of alcohol.
Smithhisler said the commissions are meant to look at the current "health of the overall fraternity community" and identify behaviors that interfere with its long-term success.
"These three issues are known within higher education as areas that need leadership involvement and possible ideas for addressing them," he said. "And they are not issue-specific just to fraternities, either."
Smithhisler said he hopes the commissions' work helping fraternities address hazing would have an impact for athletics, marching bands and other student organizations with induction periods for new members.
Calling all HuffPost superfans!
Sign up for membership to become a founding member and help shape HuffPost's next chapter