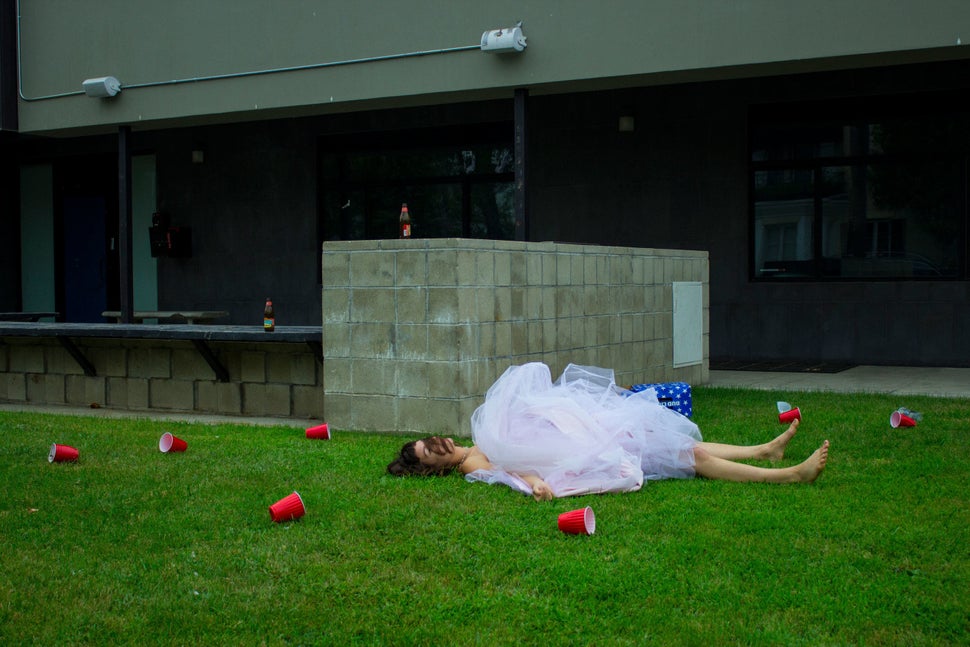 In one photo, a woman dressed in tulle appears passed out on a green lawn, red Solo cups flanking her lonely outline. In another, a figure is shown sprawled facedown beneath a messy beer pong table, not a concerned person in sight. Their faces are obscured, their bodies still, and only one subtle bit of scenery hints as to where these women lie helpless ― an ominous Greek letter hanging above a doorway.
Artist Violet Overn, a recent New York University graduate, recently created the photos, part of an ongoing series not-so-subtly dubbed "Fraternity Houses." She is the subject of every photo, though she never really shows her face. In each, she can be seen lying down on various fraternity house lawns affiliated with the University of Southern California, appearing as though she's passed out.
The grueling images, reminiscent of crime scene photos, are sharp reminders of the fact that one in five women are sexually assaulted in college.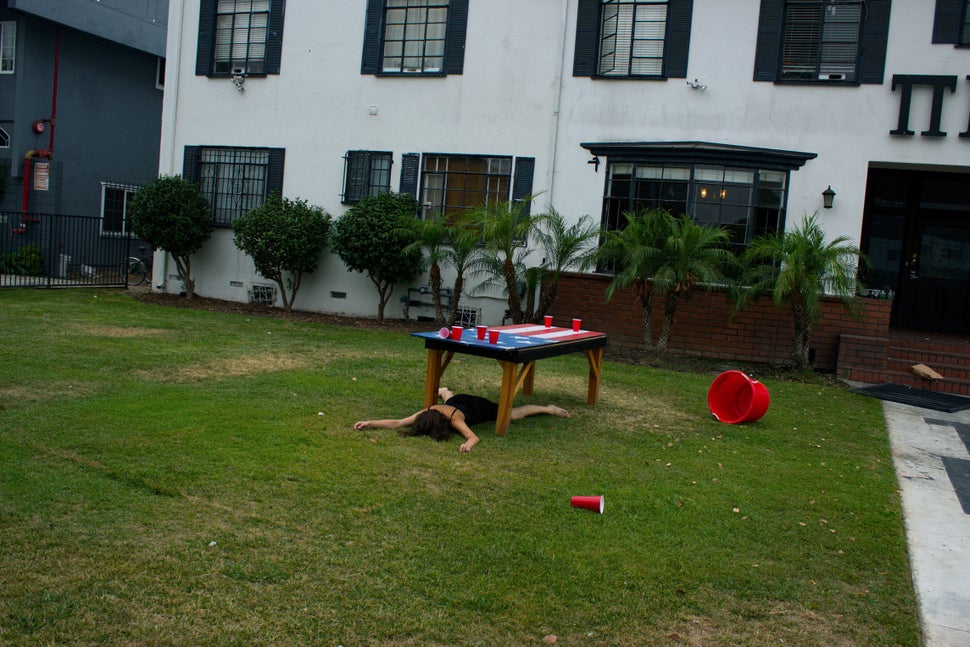 When asked what inspired the project, Overn said the most specific answer she could provide was the infamous case at Stanford University, in which former student Brock Turner was arrested for sexually assaulting an unconscious woman behind a dumpster. Turner was sentenced to just six months in county jail after being convicted of three felony sexual assault charges in March. He ended up serving only three months of his already lenient sentence.
"I was appalled at the way the media was portraying Turner, showing flattering photos," Overn explained in an email exchange with The Huffington Post, "giving him the benefit of the doubt, along with privileged treatment throughout the criminal justice system, an extremely light county jail sentence, and now even being released early on 'good behavior.'"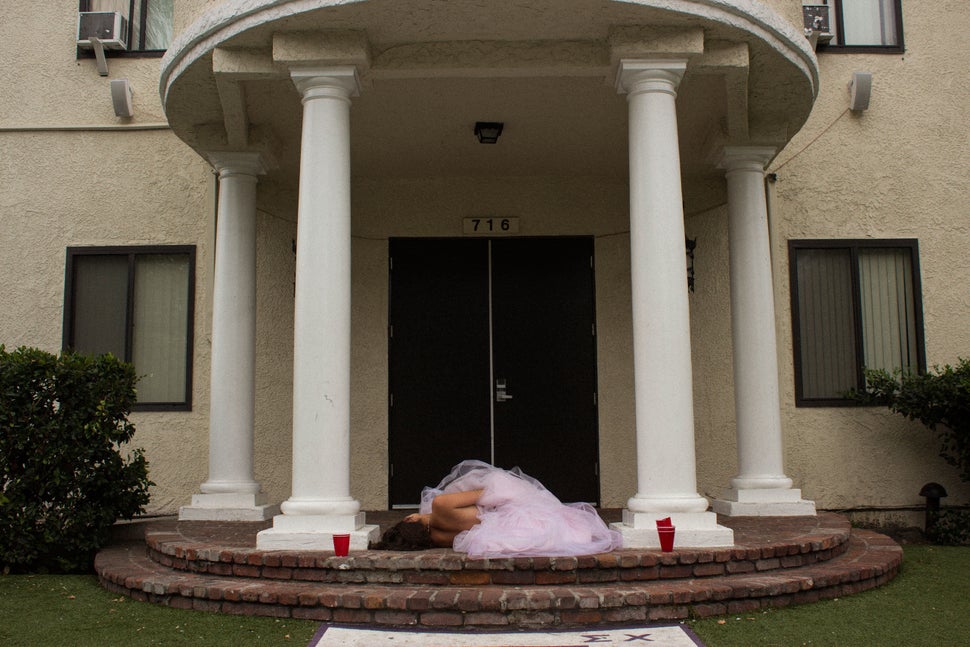 Overn told HuffPost that she has herself been in situations involving sexual assault, though she did not elaborate on those situations. She's also known many women who have had to cope with sexual assault completely alone, referencing the tragic solitude depicted in her series. "I wanted to start a conversation, start a dialogue and give a voice for victims who are forgotten or silenced," she said.
To do so, she turned her camera into a witness, intentionally styling the "Fraternity Houses" photos to look like crime scene documentation. All the cups and lawn remnants are found objects Overn collected from USC's frat row, which she manipulated for specific shots. As the subject of the photos, her pose is almost always the same: lying on the ground faceup or -down. Overn believes the poses "can be interpreted also as protest," reminiscent of sit-ins or other forms of non-violent opposition. She views her occupation of space as a physical reminder of trauma.
The photos, she reiterated, "provide an accountability when otherwise there would never be one, no one there to notice."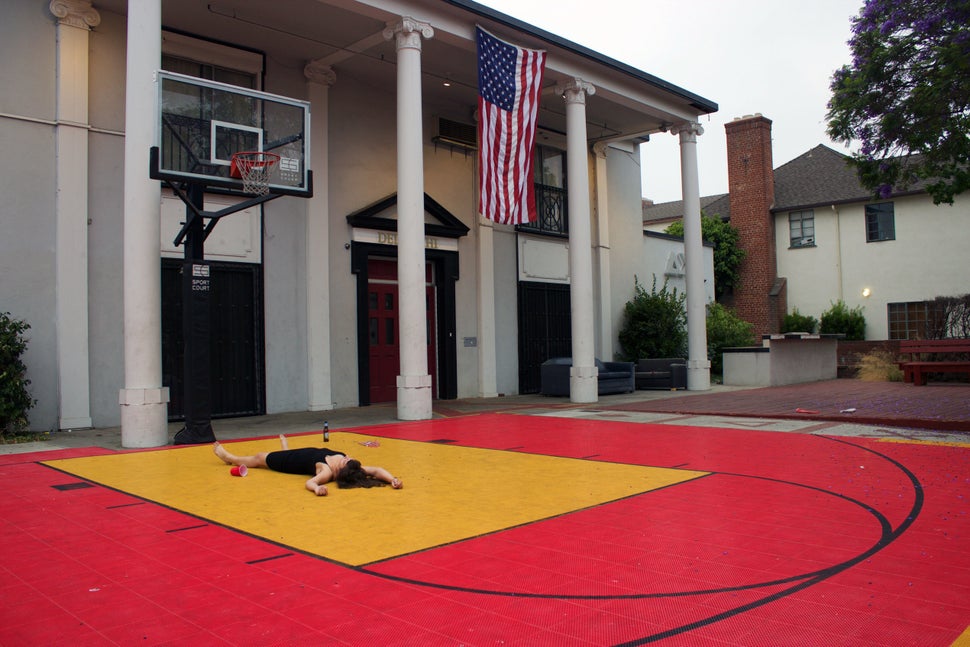 Overn declined to comment on why she chose to stage her first few photos at USC, a detail first pointed out by The Creator's Project, or where her ongoing project is headed next. She also chose not to speak about her experience on frat row, including whether or not she came into contact with fraternity brothers during her shoots. But when asked to explain what she considers the most pressing systemic issues in the Greek system today, she had this to say: 
The Greek system is a massive, prevalent institution that has to progress and change alongside the rest of society. For example, on most college campuses sorority houses aren't allowed to host parties or provide alcohol, therefore fraternities have the control of the social gatherings and women can feel pressured or be forced into having sex because of this unspoken 'trade' system. I am aware that sexual assault and sexism happen beyond the greek system, but as an artist creating artwork I'm focusing on one part of the larger problem, an institution thats [sic] traditions make it feel above the law and entitled to male power. We have to spark the initiative to provoke change for male dominance and sexual aggression to not be more prevalent within fraternity brothers and male athletes than any other student on campus. My goal is to change the institution as a whole, to have equal rules for both sorority and fraternity members, to have women not feel pressured or be taken advantage of, for women all over college campuses not have to worry about wanting to go to a party or have a drink, to have fun, to socialize, to walk home. We cannot sit back and allow this type of behavior because of social convention or tradition. Someone had to start somewhere and say something.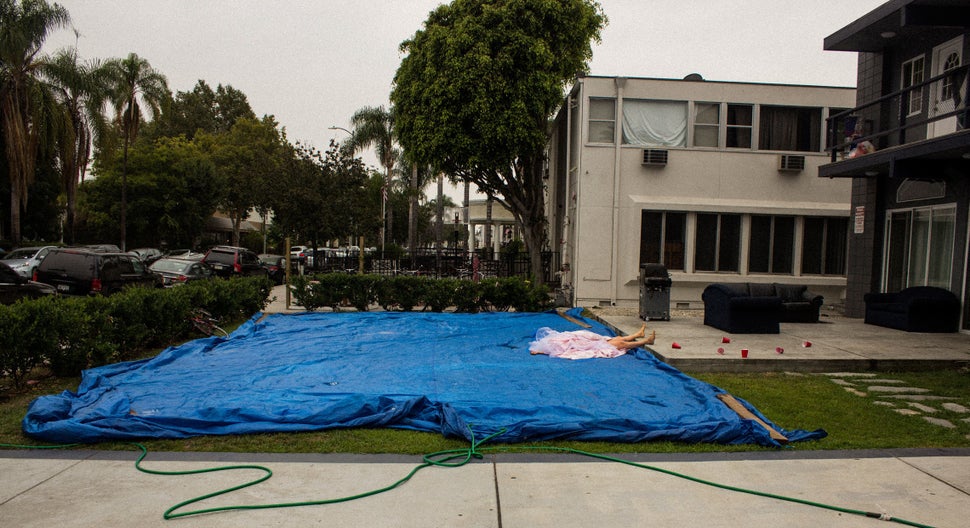 Calling all HuffPost superfans!
Sign up for membership to become a founding member and help shape HuffPost's next chapter
BEFORE YOU GO
PHOTO GALLERY
40 Powerful Images Of Surviving Sexual Assault