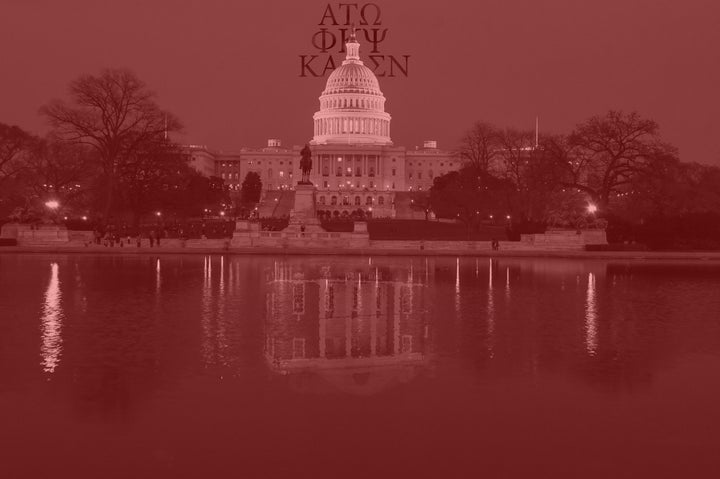 The path toward a fraternity-led lobbying effort in support of controversial campus rape legislation started with Rolling Stone.
In December 2014, one day after serious questions began to circulate about an explosive Rolling Stone story concerning an alleged gang rape at the University of Virginia's Phi Kappa Psi chapter, a group of fraternities mobilized to start lobbying around the issue of college sexual assault, according to documents recently obtained by The Huffington Post.
That lobbying would eventually pit major Greek life organizations like the National Panhellenic Conference and the North American Interfraternity Conference (NIC), two umbrella groups for national fraternities and sororities, against advocacy groups for rape victims. It would create some very public disagreements among higher education officials, fraternity and sorority executives and even U.S. senators. And all of it might have been avoided, had NPC and the NIC paid attention to the signals that there were sharp divisions within their own ranks about their legislative agenda.
Some of the same critics of the lobbying effort are now taking a more optimistic tone, saying privately that they hope recent reforms and an overhaul in the NIC's board of directors will push the fraternity group in a more productive direction. But fraternity and sorority advisers on campuses are still looking for answers about how NPC and the NIC got involved in a messy year of lobbying.
At the outset, it appeared that Greek life organizations were united in wanting to end system-wide suspensions of fraternities and sororities on campuses -- like the one UVA imposed after the Rolling Stone article, and other suspensions in fall 2014 at schools like Johns Hopkins, Emory and Clemson University.
Such system-wide suspensions had happened in previous years, but higher education officials viewed the 2014-15 academic year as a period of increasingly aggressive responses on the part of schools. A white paper prepared in November by NIC members, obtained by HuffPost, noted that these "knee-jerk" suspensions were one of fraternity executives' top concerns.
On Dec. 6, 2014, immediately after the Rolling Stone article began to unravel, the fraternities Alpha Tau Omega, Phi Kappa Psi, Kappa Alpha Order and Sigma Nu approached Kevin O'Neill, the executive director of FratPAC and the go-to lobbyist for Greek organizations. The fraternities wanted to speak to O'Neill about setting in motion a legislative effort concerning sexual assault. O'Neill drafted a proposal, obtained by The Huffington Post, and in January 2015 recruited NPC and the NIC to join the coming lobbying effort, which was expected to cost about $300,000 over 12 months.
The agenda was crafted after "collaborative conversations" with Squire Patton Boggs, O'Neill's firm at the time, said FratPAC, KA, Sigma Nu and ATO in a statement. "Through Mr. O'Neill and Squire Patton Boggs' guidance and expertise," the groups said, "our organizations were able to have a voice in this conversation."
NPC and the NIC forged ahead with a lobbying effort in favor of several controversial campus rape proposals without first obtaining support from the leadership of its member organizations. The decision to back the lobbying effort was made by each group's board of directors, NIC and NPC executives have confirmed.
By January, the budding coalition of fraternity groups had agreed on a handful of agenda items, including:
The preservation of the Title IX single-sex exemption for fraternities and sororities;

requiring the criminal justice system to handle crimes of sexual assault that occur on campus or involve students;

"deferral of any campus judicial proceeding until completion of criminal adjudication (investigation and trial)";

"constrain[ing] the inappropriate use of system-wide suspensions";

allowing universities to decide their own standard of evidence to determine guilt in sexual assault cases.
Lobbyists hired by the fraternity and sorority groups suggested taking steps to expand beyond Congress, including the development of "a model bill for introduction in state legislatures," according to a strategy brief prepared for NPC and obtained by HuffPost. They recruited former Senate Majority Leader Trent Lott (R-Miss.), himself a Sigma Nu member, to work with them. Phi Psi dropped out of the lobbying effort, but declined to say why for this story.
In a brief statement this week, interim Phi Psi chief Blake Yeaman said he has "faith" in the new NIC leadership and their ability to "have an open dialogue with any legislation to find common ground and materially improve the safety of all students on any campus."
In the strategy brief, the lobbyists wrote about how to deal with a potential media backlash: "We understand that the public relations aspect of this situation is a serious problem, especially for fraternities. We would work closely with your public relations team to explain the legal and policy positions needed to educate various constituencies about your rights. We favor a more aggressive outreach than the fraternity system has shown to date."
When the legislative agenda leaked, executives involved in the fraternity lobbying effort disregarded multiple warnings, in person and in public statements, that the higher education world and rape victims' advocates did not support their proposals, according to people familiar with the discussions.
Top leaders from the Association of Fraternity/Sorority Advisors (AFA) said multiple times in private meetings with fraternity leaders over a period of several months that they found "unconscionable" the idea of blocking colleges from responding to student sexual assault reports. The fact that NPC and the NIC were plowing ahead with a legislative agenda advocating as much in a lobbying effort was "scary," AFA Executive Director Mark Koepsell remarked to colleagues in March, after the groups' lobbying agenda leaked.
The NIC membership did vote in April on a motion that would have given fraternities across the country more of a say in the NIC's legislative positions -- but that motion failed.
NPC confirmed that spring 2015 was when "key components of the legislation were coming together." Indeed, while those Greek life students roamed Capitol Hill, the "Safe Campus Coalition" filed its first congressional lobbying report on April 27.
Things went quiet until July 29, when the Safe Campus Act and Fair Campus Act were introduced in the House, and the NIC had plenty of materials ready to promote the bills.
Rape victims' advocates and campus safety groups objected to the Safe Campus Act because it would prohibit colleges from investigating reports of sexual assault unless the accuser also went to the police. Sexual violence would be the only form of misconduct subject to this requirement, meaning that colleges could still punish other illegal behavior like physical assault or theft.
O'Neill and other executives involved in the lobbying effort responded to the criticism from people working in higher education by noting that they'd worked with a victims' rights group prior to endorsing the bill. But to date, no such group has declared its public support for the Safe Campus Act. On the other hand, hundreds have stated their opposition to it.
Staff from the Rape, Abuse & Incest National Network met with NPC, reviewed their bill and declined to support it. Officials from the American Association of University Women made it known privately that they disagreed with NPC's legislative agenda. After the Safe Campus Act was introduced, AAUW publicly criticized its provisions in a congressional hearing.
On several occasions this year, fraternity executives and lobbyists have cited a February 2015 poll showing that Americans favor law enforcement taking a primary role in campus rape cases -- and pointed out that the poll was commissioned by a leading victims' rights group. That group turned out to be RAINN, which at the time was trying to bolster support in the Senate for the Campus Accountability & Safety Act, a separate bill that does have endorsements from rape victims' advocates.
"The McCaskill-Gillibrand reaction to the NIC/NPC proposals made it fairly clear to people it would not be enough that everything should be handled by the criminal justice system," said Peter Lake, director of the Center for Higher Education Law and Policy at Stetson University. "There's a substantial group in Congress that will oppose something that is only focusing on external law enforcement."
Both NPC and the NIC have replaced their CEOs since the bill's introduction. NIC's board of directors is almost entirely different as well.
Moving forward, said interim NIC boss Jud Horras, "the conference is firmly committed to an open, transparent, and collaborative approach with our members, higher education partners, and all stakeholders in present and future legislative initiatives."
NPC and the NIC have since revised their legislative agenda to more closely align with the Fair Campus Act. The Fair Campus Act is similar to the Safe Campus Act, but does not prohibit colleges from investigating sexual assaults. The Fair Campus Act would allow schools to use more strict standards of proof in deciding whether a student committed an offense, but the NIC is no longer lobbying for that component.
"Where I feel good is the conversation is finally actually happening," Koepsell told HuffPost. "People are at the table. I feel very good that they've pulled away from Safe altogether ... There are massive changes in representative leadership right now, and instead of just issuing statements on both sides, I hope now we can come together at the table."
Read the internal memos laying out how the fraternity and sorority umbrella groups planned to lobby for controversial campus rape proposals:
Popular in the Community