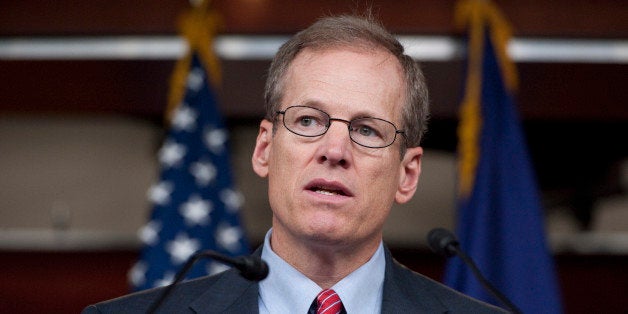 It seems as though the nation's largest political action committee for fraternities and sororities embraces the same principle college students use when purchasing cups for parties: If in doubt, buy the red ones.
Among FratPAC's donors, Bloomberg reported last year, were "executives from companies that fraternities and sororities hire to raise money for them; brokers from insurers that sell liability policies to Greek institutions; and lawyers who defend the groups in negligence and wrongful-death lawsuits." Over the course of the last full election cycle, 2011 to 2012, the PAC raised $506,852.
This election cycle, there appears to be one fraternity in particular that FratPAC favors.
The single largest recipient of FratPAC funds this cycle so far is Rep. Jack Kingston (R-Ga.), a brother of Lambda Chi Alpha while at the University of Georgia. Kingston has received $10,000 from the PAC for his Senate bid.
Given that Georgia's race is the only competitive Senate primary in which the PAC has significantly invested this cycle, it may be worth noting that Kingston isn't the only former fraternity brother among the GOP candidates vying for the Senate seat. Rep. Phil Gingrey was a Sigma Nu brother at the Georgia Institute of Technology, and businessman David Perdue was a Delta Sigma Phi, also at Georgia Tech.
But perhaps Kingston had the sentimental edge: FratPAC's executive director, Kevin O'Neill, shares his Lambda Chi Alpha affiliation.
O'Neill did not respond to a request for comment as to why the PAC is putting muscle behind Kingston's campaign.
Of the House candidates the PAC has supported this cycle, the second-largest contribution went to Rep. Kevin Yoder (R-Kan.), another Lambda Chi Alpha, who isn't considered in danger of losing his seat.
During the 2011-2012 cycle, Lambda Chi Alpha alums garnered the third largest share of the PAC's donations, while Kappa Alpha Order alums received the most in campaign contributions.
O'Neill, a partner at the law and lobbying firm Patton Boggs who works pro bono for the PAC, offered a broader reason for the PAC's electoral spending during an ABC News interview in July 2013. "We thought it important that government have more Greeks," he said.
Despite the PAC's general trend toward supporting Republican candidates, O'Neill has also said the group make every effort to contribute in a bipartisan fashion.
"The PAC takes its bipartisan mission very seriously and uses a number of criteria in making decisions about which candidates to fund," O'Neill told OpenSecrets in 2011. "Our spending each cycle has been fairly balanced given the needs of candidates up for election at that time," he added.
The PAC doesn't post frequently on social media channels such as Facebook or put out many press releases, but it does respond to articles critical of the impact of Greek organizations on college campuses.
As fraternities, under national scrutiny, move toward eliminating the tradition of pledging (or hazing), FratPAC surely appreciates a brother like Kingston in a House so dysfunctional that National Lampoon couldn't have made it up.
CORRECTION: An earlier version of this story misidentified David Perdue's fraternity. He was a Delta Sigma Phi brother.
REAL LIFE. REAL NEWS. REAL VOICES.
Help us tell more of the stories that matter from voices that too often remain unheard.
BEFORE YOU GO
PHOTO GALLERY
Senate Seats Up For Grabs In 2014