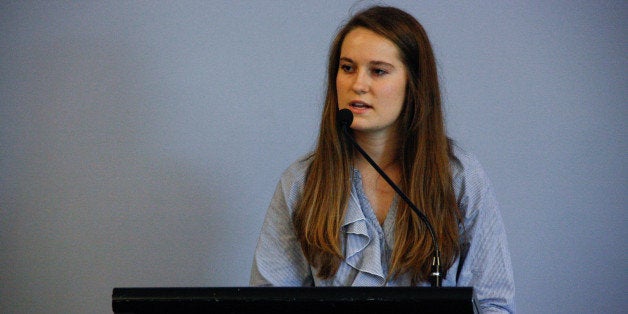 A plan being pushed by national fraternity groups to block colleges from investigating rape claims in certain cases is facing mounting opposition from fraternity and sorority members, as well as from sexual assault advocates.
The Fraternity and Sorority Political Action Committee is working with the Fraternal Government Relations Coalition (FGRC), which includes the national umbrella groups for fraternities and sororities, to organize a congressional lobbying effort to block colleges from investigating sexual assault cases until the conclusion of a police investigation and trial, no matter the length.
Taylor Fugere, a member of Kappa Alpha Theta and co-founder of Greeks Against Sexual Assault at the University of California, Berkeley, called it a "ridiculous" proposal. She argued that it would actually increase the burden on the national organizations to police their members' actions.
"It eliminates one of the most time-effective and sensitive avenues for survivors to seek justice," Fugere told The Huffington Post. "Not to mention for a lot of demographic groups, they don't comfortable going to police, and there's a history of police departments being far from being supportive of survivors." (For more on that subject, see here.)
"I was so surprised to see the organizations that endorsed this," said Julia Dixon, a Kappa Kappa Gamma member who works with the nonprofit group Promoting Awareness, Victim Empowerment. "It feels a little bit like a betrayal."
FratPAC and FGRC are gearing up for an April trip to Washington, D.C., where 100 undergraduates, including 15 student body presidents, will spend three days lobbying on Capitol Hill, according to an audio recording of a Feb. 2 conference call and a copy of an email distributed to student lobbyists, both obtained by HuffPost.
The fraternity groups plan to advocate for several proposals on sexual assault, including prohibiting colleges from investigating cases while a criminal justice process is underway, calling for more training programs and allowing for more flexible standards of evidence when schools determine guilt for sexual misconduct.
"If you do not feel comfortable lobbying on these issues or cannot support the positions being taken, you should not participate in this event," the email stated, urging students to contact one of the fraternity groups' lobbyists if they "are not comfortable with the positions and issues discussed below or have any questions about the priorities."
Students involved in the lobbying effort say they noted which topics they'd most want to address with members of Congress in their application to join the FratPAC trip. However, they didn't have a say in determining the specific proposals, and only found out the actual agenda in a January email informing them about the trip.
"It's stunning to see this disconnect," said Matthew Leibowitz, an Alpha Epsilon Pi brother who started the advocacy group Consent is So Frat. "It doesn't make sense with this proposal by FratPAC."
The effort has already attracted criticism from prominent senators and higher education professionals. Now, numerous fraternity and sorority members have also chimed in to argue that the FratPAC plan is misguided. The Greek life organizations have defended the plan, saying they'd prefer that victims have an "either-or" option for investigations -- meaning that cases would be investigated by either the college or the police, but not both at the same time.
"Requiring an 'either-or' approach unconscionably denies survivors necessary services and demands that they decide whether their assaults be addressed as crimes or civil rights violations when they are, in fact, both," said Alexandra Brodsky, a Yale Law student and co-founder of the advocacy group Know Your IX.
"This is almost as if FratPAC is giving the survivors an ultimatum: Choose to prosecute your rapist in court, or feel threatened and unsafe on campus," said an Indiana University sorority member who is also a sexual assault awareness activist on campus, and who asked that her name be withheld to avoid backlash from national Greek organizations. "Essentially, this would be forcing survivors to choose between their mental health and their physical safety."
The IU student pointed out that universities don't wait for the conclusion of criminal investigations or trials before they punish fraternities or sororities, or their members, for violating liquor laws.
Critics expressed a similar concern that the proposal doesn't seem to differentiate between the goals of a campus adjudication and those of a criminal investigation.
"I would never go to the police if a condition of going to the police meant I would lose access to trying to get my perpetrator away from me on campus," said Alyssa Peterson, who works with Know Your IX and who was assaulted as a Georgetown University student.
The fraternity groups "must only be looking at the comments on sexual assault articles, because literally every other human I've spoken to has viciously slammed their proposal," said Peterson.
Student lobbyists have been instructed by national organizations not to speak to media ahead of the trip. However, Florida International University student body president Alexis Calatayud defended the proposal to HuffPost.
"I think it's a policy that could 'un-muddy' the collegiate waters because the university would deal with it less," said Calatayud, a Phi Mu sister. She pointed out that the measure would not force student victims to go to the police if they did not want to.
Brooke Knudtson, student body president at the University of Texas at Dallas, who is also lobbying with the fraternity groups, declined to take a position on the FratPAC proposal. Knudtson, a Kappa Alpha Theta sister, said she would like to know more about where UT-Dallas students would like to see her on the issue.
But other student presidents, like Colin Danly, a Beta Theta Pi member at the College of William & Mary, consider it a "top-down" proposal that's "a step in the wrong direction."
"I think this is just going to do so much harm for the victims," Danly said. "It's really not compatible with what's going on on campus. It worries me a great deal this is their position."
Related
Popular in the Community