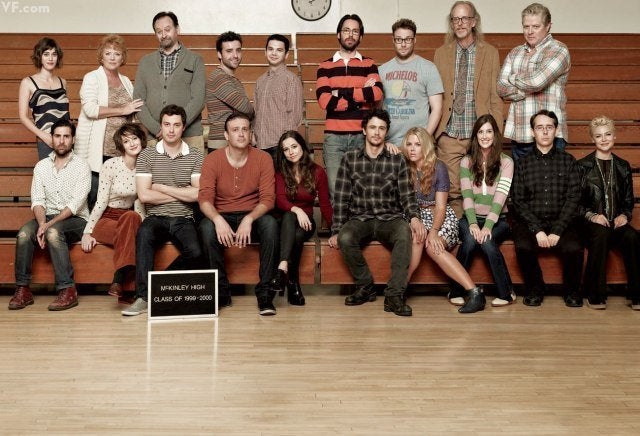 Twelve years after "Freaks And Geeks" was yanked off the air after a brilliant season about the triumphs and trevails of high school, the cast and creators reunited to reminisce about the series with "Vanity Fair."
"The reviews were great, and the premiere had a really high rating," Feig remembered. "The first Monday back I stood on a table and read the ratings and everybody cheered. And the next week we just dropped huge. And Joe Flaherty [who played Harold Weir] was quoted as saying, 'Yeah, Paul never came back in and read the ratings to us again after that first week.'"
Ratings aside, Apatow made it his mission to give every single cast member a shot.
"I said we should just try to cast unique characters and re-write the pilot to their personalities," he told "Vanity Fair" of casting "Freaks and Geeks," which aired from 1999-2000.
Though Apatow's decision was a unique one, it worked -- and made the young cast members fall in love with the show.
"I went for my very last day of shooting. Linda [Cardellini] was crying," he recalled. "I was like, 'Why are you crying?,' and she said, 'I'm not ready for this to be over.' And I was like, 'Well, you don't know -- we could come back.' And she was just like, 'It's over, dude.'
Interestingly enough, Apatow and Feig's cast of unknown teenagers including Cardellini, James Franco, Busy Philipps, Jason Segel, Seth Rogen and more all went on to have huge careers.
Busy Philipps, who played Kim Kelly and currently appears as Laurie on TNT's "Cougar Town," recently told HuffPost she believes "Freaks and Geeks" and the men behind it are responsible for the cast's success.

"I feel that what Judd [Apatow], Paul [Feig] and Jake [Kasdan] were able to do on that show, even though we were all relatively young and mostly inexperienced, was validate our ideas and talent by always giving us room to collaborate with them even at age 17, 18, 19," Phillips said. "It's invaluable to get that kind of confidence just in the beginning of your career -- that you know what you're doing."
Click here for "Vanity Fair's" full oral history.
PHOTO GALLERY
TV Reunions We Want To See
Calling all HuffPost superfans!
Sign up for membership to become a founding member and help shape HuffPost's next chapter
BEFORE YOU GO