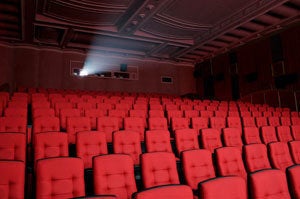 So often we think of Hollywood kids in unflattering terms: troubled, entitled, squandered potential. This past weekend, however, I was charmed by an interaction between the children of two of Hollywood's greats.

The scene was the Tribeca Film Festival screening of a fun film titled Freaky Deaky, which is an adaptation of an Elmore Leonard novel and directed, written and produced by Charles Matthau. Yes, the son of Walter Matthau. Freaky Deaky takes place in 1974 and stars Christian Slater, Crispin Glover, Michael Jai White, Andy Dick and Billy Burke of Twilight in the story of a cop who's drawn into a wild, funny tale of extortion with literally explosive consequences. It is also an homage to '70s-style filmmaking. At one point Matthau's camera catches a glimpse of a movie theater in the background. Paying tribute to his dad, Charles shows Walter Matthau and Jack Lemmon starring in The Front Page on the theater's marquee. It is a touching homage.

During the Q&A after the screening a hand flew up to ask the question, "Why was Walter Matthau's name in first position ahead of Jack Lemmon's?" The question was asked by none other than Chris Lemmon, son of Jack, in pure, loving jest, just as their dads may have teased each other. It was so nice to see Chris coming out to support Charles Matthau; turns out they are working on a film together. This got me reflecting on just how great a duo Walter Matthau and Jack Lemmon were. They made 10 films together, all worth seeing: The Front Page, The Odd Couple, The Odd Couple II, Out to Sea, Grumpy Old Men, Grumpier Old Men, The Fortune Cookie, Buddy Buddy, JFK, and The Grass Harp, which was actually directed by Charles.

Incidentally, I had the privilege of working with and getting to know Jack Lemmon on Glengarry Glen Ross. He was a first-class gentleman. I'd like to think Chris and Charlie are still making their fathers proud.
Popular in the Community