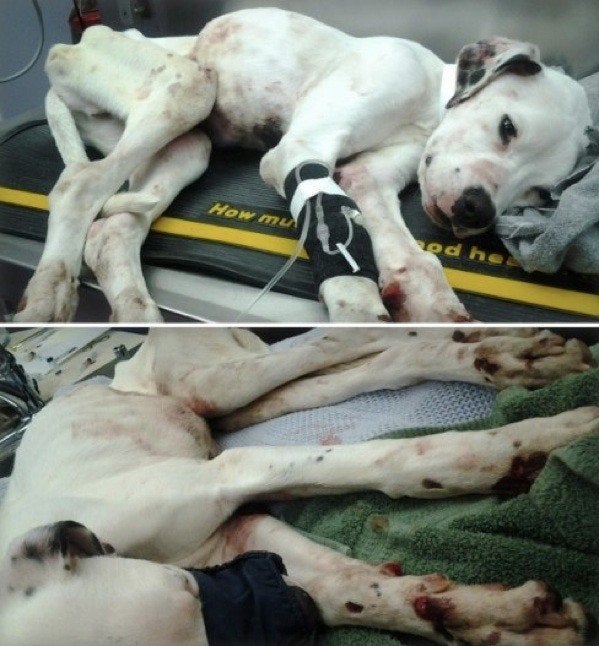 An abused dog who was starved, dragged by a car and tossed in a dumpster has made a miraculous recovery thanks to those caring for him.
Animal Control recently found a 1-year-old pitbull mix in a dumpster in Baltimore, Md., after an unidentified passerby called the organization to report a dog moaning in the trash, according to Noah's Arks Rescue, a rescue group based in Okatie, S.C.
The dog was quickly rushed to the Essex Middle River Veterinary Center where veteranarians determined he had been not only starved down to 30 pounds and abused, but he had also dragged behind a vehicle. The incident tore off huge chunks of his skin and left bone exposed.
But that's not all doctors discovered.
"We did X-rays when he first got here and he had just a bunch of foreign material in his stomach -- money, metal objects and other things we saw," Dr. Matthew Jones told ABC's WMAR Baltimore. "I personally have never seen something that severe as far as whatever happened to him prior to finding him in the dumpster," he added.
The dog was eventually named Freckles, presumably because of the black spots on his white ears.
Jennifer Smith, president of Noah's Arks Rescue, volunteered to take over the care of Freckles, and the group is currently collecting donations to pay for his medical needs.
By Thursday, Freckles' condition had greatly improved. On Facebook, Smith explained the dog was not only eating treats but also trying to "talk" by barking. All of his vitals have remained stable thus far, although he might lose one of his badly damaged front legs. He has been moved to the Charleston Veterinary Referral Center in South Carolina.
Our little boy is close to one year old and has the best fighting spirit. He is here today because he wants to be here. What he has endured, very few animals could have. We are hoping and praying his young age will be in his favor and allow his body to fight off everything that is being thrown at it. I know a lot of you are saying we should put him down. I will tell you the same thing I tell everyone else, as long as an animal is fighting to be here, I will fight along side him and do whatever it takes to make him comfortable and to thrive.
Noah's Arks helps animals in S.C. and around the nation.
South Carolina's animal cruelty laws are rife with loopholes, and the Humane Society ranks the state 47 out of 51 in terms of animal protection. Under the state's current laws, there is no requirement for veterinary care, there is no ownership ban for convicted offenders and many are still unsure whether it is illegal to shoot an animal due to the unclear wording, according to CBS station WCSC.
"It's extraordinarily frustrating," Kim Kelly, South Carolina's Director of the Humane Society of the United States, told WCSC. "It's very difficult to know that someone is abusing animals and not just one or ten animals but hundreds of animals and not be able to get a conviction." The more time passes, the more "animals suffer."
CORRECTION: A previous version of this story said the dog was found in South Carolina. He was found in Baltimore, Md., and transferred to South Carolina. A correction has been made.
WARNING: The slideshow contains graphic content that may be disturbing to some viewers.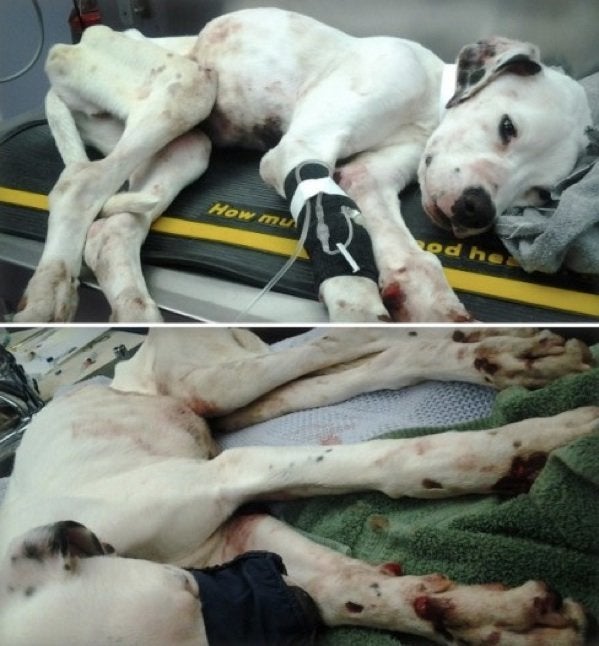 Freckles (GRAPHIC PHOTOS)
Popular in the Community