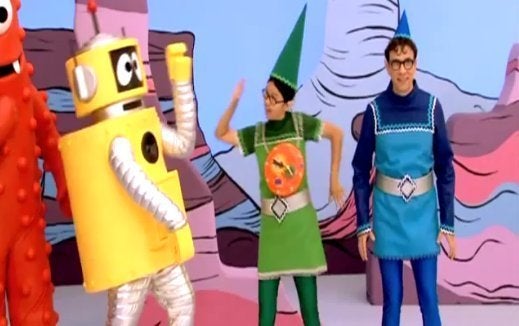 For a children's show, "Yo Gabba Gabba!" is often more twisted and subversive than the most demented Adult Swim programs. Add Fred Armisen and Charlyne Yi into the mix and you'll truly understand what it means to have a transcendent experience.
Armisen, who extends his impressively varied resume that includes drumming for Trenchmouth, portraying the President on "Saturday Night Live" while concurrently running his own IFC sketch show in the offseason, plays a "treasure hunter" named Larry. Yi, most famous for her roles in "Knocked Up" and "Paper Heart" and a mainstay in the Los Angeles comedy scene, joins the hunt as Edith.
Armisen and Yi's appearance isn't the first time that "Yo Gabba Gabba!" has attracted guests more likely to appeal to new parents than their toddlers. Last season alone featured Sarah Silverman, Weird Al, Jack McBrayer & Paul Scheer, Anthony Bourdain, as well as the bands Of Montreal, Black Kids and The Killers.
REAL LIFE. REAL NEWS. REAL VOICES.
Help us tell more of the stories that matter from voices that too often remain unheard.