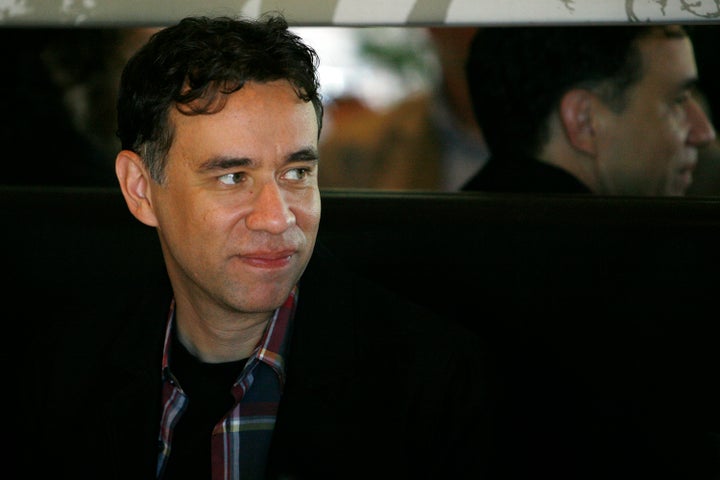 LOS ANGELES -- That East Coast-West Coast beef is over. So, too, are the Boston vs. New York, and the Seattle vs. Portland rivalries.
"The day of parts of the country hating each other, or rivalries like that ... I feel like that's dead," declared Fred Armisen, co-creator of the TV series "Portlandia," a loving parody of quirky, eccentric Portland, Ore., and "Saturday Night Live's" newest recurring sketch, "The Californians," a soapy send-up of Los Angeles' ditzy, directions-obsessed population.
The New York native is also an 11-year veteran of SNL, perhaps Manhattan's quintessential live comedy TV show.
In a phone interview with The Huffington Post on Sunday night, Armisen held forth on his penchant for hyperlocal comedy and his talent for inhabiting small worlds in hilarious ways. While jokes about Portland's preoccupation with sustainable sourcing or Angelenos' love of dried fruit snacks would seem to provide fuel for people who hate those metros, it comes from a place of love for Armisen.
"I'm so glad cities have personalities, just like people have personalities," said Armisen. "That's something that makes me smile."
"The Californians" was inspired by Armisen's deep affection for Los Angeles, coupled with small talk with fellow SNL actors Bill Hader and Keenan Thompson about driving around the city (first reported by The Hollywood Reporter).
Plot points in the soap opera parody hinge on street directions and traffic on the freeway and drop gastronomic landmarks that only true Angelenos would know and love: Zankou Chicken and Umami Burger. Authenticity is a big priority for Armisen, who said he sometimes uses maps to write "The Californians."
"It mattered to me that people in LA recognize that we're trying to do real locations there, and that we're trying to get most of the terms and directions right," he said.
Referring to a HuffPost story that pointed out the inaccuracy, Armisen said, "The fact that you called me out on the Umami burger ... I was really hoping that it wouldn't happen, but I was happy that it happened!"
Armisen hasn't tackled San Francisco yet with his sketch comedy. But he did have this to say about the City by the Bay.
"They're very busy being not busy," he said. "It looks like a hustling, bustling city, and when you ask, 'Hey what are you doing?' They're like, 'Oh, we're just reading.'"
Get to know Fred Armisen by clicking through the slideshow for more of the interview.
PHOTO GALLERY
Get To Know Fred Armisen
REAL LIFE. REAL NEWS. REAL VOICES.
Help us tell more of the stories that matter from voices that too often remain unheard.
BEFORE YOU GO