One homeless teen is starting his second semester of college with more than $184,000, thanks to strangers who were inspired by his ceaseless determination.
Barley used a small bike he borrowed from his little brother and carried everything he owned in two duffel bags, including two gallons of water and a box of cereal. When he arrived on campus, he pitched his tent in some bushes and prepared to spend the next few weeks there until the dorms officially opened in August.
But after spending a day looking for jobs in the area, Barley returned to his tent where police officers later found him. They asked him to come out with his hands up, but when they saw him, they knew something was amiss.
After Barley told officers that he was homeless, but majored in biology at Gordon State and aspired to go to medical school, they offered to put him up in a motel for two nights.
Barley, grateful for their offer, packed up his tent and the officers brought him to a motel.
When local resident Casey Blaney learned of Barley's situation from a post in a Facebook community page, she paid the teen a visit at his motel, covered the cost for the rest of his stay and helped him find a job as a dishwasher at a local pizzeria.
"I thought that helping find him a job, giving him some money and paying for his motel was going to be it for me," Blaney wrote on Facebook after meeting the teen. "Then I thought ― geez, this kid just rode a 20" little boys bike 6 hours in 100 degree weather....he's determined."
So far, the teen has received donations including a new bike, school supplies, shoes and clothes. Gordon State College offered to open his dorm room early, so he'll have a place to stay. And through the fundraising site Blaney set up, strangers from far and wide have donated a total of $184,266 for Barley within five days.
On Thursday, Barley posted a video to his girlfriend's Facebook to thank everyone for their support.
"All of this has been so overwhelming...I'm kind of speechless but I just wanted to tell you guys that I thank you all so much," Barley said in the video.
He said he plans to keep everyone who donated updated on his grades and mentioned that he plans to save some of the money for medical school tuition.
"I want to show you that all you've done for me is not going to waste," he added. "I appreciate all of you guys for all you've been doing. Even if you stopped today, I promise you, you've done enough."
Before You Go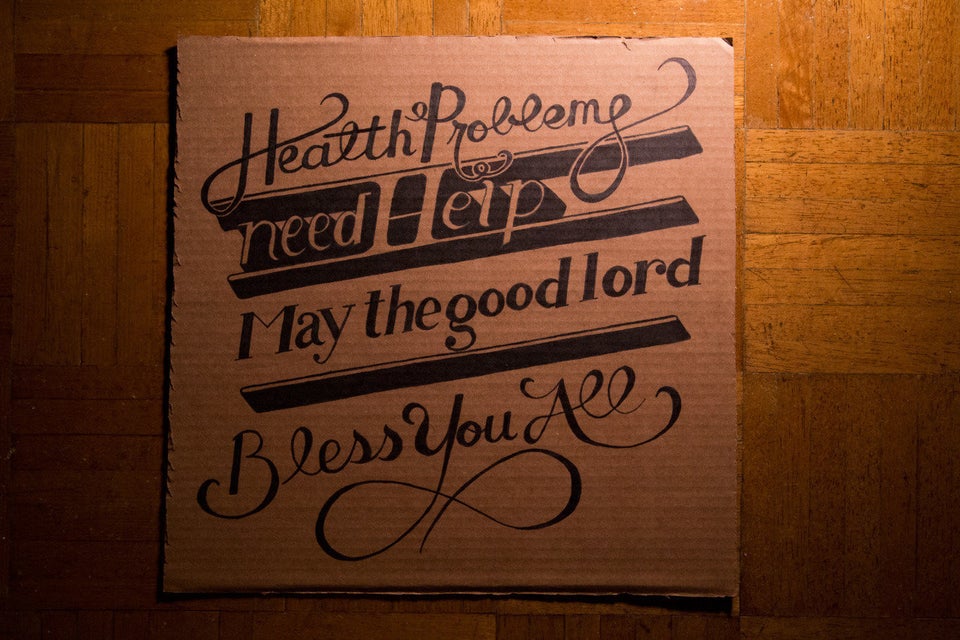 Artist Redesigns Signs For Homeless People
Popular in the Community