A locally famous goat who escaped from a New Jersey auction house more than a year ago has been recaptured and now faces an uncertain fate.
Fred the goat, credited with helping other animals escape, was caught Tuesday and returned to the farmer who bought him before his initial flight from Hackettstown Livestock Auction, according to Lehigh Valley Live. Since the news of his capture broke, Woodstock Farm Sanctuary in High Falls, New York, has offered Fred a home for life.
Fred became a local celebrity during his year as a fugitive. Townspeople reported seeing Fred roaming the town at night with deer, and when dozens of other animals escaped from the same auction house earlier this month, rumors surfaced that Fred had played a role. About 75 sheep and goats set to be sold for slaughter slipped out through an unsecured gate, and police received reports that Fred had been seen nearby.
Most of those who said Fred had freed the others were joking, but auction house manager Bouwe Postma sounded convinced in an interview with the New York Post at the time. "I think he's the culprit. He must have banged that fence and let them out last night. I'm almost positive. He must have put a lot of force into that."
Most of those sheep and goats were ultimately herded back to the auction house, but others are still at large. Fred himself remained free until this week.
It's unclear exactly how Fred was captured, or who captured him. Hackettstown Police wrote in a Facebook post that police were not the ones who caught Fred.
In fact, Sgt. Darren Tynan told the New Jersey Herald earlier this month that police had absolutely no intention of ever capturing Fred.
"We still get about one call per week about him, but Fred is now a staple in the community and we're not going to do anything to remove him from his friends," said Tynan, an apparent reference to Fred's deer comrades.
We're rooting for you, Fred.
Related
Before You Go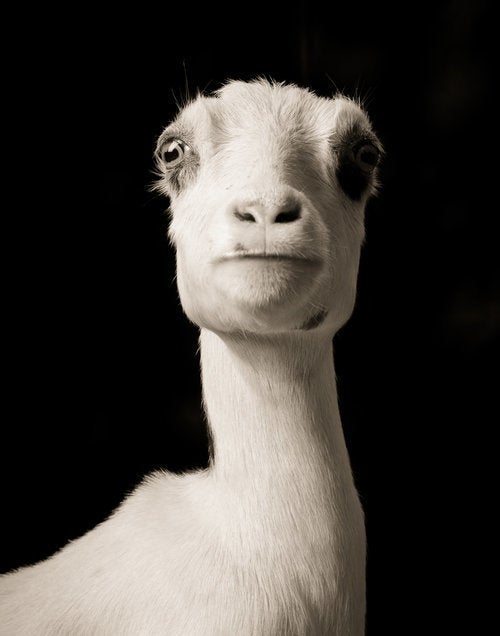 Goat Portraits
Popular in the Community