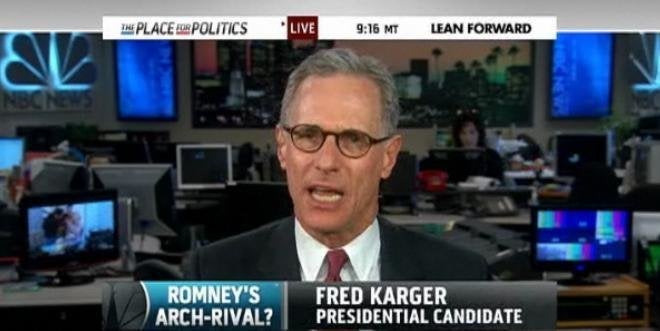 Right now, the 2012 GOP field is only starting to congeal. Perhaps with former Mass. Gov. Mitt Romney edging closer to a formal announcement, the long wait for the frontrunners to make up their minds and get in the game will soon come to an end. In the meanwhile, we're basically dealing with real estate mogul Donald Trump's "Cry For Help" media tour, and all of its concomitant embarrassments.
Need a break from that? Well, here's uber-underdog Fred Karger making an appearance on the MSNBC!
Karger is the longest of shots, owing to his obscurity and his politics. A long-time political consultant and openly gay candidate, Karger has been working to advance the cause of LGBT rights in the Republican Party. Thus far, he's striven to come across as the nice guy wronged by the party establishment, who haven't yet allowed him to play in the 2012 campaign season's reindeer games. But today, he added some edge, announcing himself as "the anti-Romney candidate," who "plans to run a campaign specifically designed to throw a wrench into Romney's run."
"I just don't think Mitt Romney is well-suited for the job right now," Karger said. "He's got a great record of flip-flops. I think we need some new, fresh ideas."
But the anti-Romney antipathy has a deeper resonance with Karger. He says his "sidebar goal" is to push back on efforts led by the Mormon Church against marriage equality. "I've asked Governor Romney to use his influence to get the church to back away from that fight," Karger said.
MSNBC's Thomas Roberts asked Karger some pointed questions about whether he was serving up some intolerance of his own against people of Mormon faith, which he denied. Karger went on to state that, if the Mormon community dropped their support for California's Proposition 8 -- even if it were to serve the end of getting Romney elected -- he would consider it a "battle won."
Watch the whole segment below:
Popular in the Community