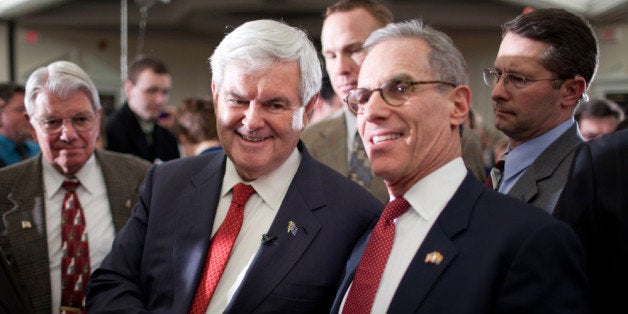 You may not be aware that Fred Karger ran for president in 2012. He was on the ballot in only a handful of states. He wasn't allowed to take part in any televised debates. The slogan on his campaign buttons and flying discs alluded to the central predicament of his candidacy: "Fred Who?"
But winning was never the point for Karger. Being openly gay, he was "a different kind" of Republican, as he puts it in a new documentary about his ups and downs on the campaign trail. He had hoped to "open the flap to the tent and let everyone in."
Nearly four years after first hitting the trail in New Hampshire, Karger is back in the state this week, showing the documentary at high schools, colleges and film festivals.
As the film, "Fred," makes clear, Republicans were not always welcoming to Karger, despite his background as an adviser on nine presidential campaigns, including those of Ronald Reagan and George H.W. Bush. On Wednesday, Karger spoke to The Huffington Post about life as an openly gay Republican candidate, coming out in his 50s, and the likelihood of America electing an openly gay candidate to the country's highest office.
What's it like being back being back in New Hampshire? Do you have a different perspective now?
It's a lot less pressure. It's fun to be alongside this historic documentary and traveling with John Keitel, who made the movie, and Kevin Miniter, who was on the campaign for me for 2 1/2 years. It's just nice to bask in the glow of a successful 2 1/2-year campaign.
You mentioned when we spoke last that you've been thinking of the film, and your tour with the documentary, as a kind of guide for how to run for president. Why that approach?
It's interesting. We've had four screenings now and in New Hampshire, and others around the country, that is one of the big takeaways. Number one: people didn't realize the extent of the Karger campaign and all we did, but as a part of that I think we realized how important access to the Republican debate was. How important it was to stand up to the opponents who would try to create roadblocks, like Steve Scheffler in Iowa [president of the conservative political group Iowa Faith and Freedom Coalition, who warned Karger he intended to "abort" his campaign], and the Southern Republican Leadership Conference where I wasn't allowed a room to have my press conference. How to get ballot access.
I think that in the film, people got a little understanding, a real inside look at the machinations and work that goes on whether it's the design of the T-shirts or whether it's speaking to a group or finding college students to listen and volunteer. I think they see that the various stages of the campaign. I would invite other first time presidential candidates like Ted Cruz or Rand Paul to view it. And I think they would learn a little bit from it as well.
Is there any particular aspect of your campaign that you would handle differently now?

I would have, and I tried but failed, to really concentrate on fundraising, which is a very unpleasant part of the campaign for me, but would have given me the ability to do a lot more and to hopefully get my name identification up to get in to a debate. That is my biggest regret because we only raised -- outside of my contributions -- about $85,000, which for a 2 1/2-year presidential campaign is nothing. The size of a city council race in Manchester, New Hampshire, or Laguna Beach, California, where I live. So in order to do all we did, I had to chip in my own money, which seemed more pleasant than asking others. But in hindsight I really wish we were more aggressive. I think that would have really made a difference, we would have been taken more seriously too.
Looking back, what was the most difficult rejection you faced as an openly gay candidate?
I was really hurt by the Victory Fund [an organization dedicated to supporting openly lesbian, gay, bisexual and transgender candidates] and their lack of support. They treated me so poorly. I couldn't see how the largest and most successful LGBT organization designed to support openly LGBT candidates would just completely sit out my campaign.
I was dismayed by the reaction I got, not just from Victory Fund, but a lot of the LGBT groups, because of my Republican Party registration. And I understand that, because nearly everything bad that has happened in our civil rights movement has come from Republicans. But I think a lot of the sophisticated people understood what I was doing, to hold the Republicans' feet to the fire, to make them include an openly gay candidate.
Why exactly do you still identify as a Republican? Which issues do you agree with the party on?
I still believe in a lot of the basic principles -- smaller government, keeping government out of our lives. I don't know if you saw that Alan Simpson video? That's me. And that's why. Those basic Republican principles. I feel very strongly that we have a strong national defense, I believe in tough law and order, I believe in the empowerment of the individual.
It seems of course hypocritical with a lot of the [anti-gay] marriage amendments that Republicans have led and sponsored, but to me that's still the basics of the Republican Party.
You first came out during a campaign to save a gay bar in Laguna Beach from closing. At that time, did you consider switching parties?
I never gave it a serious thought, to switch parties. I'd lived in the same house for 36 years, I had the same job for 27 years. I don't make a lot of changes and I value the Republican Party for what it used to be, and want to be an agent of change. There have been lots of offers, 'the Democratic Party would welcome you, you should really be a Democrat,' and I appreciate that, but they don't need me in the Democratic Party. The Democratic Party is doing great, particularly on LGBT issues. It's the Republican Party that needs to see the light.
Why was that bar closing the issue to coax you out of the closet?
I was terrified. Looking back, I feel a little queasy, all these years later. Part of it was getting used to living this double life, and being on guard, being scared of discovery. I knew, because of what i was getting into, and my background in Republican politics, that it would be somewhat newsworthy. It's hard to even verbalize how scared I was of that, and how silly it seems today.
But [after a screening of the film] I talked to this class in New Hampshire, and when we videoed some of them for comment, many didn't want their last names used, or to participate in this little video we're dong. These are kids who are out in college, but they're still not there publicly. I, of course, appreciate that, understand that, but we have a long way to go before that comfort level for everyone is there to do what a lot of us are able to do now. But I'm able to do it only because I'm at this point of my life where I don't have a career that might be impacted, and my family is aware and supportive.
But there are so many people out there that are unable to express themselves and live their lives honestly, and that's why I did what I did. I wanted to be this Republican candidate for president that people would go, 'Oh my God I can't believe this guy is doing this, I guess it's okay now to be gay, or lesbian or bisexual or transgender now.'
How many years away do you think we from electing an openly gay president?
It's a good question. I don't know. I've seen the polls. when I started running there was a Vanity Fair/ 60 Minutes poll showing that 50 percent of the public would support an openly gay president. And then Jimmy Carter came out while I was running and said he could easily foresee an openly gay president. So I think it's not that far away. People are getting so accustomed to gay characters on TV, gay people coming out, that its just a matter of time. And we've got a great farm team, members of Congress, state legislators -- even some statewide officials. I'm thinking in the next six, eight, 10 years we'll have a very serious candidate for president who's LGBT and gets into the those debates and I think people will be very excited to support a candidate who is very open and honest and has great ideas on issues and would do a good job.
This interview has been edited for length and clarity.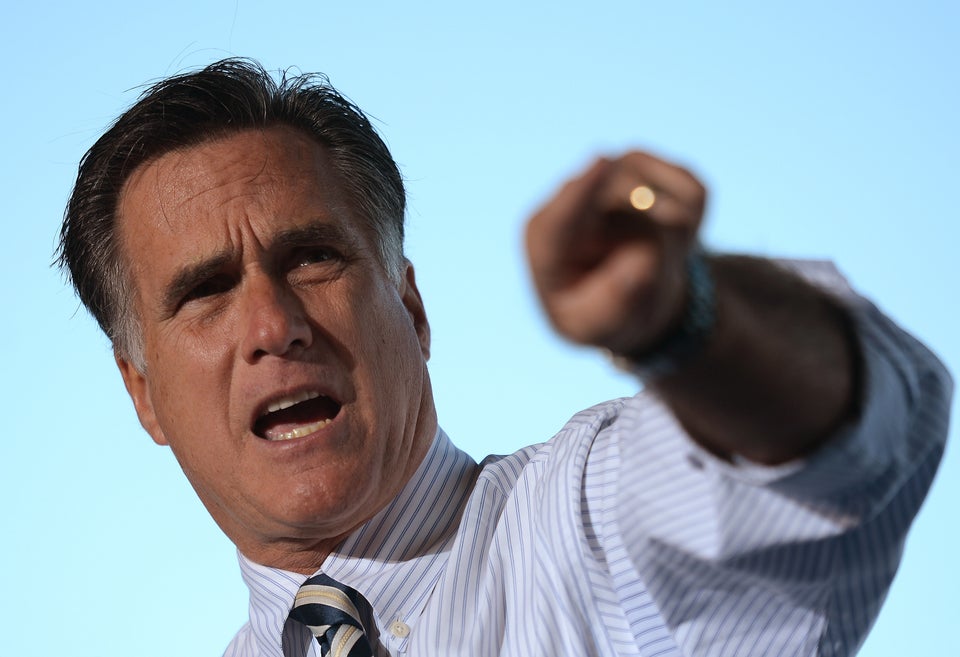 Mitt Romney Pointing Fingers