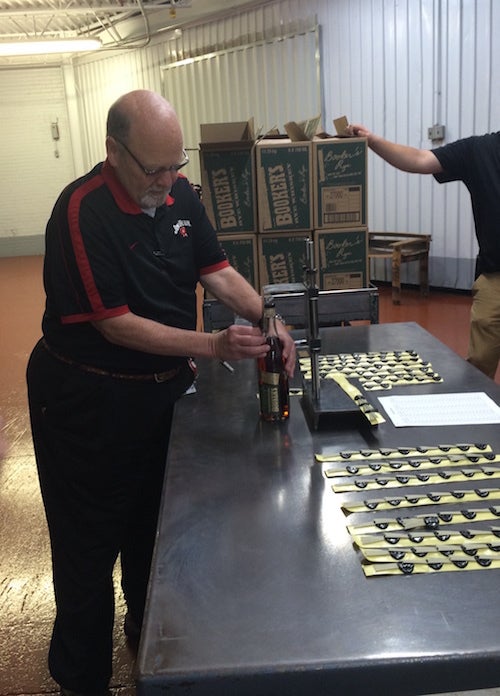 In 2003 Booker Noe laid down fewer than 100 barrels filled with a special rye blend for Jim Beam.
Noe chose specific rack houses — his favorite places to age whiskey — and tucked them away.
Booker liked that these rack houses face north and south — one side of the houses taking in the morning sun, the noon sun hitting the roofs, the setting sun replacing morning shade.
How the rack houses lie in a hollow, how they take in the warm breezes, the way the houses age the bourbon — the rye.
Rack houses D and E. It's where Booker's rye sat, surrounded by barrel upon barrel of Jim Beam whiskey.
Where it sat for 13 years.
Other Beam workers moved on. Barrels came and went. In 2014, the Jim Beam distillery produced its 13 millionth barrel of whiskey, so …
The rye whiskey, an experiment by Booker using a unique, higher mash bill, waited.
"They laid and laid, and to be honest just kind of got forgotten," said Fred Noe, Booker's son and a seventh-generation master distiller, in referring to the barrels.
Tuesday, May 10, he bottled his dad's final batch of rye.
But before he numbered the new whiskey — before he centered the iconic medallion, before he placed a thin strip of black tape on the bottle's neck, before he dipped it in green wax and placed it in a small wooden case … before all that — Fred Noe shared it.
Noe stood in rack house D, before a small group of whiskey lovers who came to Clermont, Kentucky, for this 136-proof rye.
"We're going to do it in the Booker's style," he told the group. "Unfiltered, uncut, bottled straight from the barrel."
As a prelude, Noe shared bottles of "Toogie's Invitation," a 128-proof Booker's bourbon named for a family friend; and Knob Creek 2001 Limited Edition, a small batch checking in at 100-proof.
"The Booker's, being uncut, it's a little more in your face on the front end, where the Knob, at 100, you can pretty much sip it neat," Noe said. "For me, Booker's needs a drop or two of water to actually open it up, (to) make it much more approachable."
Noe poured a glass of the new rye. He took in the deep brown color, the product of a 13-year soak in a charred white oak barrel. He took in the extraordinary scent fruit — "A different nose for sure."
He took a sip, a proverbial Kentucky chew, by now undoubtedly savoring the long, slow and spicy burn of this special whiskey, consisting of a unique mash bill using a higher percentage of the sometimes difficult, temperamental rye.
"I think it turned out well," Noe said.
More precisely, it's as about as perfect a rye as one would ever taste.
"Forgottn" seems a strong word as it pertains to this small group of rye barrels. Overlooked? Perhaps. Maybe it was supposed to happen this way. Maybe that's how Booker would have wanted it.
"These were kind of on our radar for awhile," Noe said. "We wanted to do something special with them. Doing the math backwards, knowing it was laid down before dad died … ."
Upon leaving rack house D on Tuesday it seemed only right — only fair and fitting — to leave a few drops in the glass.
See more from John Trump at halfwaysouth.com. Email him at halfwaysouth@gmail.com.