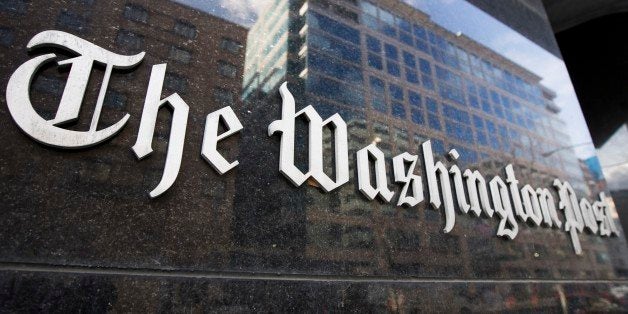 NEW YORK -- Fred Ryan, the incoming publisher and chief executive of The Washington Post, said Tuesday that the news organization plans to continue expanding under owner Jeff Bezos.
"You can't shrink your way to success," Ryan said in an interview with The Huffington Post. "Growth is the way to continue to build a strong news organization."
Such statements will surely be welcome in the Post's newsroom, which witnessed staff reductions, the closing of domestic bureaus, and diminished national and international ambitions during the seven-year tenure of outgoing publisher Katharine Weymouth.
The Post's retrenchment can't be blamed solely on Weymouth, the final member of the Graham family to lead the paper. The newspaper industry in recent years has been in free fall, with severe decreases in print advertising and circulation. Some major metropolitan papers have closed or reduced print frequency. At the Post, strategies such as a metered paywall couldn't make up for advertising losses. As a result, Weymouth and former Washington Post Company Chairman Donald Graham found a savior last year in Bezos, the billionaire Amazon founder.
This year has been a different story, with the Post hiring dozens of reporters and editors and deploying significant resources on national stories, like the recent unrest in Ferguson, Missouri. The Post announced that it had its best web traffic month ever in July, and its journalism has received high honors, including the public service Pulitzer for reporting on the disclosures made by former National Security Agency contractor Edward Snowden.
Since Bezos finalized his purchase of the Post on Oct. 1, 2013, it's been expected that he would eventually install his own chief executive. In a recent deep look at the Post under Bezos, the Columbia Journalism Review reported that a rumor had circulated that the Amazon chief would keep Weymouth at the helm "for one year after the sale." That rumor was apparently true, as Ryan's official start date is Oct. 1, 2014.
Given how Amazon became a disruptive force in book publishing, and now commerce more broadly, media watchers have been eager to see how Bezos handles a legacy news organization like the Post.
Ryan said he and Bezos have spoken about the need for more innovation and about how technology can help the Post "vastly expand its national and international audience." When asked if the Post would work more with Amazon on bundling digital offerings, Ryan said such possibilities haven't been discussed yet.
The Post, Ryan stressed, needs to focus on the needs of readers -- wherever, whenever and however they consume and share news.
The selection of Ryan, who was founding chief executive of Politico, is notable given the shared history and rivalry between the Post and the upstart Washington news outlet. Politico's founding editors John Harris and Jim VandeHei decamped from the Post in late 2006 to launch the news site, which quickly established itself the following year as a go-to destination for election scoops and moved onto turf once dominated by the Post.
Politico also broke the news in 2009 of a proposed series of off-the-record salons at Weymouth's home that lobbyists and business executives could pay up to $250,000 to attend. The proposed salons drew criticism from those who said the newspaper should not be offering private audiences with the publisher and top editors and reporters to those who could pay tens of thousands of dollars for the privilege. The ensuing controversy, dubbed SalonGate, was Weymouth's biggest blunder as publisher. (This reporter covered media for Politico from 2007 to 2010.)
Ryan said he learned a lot from the startup days at Politico, but he downplayed any head-to-head battle in Washington.
"News is a big space," Ryan said. "People are consuming more news than they have ever before, on more platforms than ever before. It's not a two-horse race. It's not even a horse race. This is a place where there can be multiple winners. I have no doubt The Washington Post will be one."
Politico also has a different business model from the Post, one that relies less on web traffic than many other news organizations. Politico's primary source of revenue comes from subscriptions running in the thousands of dollars for expanded coverage in various areas, including defense, education, health care, the environment and campaigns. The Post, meanwhile, looks to increase its global footprint online.
On Tuesday afternoon, Ryan started getting to know the rank-and-file. He took about a half-dozen questions in the newsroom, where he spoke of the Post's dominance in Washington and said that there's no better place to be in journalism. He also sought to assuage fears that his experience in Republican politics would influence the Post's nonpartisan news coverage.
Ryan, who served in the Reagan administration and is chairman of the Reagan Presidential Foundation and Library, emphasized to HuffPost that his personal politics wouldn't be an issue.
"I believe the only standard for journalism should be objectivity," Ryan said. "I don't believe ideology should be mixed with serious news organizations."
Ryan said he has no plans to remove either Executive Editor Marty Baron or Editorial Page Editor Fred Hiatt, both of whom have done "superb" jobs in those roles.
While there will be continuity in terms of the news and editorial pages, the departure of Weymouth marks a major shift at the paper. Her great-grandfather Eugene Meyer bought the Post in 1933, and her grandmother, Katharine Graham, was a legendary figure who led the Post through Watergate. Don Graham, her uncle, was beloved in the newsroom and has been a generous philanthropist.
"I think no family has done more for journalism in America than the Graham family," Ryan said. "I think they have set a standard for quality and journalistic values that is the gold standard. It's an honor to follow four generations of such devoted leadership to this institution of journalism and to Washington. No family has done more for Washington, D.C., as a community than the Grahams have."
In a Facebook post on Tuesday, Graham said Weymouth had done "an outstanding job" as publisher and "restored the economic foundations of the paper after tens of millions of dollars of losses." He added that "the challenges of the job can be vexing; she handled them wisely and leaves the Post strong."
Weymouth told staff Tuesday that being the Post's publisher was "the greatest honor of my life."
"Now it is time for new leadership," Weymouth wrote in a staff memo. "With Jeff Bezos as our new owner, you are already seeing an infusion of energy and ideas. This is just the beginning of a wonderful new chapter for The Post. There is simply no other news organization in the enviable position of The Washington Post -- with unbeatable talent throughout and with an owner who has the resources, is extremely ambitious, and has the patience to invest and experiment."
"The Post will always feel like a part of me," she said. "I will read it every day in print and online. And, like my uncle, I will be cheering from the sidelines."
Popular in the Community