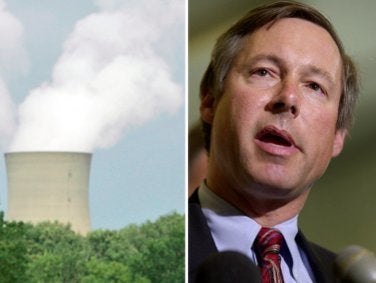 The incoming chairman of the House Energy and Commerce Committee is promising a fight over the Obama administration's new approach on limiting greenhouse gas emissions.
Congress failed last year to pass limits and let companies buy and sell pollution permits. That system was known as "cap and trade" - but to Republicans it was "cap and tax" because they said it would raise energy prices.
The administration now say it'll act on its own to clamp down on power plant and oil refinery greenhouse emissions by developing new standards over the next year.
But Michigan Rep. Fred Upton tells "Fox News Sunday" that the GOP-led House won't "let this administration regulate what they've been unable to legislate." He says Republicans want to tackle the problem "in a reasonable way."
Bruce Drake at Politics Daily reports:
In late December, the EPA announced a timetable for the new rules that would include stricter emission standards for power plants and oil refineries.

Upton said, "We're going to have early, early hearings on this. We're going to see exactly what their (the EPA's) analysis is on its impact on jobs. There's also something called the Congressional Review Act, that within 60 days of rules being published, Congress can take this up and with an up-or-down vote, it is filibuster-proof in the Senate. It's been used before."
Underscoring his support for conservative views, Upton has called for opening the Arctic National Wildlife Refuge to oil and gas drilling, scaling back government aid for renewable energy and voiced opposition to requiring electric utilities to use alternative energy for some of their power generation.

President Barack Obama strongly opposes giving oil companies access to the refuge.
Popular in the Community