Freda Love Smith would probably admit that she didn't follow a traditional life and career path: she graduated from high school at 16 but didn't get a college degree until she was 35; co-founded the alt-rock group the Blake Babies in the mid-'80s as their drummer before even learning how to play drums; and became pregnant before getting married. After her time in the '90s bands Antenna (where she met her future husband Jake Smith) and the Mysteries of Life, Smith raised a family and later became a lecturer at the School of Communications at Northwestern University.
Yet connecting all of these things is Smith's relationship with food that goes back to when she was cooking during her youth. How that became intertwined with her life is the subject of her newly-published book, Red Velvet Underground: A Rock Memoir, With Recipes. Using the experience of teaching her eldest teen-aged son Jonah how to cook as the book's framework, Smith recalls food-related moments from her past, such as exploring the kitchen of rocker Henry Rollins when the Blake Babies stayed over at his home; immersing herself in a macrobiotic diet while working at the Kushi Institute in Massachusetts; and making pesto with her younger son Henry. Some of the the mostly vegetarian recipes featured in the memoir include butternut squash ziti; mushroom and kale stir-fry; garlic placenta; and vegan ginger-carrot cake with maple orange glaze. In some ways, Red Velvet Underground is not only a rock memoir and recipe book but also a poignant work of personal self-discovery and the challenges yet joys of parenting.
In this interview, Smith, who is also a food columnist for Paste, talks about her interest in cooking; what it means to a musician to have eat good while on the road; and a favorite recipe from the book.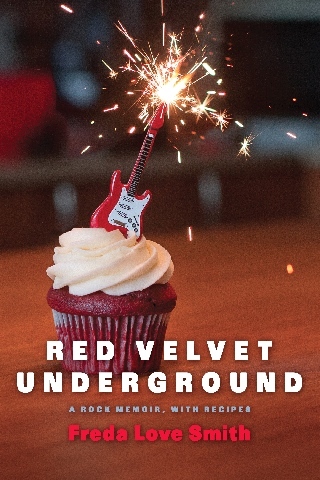 Book cover of 'Red Velvet Underground: A Rock Memoir, With Recipes' (Agate Midway)

What prompted you to write your memoir?
I kind of set off writing a pretty standard straightforward book with a lockstep linear narrative just documenting that year of cooking lessons that I did with my oldest son Jonah. It seems funny to me now that I thought something that structured could really reflect my life...I haven't really done things in order. Basically nothing in my life has reflected the accepted norms for a life progression. Once I let go of that chronology, I knew I wanted it to be a memoir but sort of abandoning that one-year-structure...just let the book have some room to breathe, so I can leave that year of cooking lessons as a really loose frame, but I can open up space to include more of myself.
You grew up in a single-parent household. Where did your interest in cooking come from?
I definitely learned to fend for myself when necessary when I was young, which is something that I am really grateful for now. But I also discovered that not only was cooking necessary but it could be really really fun and really empowering -- just that satisfaction that I got from a really young age of following a simple recipe, having something turn out really nice and sharing it with my little brother and feeling really satisfied and accomplished. I also had a really powerful early influence in my paternal grandmother, who was an incredible cook from Nashville. So lots of childhood influences but also being a broke musician and learning how to subsist on very little money.
Was there any thought of working in the culinary arts had you not decided to join the Blake Babies?
When I was 16-17, I worked at a bakery in Bloomington, Indiana. I never became a great baker, but I did acquire some skills and I did enjoy that work. I think it could have happened if music hadn't drawn me away. It was much more intoxicating of a prospect. Even later in life when I was in my 30s, I was living back in Bloomington and I was working for a bakery for a while, helping them develop vegan recipes. Every now and then I wished I would have developed it a little bit more. But now writing about food, testing recipes and interviewing people about food has satisfied that part of me.
Your conversion to vegetarianism was a result of listening to the song "Meat Is Murder" by the Smiths. Is that true?
It was. It's so funny for me to talk about it because I was too embarrassed that I had that conversion experience in the moment of listening to that song. I feel that I'm far away from it now and I have perspective that I can talk about it. I do think that maybe it was also a matter of different conditions being in place. In the days leading up to that moment when I heard that song, I still considered myself a meat-eater. And then after that, I just didn't want to do it anymore. I felt really turned off from the whole thing and really moved by that song.
You describe in the book about your experiences with food while touring with the Blake Babies, particularly eating at a vegetarian restaurant in Athens, Georgia called The Grit.
It was really finding these oases around the country when you're slogging around in a van and can't always get good quality food, But then you walk into some place like The Grit, where there's so much care taken and so much love goes into the food, that's something really special. I think it means a lot to a touring musician. Food is better in America now than it was when I was really touring a lot in general. You get quality food than you could then. But even now, you still appreciate a place like that, that takes so much care in its food and also where you feel really welcomed.
Even with the grind of touring, did you ever get a chance to make meals for the other members of the Blake Babies?
I never really had many opportunities to cook on the road. There's sort of these rare occurrences early on when we stayed with people and did a communal meal with someone, and I've always enjoyed that. And I have cooked for my bandmates quite a lot, especially during the Blake Babies reunion [in the early 2000s]. We recorded God Bless the Blake Babies in Bloomington, Indiana, which was really wonderful for me, I was living there at the time. So John [Strohm], Juliana [Hatfield] and Evan [Dando] came to Bloomington and we made the record. A couple of times I had everybody over for dinner and it was really fun to share food with my bandmates that way.
Was teaching your son Jonah how to cook a way to instill life skills in him, a bonding experience or a combination of the two?
It was absolutely both of those things. I thought of it as this really basic life skill that's important for survival. That was a major impetus -- here's something that I know how to do that I can pass on to my son, to try to impart the skill, this way he can take care of himself. I think of it as a way to take care of other people. So I wanted to share a way with him that he could connect with friends, take care of other people, and create a community that I experienced through food.
One thing I discovered -- and I write this in the book -- there's a lot built into that as well, a lot that you learn when you learn how to cook: you learn how to think ahead and plan; sometimes you learn how to improvise or how to deal with surprises; it could also be a way to express yourself creatively; a way to celebrate. On a really basic level just a way to learn about managing money. I've definitely had a few moments with Jonah where we kind of broke down, 'Okay, this is how much this thing costs if you make this big pot of beans or chili.' It's really economical and that really stuck with him as he realizes that you don't have to have a lot of money to eat well. In fact, it's almost always cheaper to cook and eat for yourself and your roommates than to go out and get carry-out.
These days you're working as both an academic and a writer. Do you miss performing music?
I do miss playing music a lot. For the past couple of years I have been trying to find ways to bring music back into my life, to get a little bit more involved and playing and doing a little bit of recording, a little bit of songwriting. There's a lot going on [with teaching and writing], but none of those things quite do for me what music does for me. There's something quite special and particular about that and it's something that I want in my life. I have had some chances to play -- the Mysteries of Life have just recorded an EP, we're in the process of mixing it, and we're gonna release that before the end of the year.
Is there one recipe from the book that you would recommend?
There's something about stir-fry because there's some technique involved there, but it's doable. Once you get it down, you can also make it your own by adjusting what you put into it. I think that's a good place to start. It was one of the earliest things I did with my son and it ended up being really fun and satisfying. And stir-fry is dramatic too. You cook fast and furious, you get some smoke and fire going and all these different flavors.
At the moment, is there anything in the food world that is currently holding your interest?
It's more in the academic side of things: the study of food as a form of communication. It's something I've started teaching about. I've designed a class about food communication and culture that's looking at how powerful food is and how it establishes and communicates our identity to others. If you talk to people about it, it holds true that food and issues about food cut really deep, whether it's the family and cultural practices [and] their personal preferences.