As tensions and unrest continued Tuesday in Baltimore over the death of 25-year-old Freddie Gray, religious leaders took to the pews and the streets to call for peace.
Several churches opened their doors to offer safe haven to local residents, especially students after Baltimore City Public Schools were closed Tuesday.
"You have all these kids with nowhere to go. The community has to step up and feed our children, provide youth activities and be there for people going through an understandably traumatic experience," said the Rev. Heber Brown, pastor of Pleasant Hope Baptist Church, one of those offering refuge.
"Our role is to be a moral voice at this time," said Brown, who on Monday evening joined with other clergy to form a wall of protection during protests at the corner of West North Avenue and Pennsylvania Avenue. That intersection is just blocks away from where police chased Gray before his April 12 arrest, and next to a CVS store that was looted and lit on fire and an Ace Cash Express that was broken into on Monday, according to a Washington Post map.
"I was standing with my Muslim brother from [Nation of Islam] Muhammad Mosque No. 6 and Christian pastors. We were there to protect the protesters from police and the business and houses," said Brown, who noted that police pepper-sprayed him. "Our best sermon right now is not anything we say but what we do."
Doors were also opened at Metropolitan United Methodist Church near downtown Baltimore, Northside Baptist Church, Waverly United Methodist Church, John Wesley United Methodist Church and Empowerment Temple Family Life Center.
The Rev. Jamal Bryant, who gave an impassioned eulogy Monday at Gray's funeral that called on mourners to "get your black self up and change this city," welcomed dozens at Empowerment Temple.
"We opened our doors for nonviolent students and teens to have a place not just to relax, but Empowerment has also invited therapists to give them counseling," said the Rev. DeVante Mills, who is not a minister there but recently started attending the church after moving to Baltimore from Memphis, Tennessee.
On Tuesday morning, Mills, 22, showed up at the building with a car full of donations: 75 McMuffins, hash browns and cases of Dasani water bottles. Later, he said he planned to buy DVDs, like Denzel Washington's "The Great Debaters," to entertain the kids.
"The body of Christ said stand bold in situations like this. I think the pivotal role we have is keeping peace," said Mills, who added that he had joined other clergy in peaceful marches on Monday.
Faith leaders had planned a prayer rally Tuesday afternoon at Security Square Mall in west Baltimore County. The mall is closed because of rumors that violent protests might spread there, according to the Baltimore Sun, and a flyer circulating on social media said clergy were "calling all pastors, believers and people who care" to go to the shopping center to "pray for our city, county and state." But early Tuesday afternoon, Apostle Karen Bethea, one of the prayer organizers and a co-founder of Set the Captives Free Outreach Center in Baltimore, posted on Facebook that they would instead pray via conference call.
Bethea also announced a clergy meeting for the early afternoon at New Psalmist Baptist Church. Empowerment Temple is scheduled to host a nonviolent civil disobedience training at 5 p.m.
A group of Baltimore-area Seventh-day Adventist churches, whose clergy had marched on Monday evening, cancelled a Tuesday afternoon street cleanup because of safety concerns.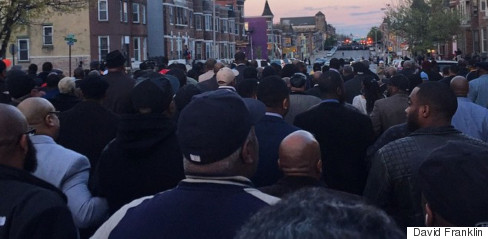 Joshua McLean, a 20-year-old seminarian at Family Bible Ministries in southwestern Baltimore who had planned to attend the cancelled Security Square Mall prayer gathering, said that he was grateful for the religious response.
"I have mixed feelings about these protests and violence. Yes, people want us to be peaceful, but at the same time people won't stop killing us," said McLean, who is black. "Right now, we just need to keep peace and calm. We need to rebuild our communities and our youth for a better future."
Also on HuffPost Religion
Re-Thinking Non-Violent Resistance
Popular in the Community