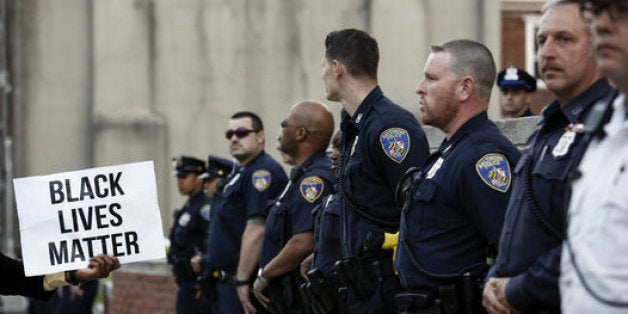 BALTIMORE, April 23 (Reuters) - The U.S. Southern Christian Leadership Conference will independently investigate the death of a black Baltimore man in police custody, with the local head of the civil rights group saying it lacked confidence in a police probe into the death.
The man, Freddie Gray, 27, was arrested on April 12 and died on Sunday. A preliminary autopsy showed he died of a spinal cord injury. His death has sparked outrage and days of protests in this largely black city of about 620,000 people.
Cortly Witherspoon, head of the Baltimore chapter of the Southern Christian Leadership Conference, said the SCLC had hired Cherry Hill, New Jersey, investigator Terence Jones to look into Gray's death.
"We're here to fight for justice for Freddie Gray," Witherspoon said on the street corner where Gray was arrested.
He said Baltimore residents had no faith in the ability of city police to investigate themselves and officers had not asked local residents about Gray's death.
Police said Gray fled when officers approached him in a high-crime area, and they found a switchblade knife in his pocket. He was put in a police van to be taken to a station.
When Gray was taken out he was unresponsive and transported to a hospital. Six officers have been suspended with pay.
Police have said they will conclude their investigation by May 1. The results will be turned over to state prosecutors and followed by an independent review. The U.S. Department of Justice is conducting a separate probe into possible civil rights violations.
Witherspoon said police had repeatedly failed to carry out thorough investigations into the deaths of Baltimore residents in police custody. In two police death cases that prompted independent review boards since 2012, the panels had concluded that police had acted appropriately.
Residents of the neighborhood, an area of boarded-up and abandoned rowhouses, echoed Witherspoon.
Gray "shouldn't have been arrested. He didn't have nothing. The police around here are just crazy, man," said Kedrick Jones, an unemployed 25-year-old outside a grocery with a sign on its door saying, "Do not enter with hoodie or mask."
The Western District police station, where Gray was taken, has been a flash point for protests. The streets around it were closed off by barricades guarded by officers.
Gray's death follows a series of killings of unarmed black men by white police that have raised concerns including in Ferguson, Missouri, and North Charleston, South Carolina.
(Reporting by Ian Simpson in Washington; Editing by Peter Cooney and Cynthia Osterman)
REAL LIFE. REAL NEWS. REAL VOICES.
Help us tell more of the stories that matter from voices that too often remain unheard.
BEFORE YOU GO
PHOTO GALLERY
'Justice For Freddie Gray' Protests