The six Baltimore police officers suspended after a man suffered serious spinal injuries while in custody should tell the public what happened, an attorney for the man's family said at his funeral Monday.
Bill Murphy's remarks about the officers drew a standing ovation at the funeral of Freddie Gray. Gray died April 19, days after his encounter with police. The 2,500-capacity New Shiloh Baptist church was filled with mourners, many of whom filed past Gray's casket before the service began.
"This is our moment to get at truth. This is our moment to get it right," Murphy said.
While the funeral was underway, police said in a news release that the department had received a "credible threat" that three notoriously violent gangs are now working together to "take out" law enforcement officers. Gray's death has heightened tensions between residents and the police, with weekend protests at times turning violent.
A small group of mourners started lining up about two hours ahead of Monday's funeral. As they began filing into the church, the white casket with Gray's body was opened, flanked by floral arrangements. A rope was placed in front of the casket to prevent people from getting too close. One person used a cellphone to take a photo of the body.
Placed atop Gray's body was a white pillow with a screened picture of him. A projector aimed at two screens on the walls showed the words "Black Lives Matter & All Lives Matter."
Erica Garner, 24, the daughter of Eric Garner, who died in New York police custody, attended Gray's funeral. She said she came after seeing video of Gray's arrest, which she said reminded her of her father's shouts that he could not breathe when he was being arrested on a city street.
"It's like there is no accountability, no justice," she said. "It's like we're back in the `50s, back in the Martin Luther King days. When is our day to be free going to come?"
Gray's death has prompted near-daily demonstrations. Gray was arrested one week before he died when officers chased him through a West Baltimore neighborhood and dragged him into a police van.
Police said Gray was arrested after he made eye contact with officers and ran away. Officers held him down, handcuffed him and loaded him into the van. While inside, he became irate and leg cuffs were put on him, police have said.
Gray asked for medical help several times, beginning before he was placed in the van. After a 30-minute ride that included three stops, paramedics were called.
Authorities have not explained how or when Gray's spine was injured.
Police acknowledged Friday that Gray should have received medical attention on the spot where he was arrested - before he was put inside a police transport van handcuffed and without a seat belt, a violation of the police department's policy.
Associated Press writer Amanda Lee Myers contributed to this report.
Before You Go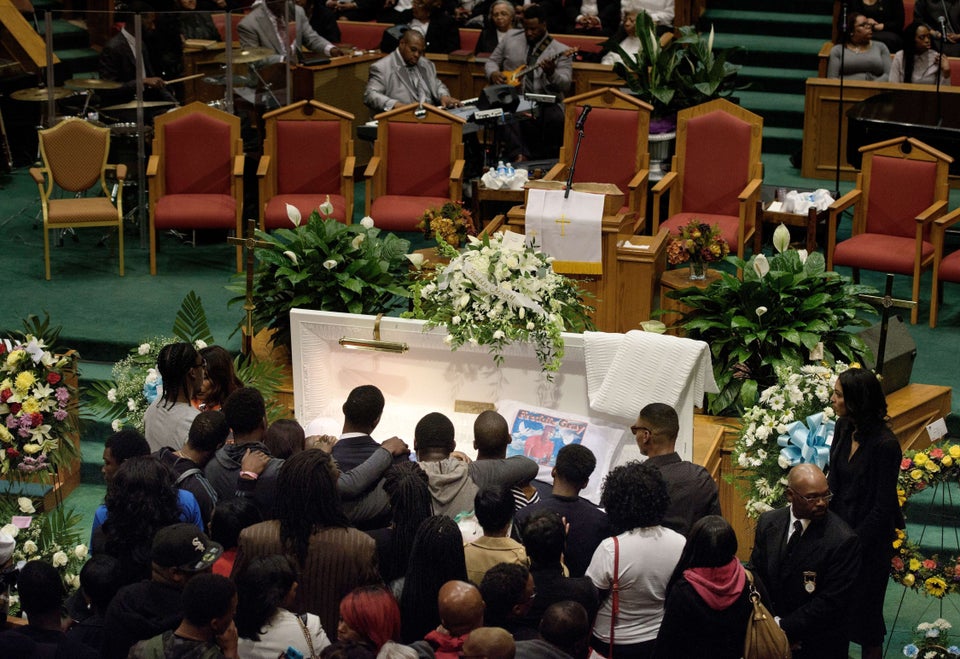 Funeral For Freddie Gray
Popular in the Community