BALTIMORE -- Violent protesters hurled bricks and torched businesses and cars Monday, injuring at least 15 police officers, as authorities tried to restore order with an emergency curfew and the National Guard following the funeral for Freddie Gray, the 25-year-old who died in police custody last week.
At a news conference Monday evening, Baltimore Police Commissioner Anthony Batts said all the injured officers were expected to recover. In an earlier statement, police said 27 individuals had been arrested. At least one civilian appeared to be unconscious and was seen being carried in a blanket by police. HuffPost attempts to reach the department for more information Monday evening were unsuccessful.
Maryland Gov. Larry Hogan (R) released a statement Monday evening condemning those who were responsible for the violence. He later declared a state of emergency and activated the National Guard. National Guard Major General Linda Singh said during a press conference Monday that a "full complement" of 5,000 troops will be available to patrol the streets of Baltimore. Troops were on the ground in Baltimore as of 11:40 p.m. ET, according to Batts.
In a press conference, Baltimore Mayor Stephanie Rawlings-Blake announced a citywide, week-long curfew from 10 p.m. to 5 a.m starting Tuesday.
"What we see tonight ... is very disturbing," she said. "It is very clear that there's a difference between what we saw last week between the peaceful protests ... and the thugs, who only want to incite violence and destroy our city."
Police said "violent criminals" assailed officers with bricks and rocks through the night, and also started fires and looted stores.
Police officers in riot gear chased groups of angry protesters near the Mondawmin Mall earlier. Many of the protesters appeared to be teenagers. Riot fears had prompted the shopping mall to close earlier Monday. Greg Harris, a spokesman for the Mondawmin Mall, said the mall made the decision in consultation with police and decided to close, at least in part, because of social media threats that there would be a riot at 3 p.m.
As the hour approached, large crowds of police and teenagers gathered outside the mall as a helicopter circled overhead. The teenagers started throwing objects as police fastened riot helmets.
James MacArthur of The Baltimore Spectator, which tracks crime and politics in the city, tweeted a video from the scene shortly after 3 p.m.:
Later, Erica Green, a reporter for the Baltimore Sun, tweeted a photo of what she said was a "badly injured" officer:
According to the Los Angeles Times, police used pepper spray and tear gas on the crowds.
Gray died last week after suffering serious spinal injuries while in police custody. Six Baltimore police officers involved have been suspended.
See the latest updates from Baltimore below:
Before You Go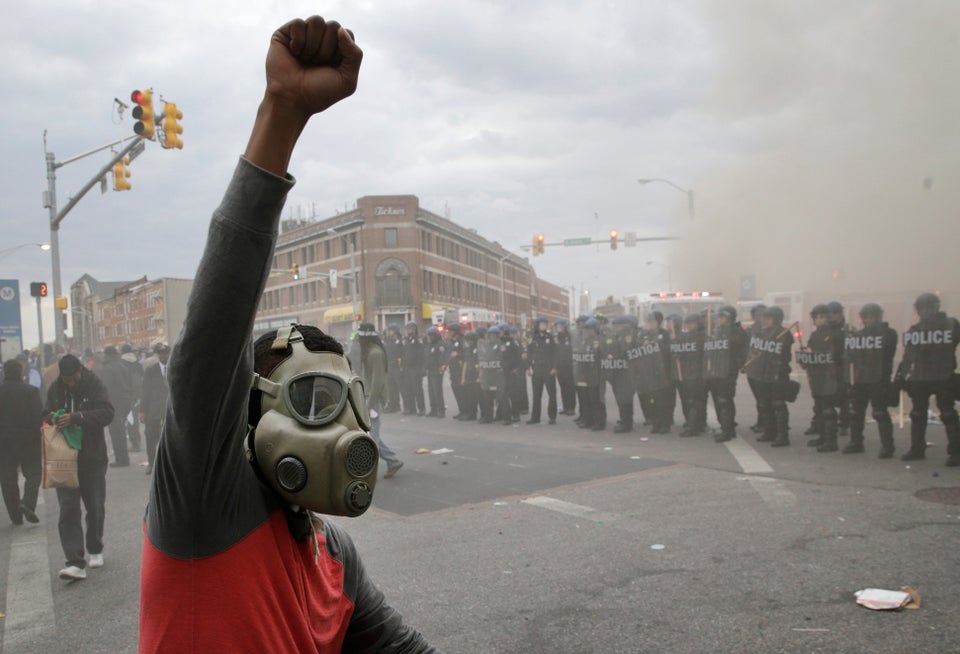 Baltimore Protests
Popular in the Community