Earlier this week, a source in the Baltimore Police Department leaked a document to The Washington Post that provided some insight into how they wanted the story about the death of Freddie Gray, a 25-year-old black man who suffered a fatal injury in police custody last month, to progress.
After providing very little information in the preceding week -- and just hours after announcing that their investigation would be sealed to the public -- officials offered a disclosure in which a prisoner who was in the police van with Gray suggested that Gray's catastrophic spine and neck trauma was self-inflicted.
With the leaked document so quickly debunked, many people were left to conclude that police had released it in a last-ditch effort to push the narrative that Freddie Gray was responsible for his own death. The implausibility of the claims helped ensure that they failed, but authorities have promoted more bizarre stories than of a man supposedly severing his own spine in the back of a police van. One of those seemingly improbable police accounts, illustrated below, remains largely unexplained more than a year after the incident.
In the early morning of March 3, 2014, Victor White III, a 22-year-old black man from Iberia Parish, Louisiana, died in police custody. Authorities said the cause of death was a single, supposedly self-inflicted, gunshot wound, fired by White while he sat handcuffed in the back of a police cruiser.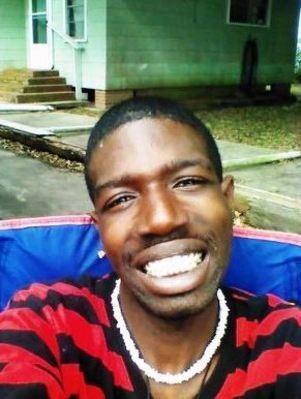 White, seen in a family photo.
White had been arrested after police searched him and found small amounts of marijuana and cocaine in his pockets. Officers handcuffed White and loaded him into a car to be taken to the local precinct for booking.
The series of events leading up to White's death remains murky, but here's how police described it in their initial statement:
[White] was taken into custody, handcuffed behind his back, and transported to the Iberia Parish Sheriff's Office for processing. Once at the Sheriff's Office, White became uncooperative and refused to exit the deputy's patrol vehicle. As the deputy requested assistance from other deputies, White produced a handgun and fired one round striking himself in the back.
For nearly six months, that's the story White's family was left with: Their son, a new father, had managed to get a gun past multiple police searches and was able to draw the weapon despite being handcuffed, at which point he fatally shot himself in the back. The Louisiana State Police began an investigation into the incident. White's family waited, refusing to accept that version of events.
Then in August, a coroner's report obtained by NBC News raised even further questions. According to the Iberia Parish coroner, White had indeed shot himself, but in the front, not the back. The fatal wound was a gunshot to the right side of his chest, near the nipple. White's family has noted that he was left-handed.
According to NBC, the forensic pathologist also found gunshot residue in the wound, but didn't identify stippling, a pattern sometimes produced by a close-contact shot. White's hands were never tested for gunpowder residue. The report also stated that there were abrasions on White's face, which his father had reported seeing when he first went to view his son's body. The report did nothing to convince White's family that police were telling the truth about the circumstances of his death.
A week later, federal authorities announced they would conduct their own investigation into White's death. The results of that probe are still forthcoming, and state police have said they'll wait for it to be completed before releasing their own findings.
In March of this year, White's family held a rally on the one-year anniversary of his death, and said they planned to submit a petition to the coroner to have White's cause of death changed from suicide to homicide. About a dozen people attended the rally.
Just over a month later, video of Gray's arrest would go viral, and his death a week later would touch off rounds of protests that would eventually boil over into the unrest we saw in Baltimore this week.
The settings of these two questionable deaths are clearly different. About 70,000 people live in Iberia Parish. Baltimore is a city of more than 600,000. The population gap and other regional factors likely play some part in the contrasting responses. But the national attention that was turned last August to the death of Michael Brown in Ferguson, Missouri, a city of around 20,000, suggests a controversial police killing is capable of attracting national attention almost anywhere.
If Victor White had died in police custody amid the current climate of scrutiny toward law enforcement, how would the nation have responded to claims that he committed "Houdini handcuff" suicide? At the very least, maybe White's family wouldn't still be waiting for answers 14 months after his death.
REAL LIFE. REAL NEWS. REAL VOICES.
Help us tell more of the stories that matter from voices that too often remain unheard.
BEFORE YOU GO
PHOTO GALLERY
Baltimore Protests