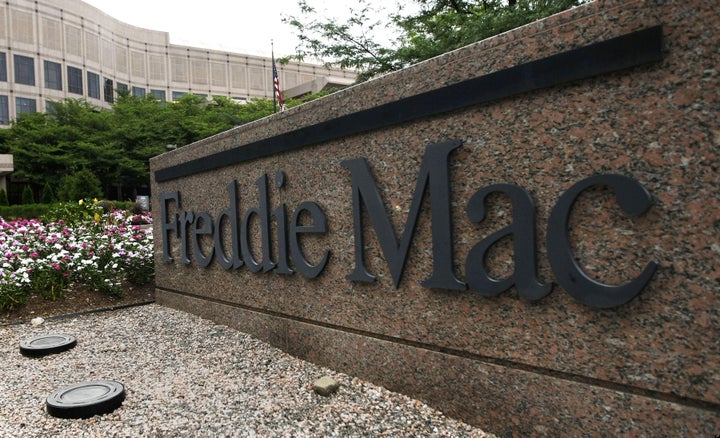 Mortgage finance giant Freddie Mac said on Thursday it will seek an additional $6 billion from U.S. taxpayers following its worst quarterly loss this year.
The government-owned company reported a comprehensive loss in the third quarter of $4.4 billion, it said in a filing with the U.S. Securities and Exchange Commission. That compared with a $2.5 billion loss for the same three-month period in the previous year.
Despite income of $4.6 billion, the company registered a net worth deficit of $6.0 billion, which was partly attributed to a $1.6 billion quarterly dividend payment to the Treasury.
"The weak labor market and fragile economy continue to weigh heavily on the single-family market, causing many potential buyers to sit on the sidelines or opt to rent despite high affordability and record low mortgage rates," Chief Executive Officer Charles E. Haldeman said in a statement.
Freddie Mac has now drawn $72.2 billion from the government since it was taken over at the height of the financial crisis in September 2008. The government seized both Freddie Mac and larger rival company Fannie Mae as mortgage losses at the two firms piled up and threatened them with insolvency.
Freddie Mac has now returned $14.9 billion of the money it has drawn from Treasury in the form of dividend payments.
"Looking ahead, we expect the tepid recovery to continue to put downward pressure on house prices into early next year," Haldeman said.
Earnings reports earlier in the year had shown Freddie Mac setting aside less money to cover potential credit losses. This quarter, Freddie set aside a $3.6 billion provision for credit losses from single-family home loans.
Aside from continued weakness in housing, Freddie's performance in the third quarter was impacted by losses on derivatives that are used to hedge exposure to interest rates movements. Freddie Mac posted $4.8 billion worth of derivatives losses for the quarter, compared with $1.1 billion from the same period a year earlier.
The regulator for Freddie Mac and Fannie Mae last week predicted the two firms' cumulative net costs to U.S. taxpayers will be $121 billion to $193 billion through 2014, with future dividend payments taken into account. That's down from a year-earlier forecast of cumulative capital needs likely falling between $221 billion and $363 billion through 2013.
Both Fannie Mae and Freddie Mac have drawn about $175 billion that the government since they were seized in 2008 and have returned about $30 billion. So far, the two firms have cost taxpayers about $145 billion.
(Reporting by Margaret Chadbourn; Editing by Chizu Nomiyama and Jan Paschal)
Calling all HuffPost superfans!
Sign up for membership to become a founding member and help shape HuffPost's next chapter
BEFORE YOU GO