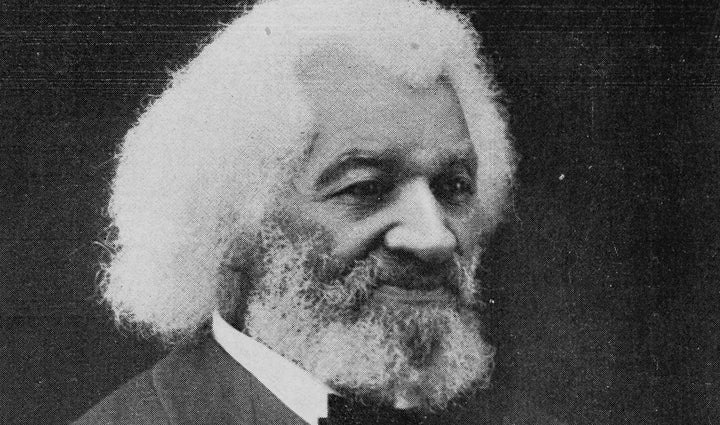 The president of the United States evidently does not know whether Frederick Douglas is dead or alive.
That would be the most likely interpretation of his comments on February 1 that Douglass "has done an amazing job" and "is being recognized more and more." His use of the present tense suggests he may not be aware that Douglass is a historical figure.
Someone needs to tell the president that Frederick Douglass was the most famous black American of the nineteenth century. He was famous long before the Civil War because of his dramatic escape from slavery in Maryland in 1838, and his subsequent career as an abolitionist, lecturer, and newspaper editor in the North. He published a memoir. He toured the British Isles. He advocated woman suffrage when some activists thought that idea was too radical for the mid-nineteenth century. He knew or corresponded with almost every significant reformer of his era.
Frederick Douglass met Abraham Lincoln several times during the Civil War, because the President wanted to meet him. They discussed policy issues regarding slavery and emancipation, and although they did not always agree, Lincoln clearly respected Douglass's views. The last time they met, it was at the president's personal invitation. The president had just delivered his second inaugural speech to a large crowd in front of the U. S. Capitol on March 4, 1865.
At a White House reception afterwards, the guards tried to stop Douglass from walking into the East Room, since it was still rare for black Americans to enter the building in any capacity except as laborers who worked there. Douglass insisted that he had been invited, and Lincoln, standing nearby, heard an argument breaking out. He walked over and welcomed Douglass in a loud booming voice, so that onlookers understood his regard for his African-American guest.
After 1865, Frederick Douglass continued his high-profile career in reform. He gave many public speeches in the United States, and he toured the Middle East. He published a variety of essays on contemporary issues, and he wrote two more autobiographies. He held several public offices, including that of U. S. Marshal for the District of Columbia, where he lived into his old age. His last home, Cedar Hill, is still standing in the District, and a bridge in the District is named after him. When he died in the nation's capitol in 1895, newspapers all over the country carried his obituary.
By any measure, Frederick Douglass was a major historical figure. That is why he is in every college textbook. His face is on a postage stamp, for goodness' sake. He is the subject of many historical works, and he continues to inspire people all over the world. How ironic that President Trump's peculiar comments about Douglass appeared on the very first day of Black History Month.
Frederick Douglass often wrote about ignorance and the toll it took on individual human beings and entire nations, how it degraded people and held them back. He firmly believed that ignorance undermined the process of democracy and that ignorance of history, in particular, could have dangerous political consequences. In one postwar essay, he remarked that the American people had yet to learn that "where justice is denied, where poverty is enforced, where ignorance prevails," there would be no peace.
President Trump would do well to model himself after Mr. Douglass, who knew his American history.
Calling all HuffPost superfans!
Sign up for membership to become a founding member and help shape HuffPost's next chapter