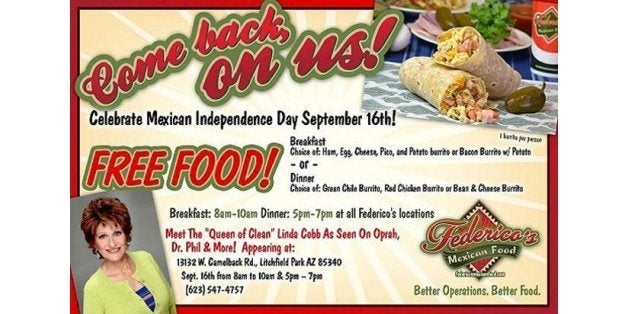 The best way to an American's heart is through their stomach -- even when that food has given them horrible bouts of bloody diarrhea, apparently.
Federico's Mexican Food, a restaurant chain, drew fire -- from the public and their anuses -- after its Litchfield, Ariz. location caused an E. coli outbreak that gave 74 patrons "grossly bloody bouts of diarrhea," a complainant said, according to UPI. But in an expert public relations move, Federico's hired a cleaning expert and will offer free burritos on Sept. 16.
And hey, the "Queen of Clean" Linda Cobb, who has appeared on Oprah, will be there, according to the restaurant's Facebook page. Cobb reports in a new Federico's ad that the restaurant now uses dish soap and bleach -- at the same time -- so you can rest easy — on the toilet.
To be fair, the Litchfield Park location voluntarily closed after the E. coli outbreak. It'll open again following plenty of "Queen of Clean" guidance and a lawsuit filed on behalf of the victims, according to the Phoenix New Times.
Plus, if you act now, you'll have your choice of a breakfast burrito, a green chili burrito, a red chicken burrito or a bean and cheese burrito. That should make you forget about the porcelain-busting party poopers for a while.
Popular in the Community