I'm Fred Raillard, CEO, Co-founder and Creative Chief Officer of FRED & FARID, a social, content, tech solutions for brands company based in Paris, Shanghai, Beijing and New York. In partnership with FRED & FARID, BFM Business launches #FredinChina, a social media podcast in "Chine Hebdo", the weekly radio broadcast of Mathieu Jolivet. #FredinChina is essential to know and understand the world's largest economy.
I fell in love with China, and live in Shanghai with my wife and sons since September 2012. With my teams at the FRED & FARID Shanghai agency we monitor, analyze and decrypt this ultra-connected China with nearly 800 million netizens by sharing what we see, hear and read on Weibo, WeChat, Huaban, Youku. I prepare this column with Jing Qian from FRED & FARID Shanghai.
Click here to listen to all the podcasts.
The new TV series 'Ode to Joy' seduces Chinese millennials
This week's HotTopic is a TV series called 'Ode to Joy', which is about 5 young women living together in Shanghai. They are in fact all living on the same floor of a compound. The first woman has just returned from the US and is doing well in her job. The second is what we call here a 'second generation rich', meaning that her father is very rich. The three remaining girls live together in the same place, and come from various villages in China. The show is all about how they survive in Shanghai.
It's pretty successful in China, as most Chinese women can relate to one of those 5 girls. The show is also very accurate about the relationship between those different social classes. For example, you can see that the second generation rich woman is always thinking about how to party and what to buy, but also how to win the respect from her father which is easier said than done. You also discover that one of the poor girls only dates rich guys in Shanghai, because she is under a lot of pressure from her family to bring back money.
There were a lot of jokes on social media, and people made a parallel to the US TV series Friends. The joke was that when China tries to do a Friends type show, it turns into a drama and not a comedy! This is largely because of the big differences between the social classes in China.
At the end of the day, the TV series was followed by a lot of people and the official hash tag got 268 million media impressions.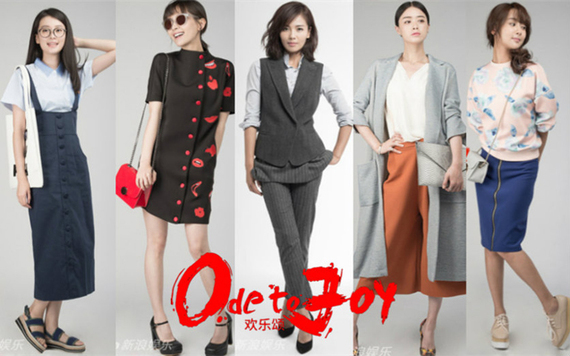 A huge medical scandal shakes the giant Baidu
This week's HotBrand is Baidu, but again for the wrong reasons, as there is another scandal linked to the brand. A lot of people in China consider Baidu to be an evil company. There was a scandal earlier this year involving Baidu commercializing its disease-related forums to a laboratory.
Now there is another scandal related to a young man who died from cancer. Before that, he went on Baidu's search engine to try and find something to cure his cancer. He found a hospital with a treatment, so with the help of his family as well as his personal savings, he gathered all the money to pay for this. He spent about 200,000 RMB for this treatment that did not work, and died shortly afterwards.
Unfortunately, this treatment was completely obsolete, and had been out of the market for a very long time. So people started to ask questions - for example, why when he went on the search engine, did he find that hospital proposing the treatment?
The answer is because they bought these keywords, and the whole scandal revolves around the idea of how it's possible to buy key words without any control!
So the netizens started to investigate this, and apparently 50% of the money made by Baidu's search engine comes from hospitals linked to a city called Putian in China. This is a huge organization that buys keywords related to anything that can happen to you health wise in China. So every time you have a health issue, and go on Baidu to search for your problem, you will have a good chance of ending up in one of their hospitals.
This is such a huge scandal that Beijing is forced to react, asking the CEO of Baidu to give more explanations regarding all of this. Everyone is still waiting for answers and consequences against Baidu and this network of hospitals in Putian.
The whole story made 620 million media impressions, and the stock market went down for Baidu!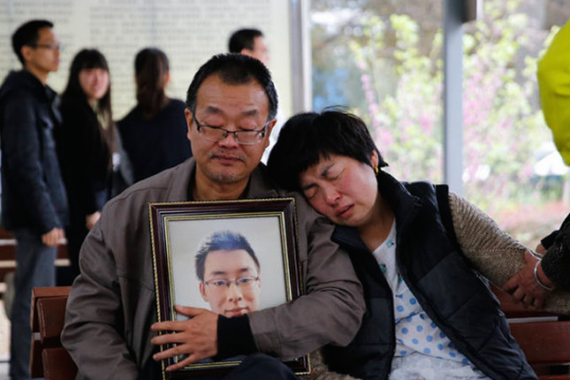 A Chinese newspaper reveals the list of hospitals involved in the Baidugate on WeChat
This week's HotPost is related to the Baidu scandal, and the Putian network of hospitals. This time it's a website called iFeng.com which is a news website from Hong Kong, that reports on politics and the economy. Now, they released an interactive H5 (mobile site), where you can discover how many hospitals are liked to this Putian network in the city where you live.
For example, people in Shanghai discovered that 38 hospitals are linked to Putian. Overall in China, more that 500 hospitals are linked to Putian in 115 cities. The H5 website was a big viral success, but also very scary as people realized just how huge this organization was, as well as the power and money behind it.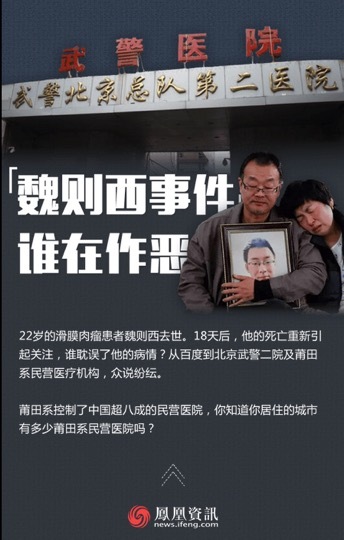 Calling all HuffPost superfans!
Sign up for membership to become a founding member and help shape HuffPost's next chapter