I'm Fred Raillard, CEO, Co-founder and Creative Chief Officer of FF GROUP, a social, content, tech solutions for brands company based in Paris, Shanghai, Beijing and New York. In partnership with FF GROUP, BFM Business launches #FredinChina, a social media podcast in "Chine Hebdo", the weekly radio broadcast of Mathieu Jolivet. #FredinChina is essential to know and understand the world's largest economy.
I fell in love with China, and live in Shanghai with my wife and sons since September 2012. With my teams at the FF Shanghai agency we monitor, analyze and decrypt this ultra-connected China with nearly 800 million netizens by sharing what we see, hear and read on Weibo, WeChat, Huaban, Youku. I prepare this column with Jing Qian from FF Shanghai.
Click here to listen to all the podcasts.
Giant quiz about cosmetics on social networks
This week's HotTopic is about skin care products in China. There was a kind of game going on where girls would gather up all the skin care products they had in their bathroom, and then post the products on social media.
The game was to ask the boyfriend to guess what each product was for, and the price of the product. As you can imagine, none of the boyfriends could correctly imagine and understand what each product was for, and more importantly they totally underestimated the prices. This made all of the Chinese women laugh, and received over 380 million media impressions. The success of this game is for 2 reasons. The first is a status aspect, as it allowed the girls to show both face and status by exposing all their prestigious skin care products and brands on social media. Secondly, they showed that they had a boyfriend and could therefore show off a bit.
It's also funny to see that videos rather than pictures are now taking over on social media in China. After this big movement by the girls, the boyfriends got their revenge by posting car repair products on their social media, asking their girlfriends to guess what those products were for as well as the price. As you can imagine, none of the girls could answer these questions correctly.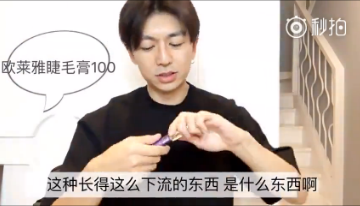 100,000 retweets in 2 hours for BMW and its H5 mobile site on WeChat
This week's HotBrand is the German car constructor, BMW, with the M2 model.
The brand made a typical communication campaign in China, with a really entertaining H5 mobile site, with good UX and user experience.
So the user is invited to go on WeChat where you see a post that pretends to have been erased by BMW. As soon as you see the post, you ask yourself why BMW has erased it, and your immediate reaction is to try and click on it as it triggers your imagination: it may have been censored, or the post might have received some bad buzz.
Once you click on the post, you land on the H5 mobile site, on a page where you see a page with editorial and a BMW M2 car from above. The car starts and begins to damage the page its on. The car then leaves the page and goes into a video where we follow it, arriving onto an old vinyl record, and then arriving on a WeChat timeline, pushing all the content away like it was literally driving on the timeline. We the see the car turning left and right, each time pushing the content and pictures we see on the page out of the way.
It's a very simple entertaining communication that went viral, typical in China, as it is all about the H5 mobile site, good user experience, WeChat and entertainment.
After just 2 hours, there were 100,000 retweets, which is a lot since in China we are only authorized to count to that number. It was a great success in China and has all the right ingredients to make a good modern communication.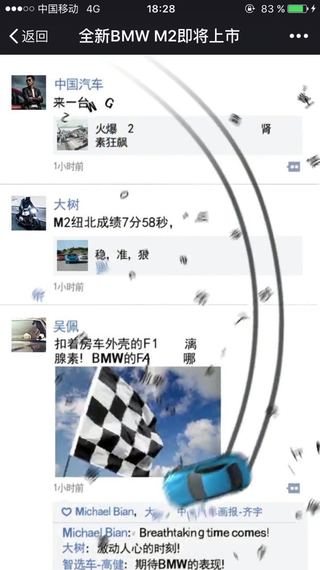 Stephen Hawking boosts Chinese pride by opening his Sina Weibo account
This week's HotPost is about Stephen Hawking, the English scientist. He decided to open his Sina Weibo account in China to a resounding success. The numbers are crazy - after just 2 days, he got 2 million followers and has over 3 million today. He made only one post, which received 366,000 retweets, 390,000 comments and 875,000 likes.
It was a very simple and personal post, explaining that he visited China in 1985 when he made a train trip all around China. He mentions his great souvenirs and says how happy he is to open his Sina Weibo account.
The post is written very simply, but it is direct, respectful and humble. All the comments were really funny as people posted comments such as: "When I comment on his page I feel like I am talking to the universe", or someone else saying "By just liking this post I feel more clever now".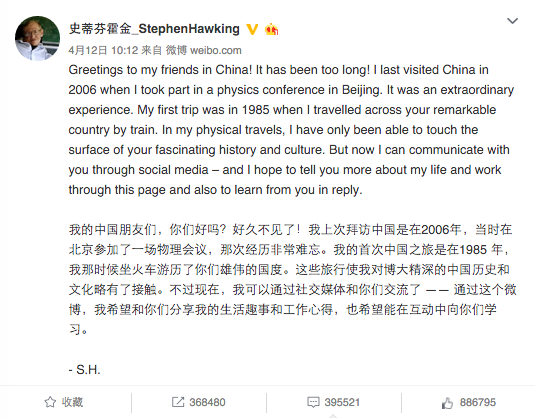 REAL LIFE. REAL NEWS. REAL VOICES.
Help us tell more of the stories that matter from voices that too often remain unheard.