I'm Fred Raillard, Creative CEO, Co-founder and Creative Chief Officer of FRED & FARID, a social, content, tech solutions for brands company based in Paris, Shanghai, Beijing and New York. In partnership with FRED & FARID, BFM Business launches #FredinChina, a social media podcast in "Chine Hebdo", the weekly radio broadcast of Mathieu Jolivet. #FredinChina is essential to know and understand the world's largest economy.
I fell in love with China, and live in Shanghai with my wife and sons since September 2012. With my teams at the FRED & FARID Shanghai agency we monitor, analyze and decrypt this ultra-connected China with nearly 800 million netizens by sharing what we see, hear and read on Weibo, WeChat, Huaban, Youku. I prepare this column with Jing Qian from FRED & FARID Shanghai.
Click here to listen to all the podcasts.
Long-awaited opening of Disneyland in Shanghai creates buzz across China
The HotTopic of the week is the opening of Disneyland in Shanghai. This was a huge event that the Chinese people have been waiting for the past 17 years! It took 17 years to launch, and cost 5.5 billion dollars. About 100,000 people have worked on the preparation of this event, either in the construction of the site or for the launch. The official opening was on June 16th 2016, which created a big buzz in China. In just 30 minutes, there were 5 billion clicks on the official website! As for the queue, people started lining up at 6am, with the average waiting time for each attraction being between 4 and 5 hours! This accounted for a mediocre experience for the first day, even though the perception of Disneyland is very good in China. Most of the comments on the Internet had more to do with the Chinese people that behaved badly. When it's really crowded, some Chinese people will do absolutely anything to skip the line, or destroy the flowers on the sides, or simply throw their trash on the ground. So the comments were more about some Chinese people criticizing others for their bad behavior.
There was also a comment from the Lǎobǎn (boss) of Wanda, which is a big entertainment group in China who is a big critic, saying that Disneyland would not be profitable in China for the next 20 years, and even questioning Disneyland's decision to be in China. All these comments naturally came because a big entertainment group, Wanda already exists in China.
Disneyland's boss was not quite sure how to react to these comments and did not understand all this agression.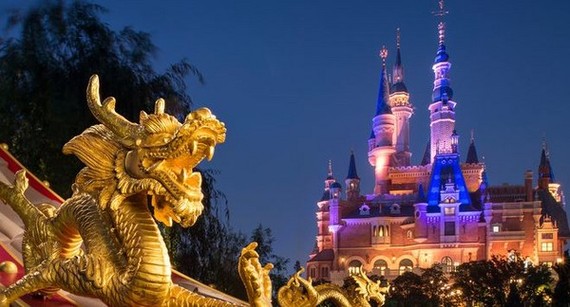 Tao Bao believes in live-streaming platform for eCommerce
The HotBrand of the week is quite amazing. It's Tao Bao doing live streaming. As you know, live streaming platforms are now really popular in China. It's the year of live streaming, and the equivalent of Meerkat and Periscope in the West! In China there are about 70 live streaming platforms, each specialized for different communities, so brands should really think about using these platforms more for their customers.
This time, Tao Bao (the C2C platform of Alibaba) re-launched a live streaming platform. It was a re-launch since they launched the platform 100 days ago, and decided to celebrate the anniversary of these '100 days'. The Chinese are champions of activation, so they invited some KOL's to do e-commerce live streaming. Specifically, they invited a famous woman KOL who is also a beautiful model who already has a shop on Tao Bao. Instead of doing a beauty tutorial for 2 hours, she showed 5 outfits (each time describing the colors, material etc.), that she sold in front of the camera. It was a huge success as this live stream got 410 thousand viewers and 1 million likes. In just 24 hours she sold more than 20 million RMB worth of clothes, corresponding to about 100 thousand items of clothes, meaning nearly one item sold every 5 seconds. This is colossal, proving in a way for Tao Bao, that the live streaming platform could be the new e-commerce in China. Once again, it's very important that brands enter this zone and start being interested in this.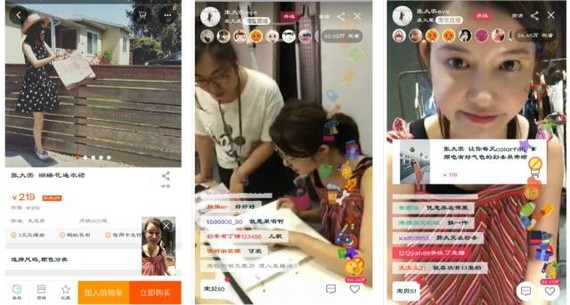 Emojis come to life on a pool table by a Chinese artist
The HotPost of the week is about the work of an artist called 'Winigreeni', who brought emoticons/emojis to life. She decided to paint all the yellow balls you find on a pool table with emoticons. Each ball therefore had a different face painted on it representing our emotions. Emoticons are now part of our life - we use them on social media and in chats, helping us synthesize the way we feel. Now, Winigreeni brought this to the pool table, and a Chinese KOL who was talking about the UK and how much the English loved playing pool, relayed it.
It's extremely cute and emotional when you see these little faces that have become emoticons enter your real life. It just touches you as a viewer, and there were a lot of comments like: "They are so cute but I wouldn't dare to play pool because I'm too scared to damage them".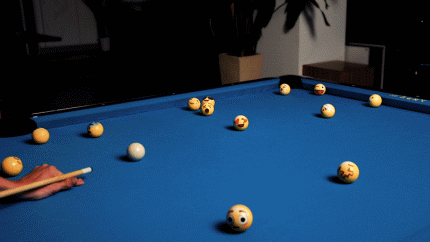 Calling all HuffPost superfans!
Sign up for membership to become a founding member and help shape HuffPost's next chapter