I'm Fred Raillard, CEO, Co-founder and Creative Chief Officer of FRED & FARID, a social, content, tech solutions for brands company based in Paris, Shanghai, Beijing and New York. In partnership with FRED & FARID, BFM Business launches #FredinChina, a social media podcast in "Chine Hebdo", the weekly radio broadcast of Mathieu Jolivet. #FredinChina is essential to know and understand the world's largest economy.
I fell in love with China, and live in Shanghai with my wife and sons since September 2012. With my teams at the FRED & FARID Shanghai agency we monitor, analyze and decrypt this ultra-connected China with nearly 800 million netizens by sharing what we see, hear and read on Weibo, WeChat, Huaban, Youku. I prepare this column with Jing Qian from FRED & FARID Shanghai.
Click here to listen to all the podcasts.
Warcraft is a huge success in China, acclaimed by the whole Post-80's generation
The HotTopic of the week is not about what happened in Orlando, probably because there were no Chinese victims, and maybe because LGBT is not as active in China as it is in the West. The HotTopic is the movie 'Warcraft', inspired by the video game 'World of Warcraft'. The movie was heavily criticized in the West for having a terrible story, but surprisingly it turned out to be a huge success in China.
The 'World of Warcraft' video game was a generation game that was like a symbol in China. Every single Post-80's person played this game, and have been waiting for this movie for almost 10 years! In only 5 days it made 1 billion RMB, a new record in China. It was funny because on social media you could see the emotional reactions from the Post-80's people and a battle between the other generations. As you know everything happens so fast in China that you can see huge differences in the behavior of the different generations (Post-80's, Post-90's millennials etc.). In the comments you could see a real battle unfolding between the Post 80's and Post 90's. Moreover, you could sense that the Post-80's generation now felt very old!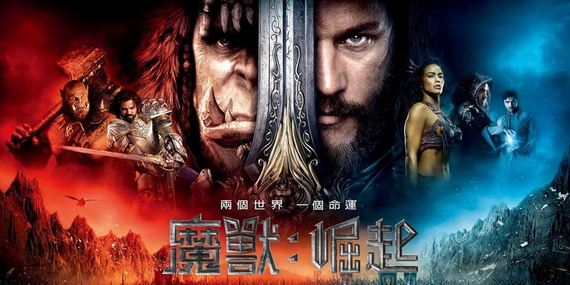 Kuai Shou, the application showing the gap between the two Chinas
The HotBrand of the week is an app called "Kuai Shou", which was released in 2011. The app was not very famous in Tier 1 cities such as Beijing and Shanghai because it's an app destined for the countryside, and countryside inhabitants from Tier 4 and Tier 5 cities.
This app became very famous this week because a KOL talked about it saying that it was one of the most used apps in China (probably the 4th most used), and that the app's activity is double that of 'May Pai', (but this is probably a wrong number).
It is a live-streaming and gif app, showing content that would not look out of place on the Jackass TV show. It basically shows very simple people doing very weird things. For example, a woman eating bugs, another woman breaking lamp bulbs on her body, a man putting fireworks down his pants and an overweight 9-year-old smoking and drinking. It really is a bunch of absolutely crazy Jaskass-style content.
The article itself was banned because people thought that it was simply highlighting the worst content on the platform, and therefore banned by the government. Above all, it just shows that there is a huge gap between the forward-thinking digital Tier 1 cities and the countryside. It is a huge gap that the government is trying to lessen all year.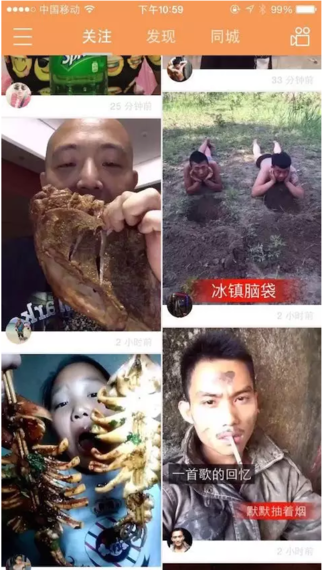 Ian McKellen visits China who already loves him
The HotPost of the week is about the British actor Ian McKellen who played Gandalf in Lord of the Rings. He spent the week in China, and there was a post from the British Consul who was documenting his trip. Ian McKellen really touched the Chinese people with emotional posts of him on the Great Wall of China, in a gay bar (he is homosexual), and at the wedding market (a market where parents go to try and find a husband or a wife and basically try to sell their children).
Amongst all these pictures of Ian McKellen, there was a really funny one of him holding a board saying he is 77 years old, went to Cambridge University, has a house in London, and is still very active! People loved his humor and simplicity, as well as the fact that he was totally relaxed about his homosexuality. This post alone received 36 thousand likes and was forwarded on a lot of various social platforms in China.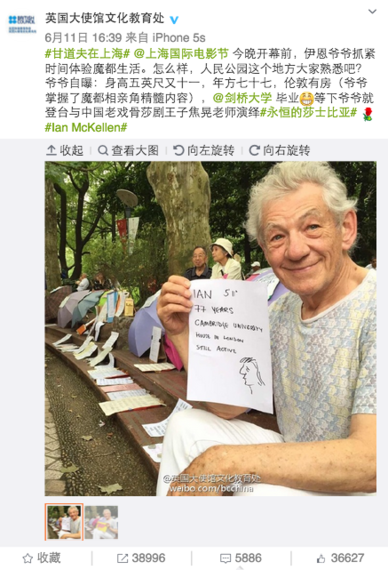 Calling all HuffPost superfans!
Sign up for membership to become a founding member and help shape HuffPost's next chapter