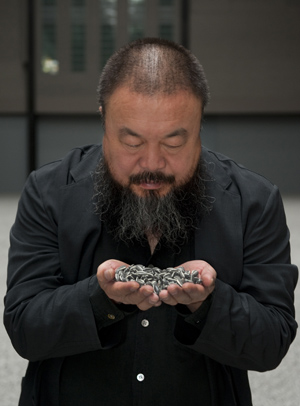 Whilst world attention is focused on the political uprisings unfolding in the Middle East and Africa, the Chinese government has engaged in a widespread crackdown on political and social critics.
Ai Weiwei is perhaps best known for his collaboration with architectural firm Herzog & de Meuron on the design for the Olympic Bird's Nest stadium. His 100 million Sunflower Seeds exhibit, still showing at the Tate Modern in London has been a resounding success. Tate director Sir Nicholas Serota commented, "we are dismayed by developments that again threaten Ai's right to speak freely as an artist and hope that he will be released immediately."
Ai Weiwei has been an outspoken critic of the government. Last year he was placed under house arrest after resisting the demolition of his studio in Shanghai by the authorities. In 2009 he was hospitalised after being beaten by police for attending a fellow human rights campaigners trial. He is being considered for this years 2011 TIME 100 poll of the most influential people in the world. He is regarded as a political hero.
The state-sanctioned newspaper Global Times has written that Ai Weiwei "will pay a price for his special choice." This ominous message follows the increasing global pressure on China to release him. German Foreign Minister Guido Westerwelle summoned Wu Hongbo, the Chinese ambassador, to discuss Ai Weiwei's detention.Chinese authorities have today insisted on state-run Xinhua news site that he is being detained and investigated for unspecified economic crimes. But this statement was subsequently withdrawn.
The Chinese government fear a ricochet effect from the current revolutionary wave sweeping through the Middle East, which might spark similar protests in China. In February of this year an anonymous post on the US-based site Boxun.com called for a Middle East-style "Jasmine Revolution." Ai Weiwei has not been involved in this movement.
Since then the Chinese authorities have launched an unrelenting assault on human rights, civil liberties, curtailing freedom of speech, and stepping up censorship both on and offline. In the past month, dozens of Chinese lawyers, bloggers, and dissidents have been detained. In a statement by Sam Zarifi, Amnesty International's Director for the Asia-Pacific he said "China is abandoning the rule of law, The government is trying to systematically break the will of the country's lawyers. It is giving its security forces free rein to pervert the course of justice and deny activists and critics the right to a legal defence. The most disturbing thing is that there is no sign of the government relaxing its grip this time around. We fear that this is just a taste of things to come."
Since his detention authorities have begun deleting references to Ai Weiwei on Chinese speaking sites, forcing human rights campaigners to refer to him by code words such as "ai weilai" or "love the future" which sounds and looks similar to his name.
Ai Weiwei and his art could be a symbol of China's growing leadership in the world, but the Chinese authorities have chosen instead to try and erase him from the national and cultural memory.
The UK, Germany, France, Australia, US and the EU have all publicly called for Ai Weiwei's release as well as many leading figures in the art world.
We must now also stand with Ai Weiwei and with all those who have been unjustly detained. Please sign The Bianca Jagger Human Rights Foundation's petition urging the Chinese government to step up to its global leadership position and stop the persecution of political critics and attempts to erase them from the internet.
Please help us free Ai Weiwei by signing this petition. If enough of us take action now, we can make sure that Chinese voices of freedom are not silent forever.
Photo credit: Ai Weiwei with Sunflower seeds, installation at the Tate Modern.
Popular in the Community