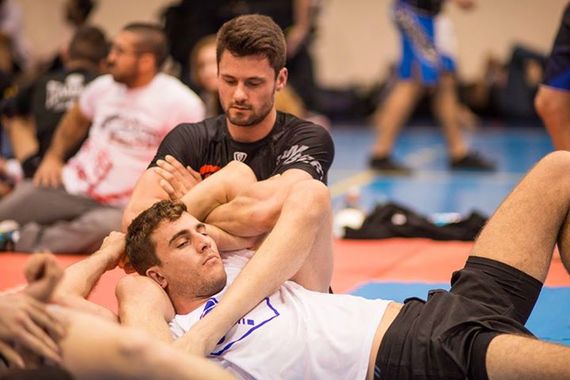 As VP of operations, I am a busy guy. Juggling between work, MMA and life in general, I've got a lot going on. So when I get some down time, I'm gonna take advantage of it. Making sure that I use my free time to enhance who I am is important and these free apps help me do so.
Capture the Beauty
I live in one of the best cities in the world. Offering a sparkling blue beach, vast parks and some of the freshest produce around, Tel Aviv is one photo opp after another. So to unleash my creativity and make my memories last, I use the cutting edge camera on my new iPad.
That camera is great for Facetiming and capturing my favorite spots, but the best part comes when I start filtering the pics and videos. Thanks to FilterBaker, I can filter videos of the Mediterranean waves in real time using advanced color grading technology and can even create my own filters. And for all of you Twitter buffs out there, you can find my latest pics and videos uploaded straight to my account.
Español Por Favor
Having grown up in Canada but moved to Israel in my teens with my family, I am lucky enough to be bilingual.
but did you know that it actually
? So when it comes to learning a new language, I say the more the merrier.
Thanks to Lingua.ly, I can brush on my elementary level Spanish and help strengthen my linguistic skills. Beyond the fact that it's a free app, it offers a huge variety of languages so that you can study away. Available online and in app, this tool is great for investing in skills that will affect you in the best ways.


Bon Appetit
After a long day, who has the energy to cook? A full day of work is enough to drain you of your energy, but a great meal has potential to restore your energy and leave you feeling satisfied. So what do you when you are craving the comfort of a delicious home cooked meal?
Head over to ChefTap! This free app allows me to collect, import and personalize recipes that I have or find from various sites. Thanks to their tag and organization systems, I can easily find my favorite meals and prepare an appetizing meal for my family. Honing in on my cooking skills and preparing nice meals for my loved ones is a great way to spend my spare time.
Stay Active
I'm a diehard fan of MMA and I hit the gym at least twice a week to make sure my training is up to par. But on non-gym days I try to go for a run, a bike ride or jump rope to stay in shape and make sure that I'm
.
There are tons of apps out there that help motivate you to exercise but none are unique in the way that Charity Miles is. This app lets you donate money based on the number of miles that you cover. Simply download the app and select a charity to donate to. A corporate sponsor will then pledge a donation based on your exercise distance. Take care of yourself while also looking out for others with this beneficial app.
Taking care of yourself is the first step to living a happy and fulfilled life. So by using your free time to embrace your creative side, learn a new language, enhance your culinary skills and stay in shape, you are investing in yourself. Being well rounded will allow you to feel more gratified and happy with the life you live. So find what makes you happy and embrace it!