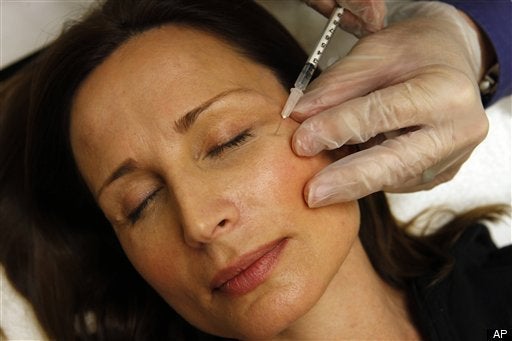 BRIAN WESTLEY, Associated Press Writer
ARLINGTON, Va. (AP)- Colleen Delsack is a 47-year-old single mother who can't seem to find a steady job, and she worries that her age may have something to do with it.
So she joined dozens of other unemployed workers Friday to take advantage of free Botox wrinkle injections offered by a Virginia clinic.
"Age is a handicap," said Delsack, whose home has gone into foreclosure in the 18 months since she lost her job as an account executive with a printing and document-management company.
"There's so much competition," she said while waiting to receive about a half-dozen small injections to ease fine lines around her eyes and on her forehead. "And we're up against kids coming out of college and not making the salaries that we've had."
In an increasingly youth-obsessed culture, Delsack isn't the only one feeling apprehensive about her age in the workplace.
The Equal Employment Opportunity Commission says it received 24,582 complaints of age discrimination in the 12-month period ending in September. That's a 29 percent increase from the previous year.
"We can't say for sure why everything is up across the board, but we have a few guesses, one being economic conditions," commission spokeswoman Christine Saah Nazer said. She noted that complaints generally intensify when the job market deteriorates.
The number of Americans looking for work continues to climb.
The Labor Department announced Friday that employers cut 345,000 jobs in May. That was less than economists projected, but the unemployment rate surged to a higher-than-expected 9.4 percent from 8.9 percent in April.
The growing ranks of the unemployed include Benita Jenkins of Washington, who was among the first in line Friday at the Reveal clinic near the Pentagon to accept the unusual offer of free Botox injections.
Jenkins, who would not reveal her age but appeared to be in her mid- to late 40s, said she was laid off in February from a small nonprofit company where she led a $12 million capital campaign. She has received Botox injections before but had to stop pampering herself when money began running out.
She hopes improving her appearance will help, at least psychologically, in future job interviews.
"This is the longest I've ever gone in my life without work," Jenkins said.
She's been on about a half-dozen interviews in recent months. And while she's seen nothing overt, Jenkins sometimes feels her age and salary requirements have counted against her. Still, it's a tough thing to prove -- so she decided to get a little touchup just to be safe.
"You're more likely to be perceived in a better light if you look good," she said.
Botox, which paralyzes facial muscles to make lines fade, is the No. 1 minimally invasive cosmetic procedure in the U.S., according to the American Society of Plastic Surgeons. More than 5 million treatments were done last year.
Shannon Ginnan, a doctor at the clinic, said his patients are primarily women, but include people of various ages, races and socio-economic backgrounds. He said it's important for anyone seeking a Botox treatment to have realistic expectations.
Deep skin wrinkles, for instance, will not disappear completely. Some people also experience slight bruising after receiving injections. The cost of a single treatment can vary from $300 to $500, according to Reveal. Results typically last four to six months.
Job recruiter Laura Baker said doing well on a job interview, regardless of age, is all about exuding confidence.
"It's important when you're feeling down to treat yourself, to get a pick-me-up," said Baker, who works with the headhunting company Friends & Company.
"Whether it's Botox or something else, it's that fresh approach you need."
Mari Negron, 49, of Arlington, has also struggled to find work. She can't be sure whether age is a factor, but she is certain about one thing: All the worry of trying to find a job is taking its toll, and a little Botox can't hurt.
"I think I'm stressed out," she said. "I don't know what to do really."
Related
Popular in the Community