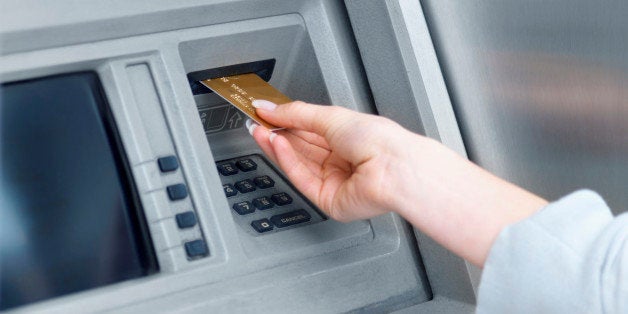 Banks fees are getting worse.
The availability of free checking accounts dropped to record low levels in the first half of the year, according to a report released this week by MoneyRates.com. The percentage of checking accounts with no monthly maintenance fees fell to 28 percent, the lowest since 2009, the survey's first year. In 2012, nearly 37 percent of accounts were free, according to the study, based on data from the 50 largest U.S. banks and 50 smaller institutions.
The average monthly checking account fee rose 15 cents to $12.69, or just over $150 a year, according to the study.
The average minimum balance required to open an account rose $6.74 to $400.45, the report found.
The rising cost of banking threatens to push more struggling Americans out of the mainstream financial system, leading them to spend even more for the privilege of paying bills, cashing checks and stowing their cash.
"That is a really harmful and pernicious development because once you push someone out of the banking system into this fringe banking system, they're paying a ton more," said Mehrsa Baradaran, a law professor focused on banking regulation at the University of Georgia. She noted that someone making $25,000 a year, who doesn't use a bank account ends up forking over about 10 percent of their income in fees.
Banks have been cutting poor customers loose for decades, a trend that only got worse during the recession and its aftermath, said Baradaran. As banks tightened up lending, making less money on traditional loans, they turned to account fees to make up the difference, she said.
Without a bank account, the "unbanked" turn to expensive payday loans and check-cashing stores for financial services. Not only do these alternatives cost more, they also aren't as heavily regulated or as well-insured as traditional banks, Baradaran points out.
About 10 million households in the U.S. are unbanked, or don't participate in the traditional banking system at all, and another 24 million households are underbanked, or rely on alternative financial service providers in addition to a traditional bank account, according to the FDIC report. Less than half of lower-income households are fully banked, or have a bank account and haven't recently used any alternative financial service providers.
In addition to paying exorbitant fees to do things most of us take for granted, like cash or write a check, these households are locked out of a variety of other services. Without a bank account, paying bills often requires a fee or waiting in long lines to pay with cash. It's also difficult to build a credit score, which increases the barriers to getting a credit card or an apartment lease.
"It just creates huge inefficiencies, wasted time and stress in people's lives who are already sort of stretched thin," Baradaran said.