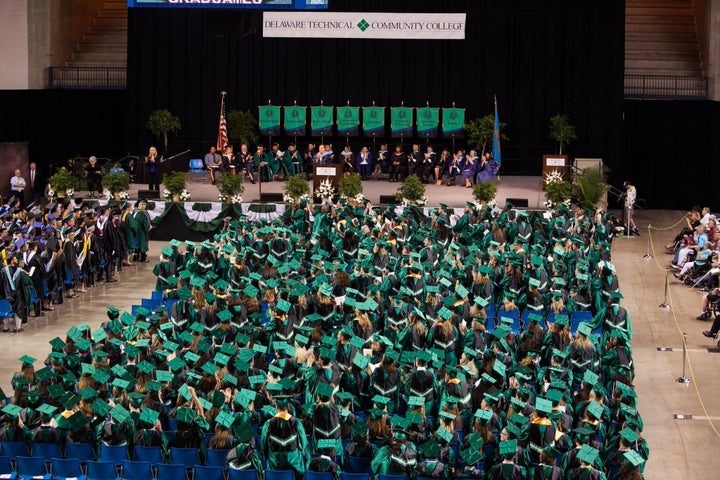 President Barack Obama's push for free community college has captured national attention, but some U.S. states and cities have been offering it for a long time before the idea gained popularity.
Delaware's Student Excellence Equals Degree scholarship program provides free community college in that state. However, because the SEED program is referred to as a scholarship rather than an entitlement, it's received less attention than Tennessee and Oregon's free community college programs, Delaware officials say. In fact, the SEED scholarship is both -- it's guaranteed to any student who meets the requirements.
Delaware began distributing SEED scholarships in 2006. Any and all students who graduate from a Delaware high school with at least a 2.5 GPA are eligible to receive free community college or enroll for free in a 2-year program at the University of Delaware. According to Delaware Technical Community College, more than 7,400 students have used the grants since they became available.
Some cities, like New Haven, Connecticut, are also trying out free community college programs. The New Haven Promise program offers scholarships to New Haven residents and public school graduates, covering up to the full cost of tuition at 2 or 4-year colleges or universities in the state, according to the Campaign for Free College Tuition.
In Tulsa, Oklahoma, students can receive three years of tuition coverage at Tulsa Community College if they maintain a minimum 2.0 grade point average, enroll right out of high school and complete 40 hours of community service a year, according to Inside Higher Ed. In 2007, the program's first year, the number of freshmen enrolled at the school nearly doubled.
Individual community colleges have also launched programs that could provide a free education to eligible or needy students. One example is the Community College of Philadelphia, which offered free tuition to city high school graduates from low-income families who met certain requirements.
Popular in the Community