In California, a lush lawn is something of a status symbol -- but its upkeep uses a lot of water. Now that the drought-stricken state is under mandatory water restrictions for the first time, some residents are considering giving up their green yards. And some local companies are making it easier for them to bite that bullet.
"About two years ago, I was talking to a customer, and they wanted to know what they could do to save water," Paul Helen, general manager of Modesto Landscapes in Modesto, California, told The Huffington Post. "And off the cuff I said, 'You're doing something good, so I'll do something good for you too.'" So he offered to remove their lawn for free.
California Gov. Jerry Brown has mandated a statewide 25 percent reduction in residential water use, and citizens who remove their lawns can help the state meet this goal. Grass lawns account for 30 to 60 percent of residential water use in the U.S., according to the Environmental Protection Agency.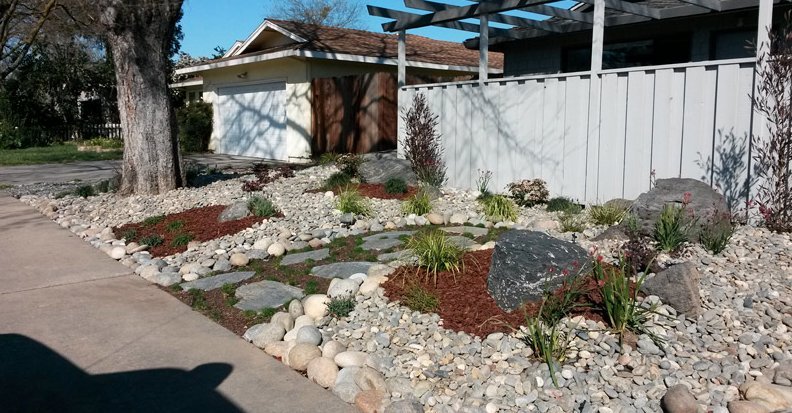 A drought-tolerant yard by Modesto Landscapes
Helen has continued offering free lawn removal to customers that hire his company, charging them only for the installation of a drought-tolerant landscape. Since a local news station featured his deal in a story last month, he has been offering a discount on installing those new yards, which include rocks, artificial turf, succulents and other California native plants that require little to no water or maintenance. So far, he says, about 15 customers have taken him up on his offer.
As California suffers through the fourth year of its worst drought in 1,200 years, customers are "extremely enthusiastic" about giving up their yards, Helen said. "There's a heightened sense of what's going on, and people are genuinely concerned -- they're not just trying to save a few dollars on water."
Installing new landscaping can cost several thousand dollars upfront, but the water bill savings add up. Helen said one of his customers who gave up his lawn now pays just 20 percent of what he used to on water and saves more than $1,000 a year.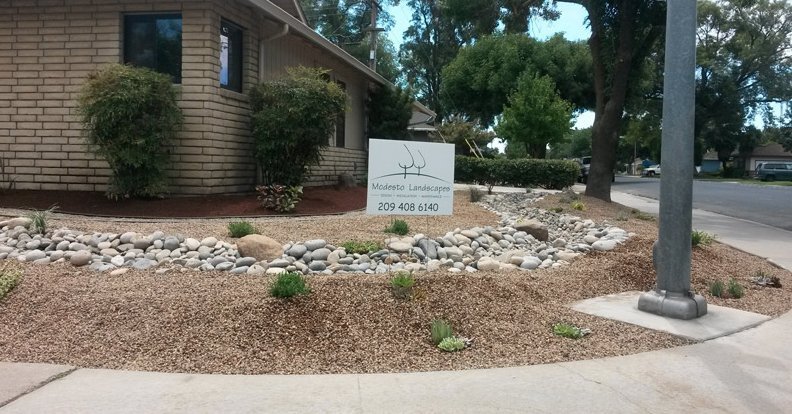 A drought-tolerant yard by Modesto Landscapes
Although there is a statewide program that offers rebates to residents who switch to more water-efficient appliances, there is not a statewide program offering residents money back if they remove their grass lawns. Some local water districts, however, have introduced lawn-removal rebate programs.
Three hundred miles south of Modesto, another company is helping people take advantage of such a program offered in Los Angeles County. Since last summer, Turf Terminators has been offering residents free lawn removal and drought-tolerant landscape installation, in exchange for the rights to collect the rebate money, which ranges from $2 to $3.75 per square foot of lawn replaced. So far, the company has replaced more than 3,000 lawns, Chief Operating Officer Julian Fox said.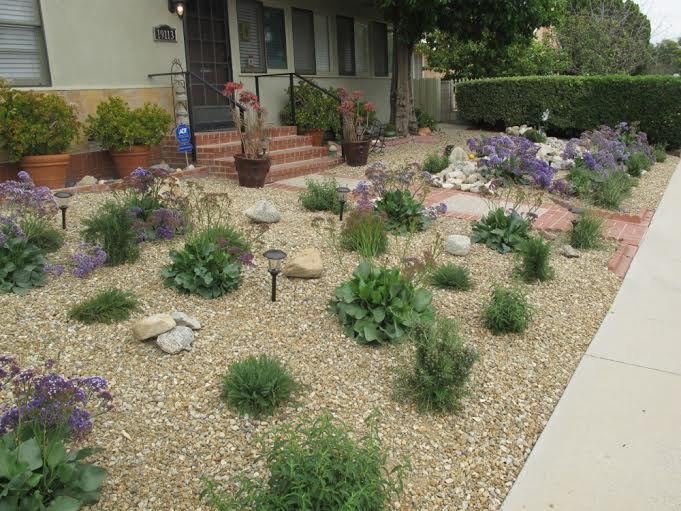 A drought-tolerant yard by Turf Terminators
Turf Terminators offers two preset landscapes: a Mediterranean-inspired yard full of fragrant, drought-tolerant plants like rosemary, sage and lavender, or a Southwestern-inspired yard with desert flowers and succulents.
Now that water cutbacks are mandatory and summer is nearing, Fox said he expects a big wave of Angelenos to go lawn-free, especially with the domino effect he's noticing.
"There's a significant network effect in terms of sign-ups," he said. "I think there was definitely some hesitation to being the first person on your block to transition your landscape … but what we're seeing now is that for every project we do, we see about three to five sign-ups on that block, or within a pretty tight geographic area."
Turf Terminators reports that on average, homeowners who sign up for their services can expect to save approximately $2,200 per year on their water bill.
Fox said the work of his company is part of "a cultural shift in Southern California from the previously desired aesthetic of an emerald green lawn."
Indeed, the idea of a grass-free yard seems to be catching on around the state. Last month in Visalia, California, a group of homeowners held a lawn-free garden tour to show neighbors what going grassless looks like and to provide inspiration for homeowners who want to transition to more sustainable landscaping. And the city planning department in San Francisco is letting residents vie for a free drought-tolerant yard makeover through its Ugliest Yard Competition, The San Francisco Appeal reports.
Helen, of Modesto Landscapes, said choosing to replace a yard could lead people to other environmentally conscious decisions down the line. "If you start saving water on your front yard," he said, "you're going to start thinking about how long you're taking a shower."
Calling all HuffPost superfans!
Sign up for membership to become a founding member and help shape HuffPost's next chapter
BEFORE YOU GO
PHOTO GALLERY
California Drought