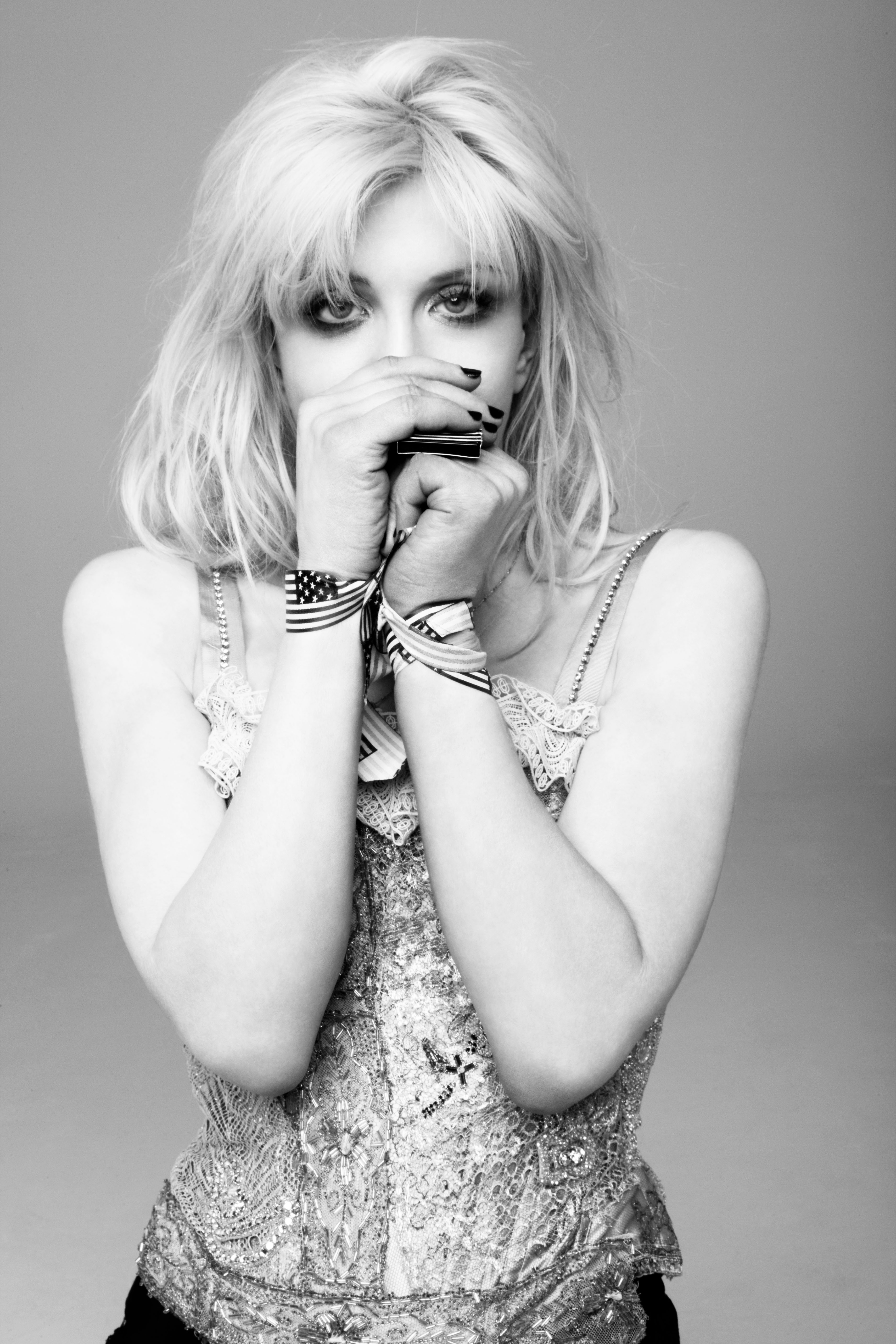 "The whole year, I've stayed controversy free," Courtney Love tongue-in-cheekily boasted during a phone interview Tuesday. The alt-rock goddess measured this, she explained, by the amount of lawsuits she's currently involved in. "I have none on my plate, and I plan on it remaining that way," she said, before cracking, "I'd love to be the plaintiff in a few."
Love, who launched a brief multi-city tour in Philadelphia last night (She hits The Capitol Theatre in Port Chester, NY June 27), hasn't exactly shied away from controversy recently but I'm not going there. Instead, I'll focus on the music, and you can Google articles about her Twitter rants and reported drama with daughter Francis Bean if you haven't read it in countless blog posts and Tweets. Overall, it has been quite some time since Love was in the spotlight for all the wrong reasons, and on Tuesday during a phone interview, the rocker, 48, really seems like she's gotten her shit together - so much so she actually considered doing a reality show this year. Alas, she's not.
"I was only going to do it because I'm so sick of being impeded by people [questioning] my mental stability because I flipped out on Twitter or that I'm still on drugs," she said in her signature rasp. "I'm not going to lower myself, [but] I did think about it."
Love's real concern is the footage would be cut in such a way they'd make her seem like she's off the rails again. "It'd have been a real war fighting with the network to not edit me. I'd literally have to just sit there and not say a damn word."
Trying to explain herself a bit, and understanding she has baggage and may have "asked for it" in the past, she noted, "Listen, I'm eccentric and sometimes I go off on tangents, but I'm more discreet and have a more introverted lifestyle. The truth is I don't give a shit what people think as long as it doesn't impede me. For example, if I'm trying to rent a house, sometimes I'm asked for a year in advance [because of] my reputation."

It's been nearly a decade since Love released her debut solo album "America's Sweetheart," but she's currently gearing up for its follow-up. Some might argue, however, that 2010's Hole album "Nobody's Daughter" was a one-woman show in that none of the other original members were a part of it, but I digress. In a word, "Sweetheart" was a mess for Love, and she knows it. Case in point: when I told her I dug it and thought it was underrated, she questioned me immediately. "It's awful. There's four songs, maybe, that are good on that album," she said. "And the art work for it was diabolical. That pin-up shit was so not me. I know it sounds petty to judge the album by the art work, but it was shit. I always had done it on my own."
Love's debut solo album was also marred by controversy in that she was arrested and institutionalized around the time she was touring to promote it. The media circus surrounding her from that incident still gets mileage. "It was a Celion Dion cliché. I went into this trap with let's call him 'Harvard Boy' who produced and managed me, and stole vast resources of mine. It impacted my career, and I got taken out to Bellevue on a stretcher. People don't seem to forget it," she said.
With all that said, it's pretty obvious that Love is anxious to get her next solo record out. She's testing out a few new songs - one which she said sounds like Big Black meets Fleetwood Mac - on the road. But, she explained, "not too many... I don't want to give them away, they leak and get stale by the time it comes out."
The album should drop by Christmas - around the same time her autobiography will hit book shelves. Like most things with Love, this hasn't gone according to plan. The current tour was put together to coincide with the record's first single, but it's not out yet. She said the reason it's not is so Harper Collins can market her book the right way - with new music and the book working together as part of a big promotion. "It's just common sense. Harper Collins is eager to do a huge push on it, and you can't always do that in the music business anymore," she said.
Love's album is still searching for a home but that's intentional by the artist herself. Despite being approached by major labels, she said she'd prefer to work with an indie. "Look at Queens of the Stone Age and Matador...If you were to tell me in the past that Matador would have a Number 1 record, I would've laughed." Ditto for DGC Records, she noted, who put out Vampire Weekend's latest. Of those indie labels and others, she said, "They've had the biggest success in America with alt-rock. The problem with majors is they don't know what to do with rock. It's funny hip hop is still really, really dominant. It hasn't died down."
As a matter of fact, Love, who owns the Nirvana catalog following her husband Kurt Cobain's death in 1994, just granted Hova permission to use lyrics off of the Seattle band's iconic, game-changing single "Smells Like Teen Spirit." That move comes after she covered Jay-Z's "99 Problems" at a Sundance Film Festival gig in January. "I'm letting Jay-Z use lyrics - Francis would freak [if she knew this.] Jay-Z's huge and we're friends. I mean we're not besties or anything...."
True to form, Love ends the conversation with this: "They [used it] without asking, which is kind of nervy but the business side has been taken care of so it's fine."
About A-Sides Music
Jon Chattman's "A-Sides Music" series usually features artists (established or not) from all genres performing a track, and discussing what it means to them. This informal series focuses on the artist making art in a low-threatening, extremely informal (sometimes humorous) way. No bells, no whistles -- just the music performed in a random, low-key setting followed by an unrehearsed chat. In an industry where everything often gets overblown and over manufactured, I'm hoping this is refreshing. A-Sides celebrates its two-year anniversary with a concert in White Plains, NY on Saturday, July 27 featuring Kopecky Family Band. Get your tickets here.
Popular in the Community