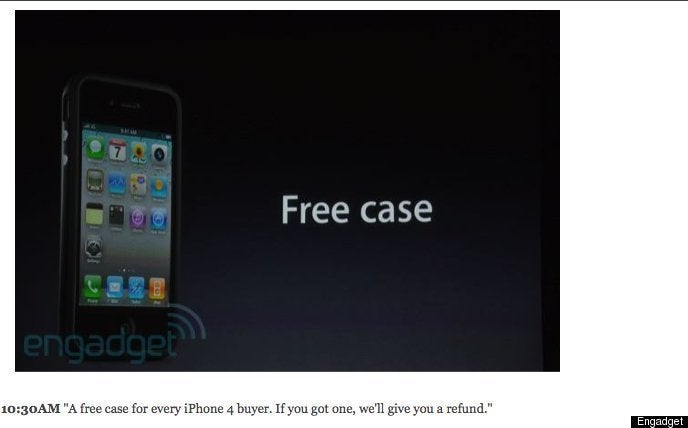 CUPERTINO, Calif. -- Apple says it will give free protective cases to buyers of its latest iPhone model to alleviate the so-called "death grip" problem: holding the phone with a bare hand can muffle the wireless signal.
Apple CEO Steve Jobs announced the giveaway Friday during a news conference at the company's headquarters, even as the company denied that the iPhone 4 has an antenna problem that needs fixing. The more than 3 million people who have already bought the iPhone 4 and new buyers through Sept. 30 will all be eligible. People who already purchased the $29 "Bumper" cases will be refunded Apple Inc.
"We're going to send you a free case. We can't make enough bumpers. No way we can make enough in the quarter. So we're going to source some cases and give you a choice," Steve Jobs said, according to Engadget's live blog of the iPhone 4 press conference.
Every user who buys the iPhone 4 through September 30 will be able to receive the free iPhone 4 case. Apple will also refund those who have already purchased an iPhone bumper.
Jobs added, "And if you're not happy, you can bring the phone back. We'll give you a full refund within 30 days. No restocking fee. We want to make everyone happy, and if we can't make you happy we'll give you a full refund."
The iPhone 4 has been dogged by complaints about the antenna problem since it went on sale in the U.S. three weeks ago. On Monday, Consumer Reports said careful testing had confirmed the issue. The magazine refused to recommend the phone and called on Apple to compensate buyers.
On Friday, in the company's first remarks following the magazine's report, Jobs said Apple was "stunned and upset and embarrassed." Yet Jobs denied that there was any "Antennagate" and spent part of the Apple press conference highlighting how other smartphones on the market also lose service when handled in certain ways.
"Well, we first learned that this doesn't just happen to the iPhone." Jobs said. "Nokia, Motorola... other phones have this issue."
"This is life in the smartphone industry," he added, according to All Things D's live blog. "Smartphones are not perfect."
What do you think of Apple's response? Tell us in the comments below.
Related
Popular in the Community