A new group in Colorado plans on providing cannabis to U.S. military vets as an alternative to using narcotics to treat physical or mental illness sustained during military service. The cost to vets? Nothing.
Called Operation Grow4Vets, the group intends to give away free marijuana, cannabis-infused oils and tinctures, as well as marijuana plant growing equipment, to qualified veterans.
"By providing veterans with free marijuana, related products, and other assistance we hope to help them reduce or eliminate the number and amount of prescription medications they are taking," Roger Martin, executive director of OG4V, told The Huffington Post. "Thus, allowing them to lead productive lives."
To qualify for OG4V's program, a veteran must have been diagnosed with a serious medical condition and must have received a recommendation from his or her physician for medical cannabis as treatment. Because OG4V is funded through donations and contributions from Martin and his family and from area businesses who donate equipment and cannabis, there is limited space available in the program.
For Martin, an honorably discharged U.S. Army veteran, the motivation to start this organization was personal.
"I have had chronic pain since the early '70s," Martin said. "I was prescribed Oxycontin when it was first introduced to the market."
But by 2010, Martin says he was taking 180 mg of OxyContin a day, in addition to Ambien, to help him sleep a few hours a night.
"After watching many people die from OxyContin overdose I knew that taking this poison would probably not result in a good ending for me," Martin said.
Later that year, with the prescribed use of Suboxone, Martin was able to wean himself off of all three drugs and now uses medical marijuana to ease his pain.
"Eating a marijuana infused cookie each night allows me to sleep five to six hours without the aid of prescription medications," Martin told HuffPost.
Early in Martin's career he was involved in law enforcement and is also the father of six children, factors which Martin explained led him to a strict anti-marijuana point of view. But it was his personal health journey, as well as seeing other friends and colleagues go through similar issues with narcotic pain killers, that led Martin to become an advocate for medical marijuana.
"I have in front of me an email from a veteran that arrived a couple hours ago," Martin said to HuffPost, "who is a medically retired Army veteran who use marijuana as a replacement for the 20 drugs that the VA given him for pain and PTSD. It's the only thing he now uses and he feels great."
Although Colorado legalized medical marijuana in 2000, veterans in the state suffering from PTSD aren't able to qualify for medical marijuana cards for the ailment because PTSD isn't listed as part of the state's eight conditions for which doctors can recommend medical cannabis to their patients. State legislators have failed three times to pass measures that would have added PTSD to the list, most recently last month.
But in 2012, Colorado voters approved Amendment 64, which legalized recreational use of marijuana for adults 21 and older. Even though conditions like PTSD do not allow veterans to take advantage of the state's medical marijuana laws, they can most definitely take advantage of the new retail marijuana laws.
However, Colorado veterans who use marijuana to address their PTSD symptoms risk losing their federal benefits.
"Twenty-two veterans commit suicide every day." Martin added. "This number does not include veterans who die from drug overdose. I wanted to do something to help not just young veterans, but all veterans. I was surprised to learn from my research that a higher percentage of Vietnam veterans suffer from PTSD than do the young vets."
Nearly 30 percent of veterans who served in the Iraq and Afghanistan wars suffer from PTSD, according to a 2012 report from the Department of Veterans Affairs. Scientists have speculated that marijuana could help veterans suffering from PTSD symptoms, which can include anxiety, flashbacks and depression.
A recently published report in the American Journal of Public Health suggests that states which have legalized medical marijuana may see a reduction in suicide rates in young men. Although the effect on males was clear, the study did not find conclusive evidence that medical marijuana legalization reduced suicide rates among females.
Earlier this year, the federal government signed off on a historic study looking at marijuana as a treatment for veterans with PTSD. The study will examine the effects of five different potencies of smoked or vaporized cannabis on 50 veterans suffering from PTSD.
Currently, there are 10 states that allow doctors to recommend medical marijuana for PTSD-related symptoms.
Last week, the U.S. House voted down an amendment introduced by Rep. Earl Blumenauer (D-Ore.) that would have altered the Military Construction, Veterans Affairs and Related Agencies Appropriations Act to allow qualified veterans to have open discussions with their VA doctors about cannabis as a form of treatment in the 21 states that have legalized the substance for medical purposes. Currently, the Department of Veterans Affairs bans VA physicians from recommending state-legal medical marijuana to veteran patients.
"This prohibition is directly tied to the unwillingness of the U.S. Government to accept reality," Grow4Vets website reads. "It is our position that this attitude reflects a callus disregard for the physical, mental, and emotional well-being of the brave men and women who have made incredible sacrifices to protect the freedom we love."
Although OG4V is up in running only in Colorado, Martin said that the group has hopes in the future to open up in all states where they can legally operate.
Before You Go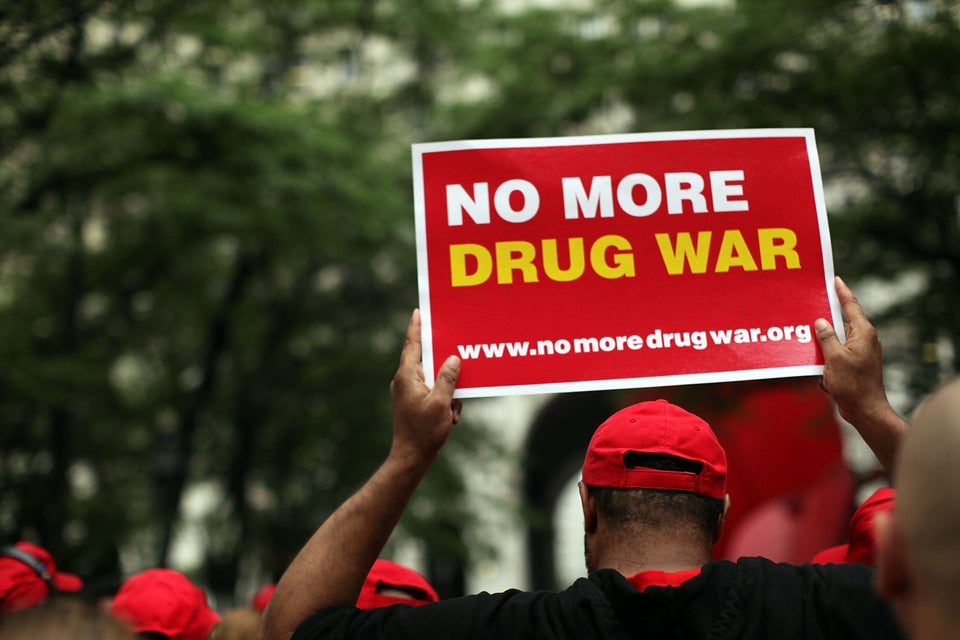 27 Reasons Why The U.S. Shouldn't Lead The War On Drugs
Popular in the Community