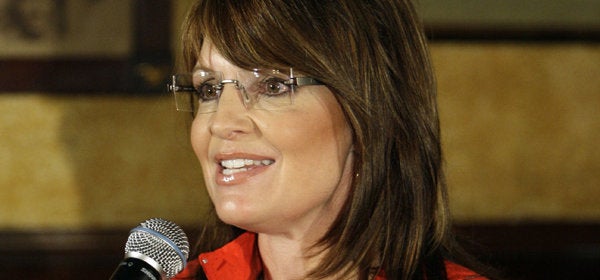 Despite bad reviews from all sides, John McCain's campaign has decided that having Sarah Palin do big broadcast interviews was a good idea, the National Review reports:
Team McCain tells me the strategy of having Palin talk to traditional broadcast networks ABC and CBS was designed to allow Palin to reach the maximum number of viewers. "Coming off her tremendous performance at the convention, our goal was to allow as many Americans as possible an opportunity to see her answer questions about her record, her biography and her principles and convictions on as large a stage as possible," one campaign source told me this afternoon. The new CBS interviews, to be done tomorrow, are intended to keep Palin in the public eye as she prepares for Thursday's debate.
Bill Kristol says McCain isn't happy, however, with the way his staff has been handling Palin and is making some changes for the debate:
I'm told McCain recently expressed unhappiness with his staff's handling of Palin. On Sunday he dispatched his top aides Steve Schmidt and Rick Davis to join Palin in Philadelphia. They're supposed to liberate Palin to go on the offensive as a combative conservative in the vice-presidential debate on Thursday.
The Wall Street Journal has more on Palin's liberation:
McCain campaign manager Rick Davis and senior adviser Steve Schmidt are planning to coach the candidate ahead of the debate, according to senior advisers. They traveled Sunday to meet the Republican vice-presidential nominee in Philadelphia. After her appearance with Sen. McCain at a rally in Columbus, Ohio, these top officials plan to fly with her on Monday to Sen. McCain's ranch in Sedona, Ariz., which they hope she will find a comforting place to prep, these people said.

More broadly, the McCain campaign aims to halt what it sees as a perceived decline in the crispness and precision of Gov. Palin's latest remarks as well as a fall in recent polls, according to several advisers and party officials.

...

Some prominent Republicans and senior members of Congress have expressed worries about certain facets of the Palin campaign, particularly that Gov. Palin may be "overprepared" and not encouraged to be herself, an adviser said.

"She hasn't had the time or inclination to question the judgments of the people telling her to hit her marks," said one Republican strategist. "Gov. Palin is a team player, but the campaign needs to adjust to a game plan that works for her.

...

"It's time to let Palin be Palin -- and let it all hang out," said Scott Reed, a Republican strategist."
Popular in the Community