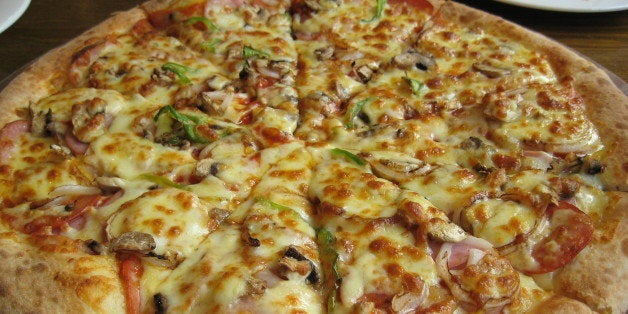 Just weeks after Domino's offered 50 percent off all online orders for March Madness, the company is back with yet another sports-centric deal. This time you'll get a free pizza with the return of Domino's MLB no-hitter pizza promotion. So if you're looking to score a free pie, you'd better hope that nobody scores.
The promotion, which is called "DomiNoNos," will go into effect for both the first AND second no-hitters of the MLB season. According to Domino's, participants must first register with MLB.com to make an account, and then log into MLB.com/dominono to claim their winning code. The first 20,000 people to register will receive codes for their free pizzas. Fans almost got lucky on Opening Day on Monday, until Oakland A's pitcher Sonny Gray lost his no-hit bid in the eighth inning.
Last year, the first no-hitter of the season occurred on May 25, 2014 from pitcher Josh Beckett of the Los Angeles Dodgers. The second occurred only a few weeks later, June 18, 2014, from fellow Dodger Clayton Kershaw. Sounds like you know the team to watch.
Regardless of who gets the no-hitter -- free pizza and great baseball? Now that's a home run.