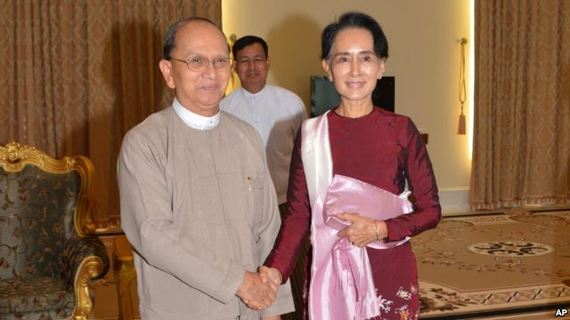 President Thein Sein, left, greets opposition leader Aung San Suu Kyi after recent elections in Myanmar, also known as Burma. (Ministry of Information)It would be easy to assume that things are rosy in Burma now that democracy leader Aung San Suu Kyi and her party have won a sweeping victory in national elections.
But there is some unfinished business.
That includes 10 journalists whose only crime was printing something that the military-backed government didn't like.
Some 486 protesters also are awaiting trial, including more than 60 students who tried to demonstrate peacefully for a more open and accountable education system. The students face prison terms of up to nine and a half years.
Keep in mind that the country's main Insein Prison is notorious worldwide for filthy and inhumane conditions. Political prisoners often are locked into dank "dog cells." The cells are only about 10 feet in length and seven feet wide. They are windowless and soundproof -- screams and moans do not escape. The dog cells usually have no sanitation, no bed and no mats on the floor unless a family member manages to bribe one in. Food usually is a thin vegetable soup with dubious ingredients. Water? Foul stuff guaranteed to lead to dysentery. Medical care? Nothing worthy of the name.
To further isolate the political prisoners from their families and colleagues, they are often sent to far-off prisons that are part of a sprawling prison gulag. The prison system includes some 42 prisons and more than 50 labor camps.
Four reporters and the CEO of the Unity Weekly journal currently are serving seven years at hard labor. Hard labor usually means back-breaking work, sometimes in shackles. Their crime? They reported in a front-page expose in 2014 about the alleged production of chemical weapons in a military facility. The case brought attention to the fact that Burma, renamed Myanmar by generals, had not ratified the Chemical Weapons Convention. The military-backed government finally ratified the agreement over the summer. But the journalists who raised questions about suspected production of chemical weapons are still languishing in prison.
A new report by the PEN American Center, a group that advocates for freedom of expression, has brought a much-needed focus to the risky climate for the media in Burma. The report found that while much of the blanket censorship of previous decades has been lifted, arrests and restrictive practices still chill expression. Journalists are routinely threatened, arrested, sued and fined by the government that is dominated by generals and former generals.
Since 2014, a free-lancer has been beaten and shot to death after photographing government fighting with ethnic armies. A columnist was jailed for saying at a literary festival that religious discrimination was contrary to the compassionate tenets of Buddhism. A young woman was arrested for posting a mocking comment on Facebook about new Army uniforms. As Aung San Suu Kyi's National League for Democracy prepares to assume new power in Parliament next year, it should insist the out-going government of President Thein Sein release all political prisoners. When Thein Sein -- a former general -- assumed office in 2011, censorship of the media was reduced and more latitude was allowed for private publications. Thein Sein subsequently made a pledge in London in July 2013 to release all of Burma's political prisoners by the end of the year.
However, the release of all political prisoners has not occurred -- and more have been arrested in the run-up to the recent national elections.
It's time for President Thein Sein to keep his London pledge. He should immediately and unconditionally release all political prisoners and journalists -- as well as those detainees facing charges for protests. Thein Sein has congratulated Aung San Suu Kyi on her victory and promised to cooperate in a smooth transition to a new government. That should include ending the kind of harassment of the media that has increased on his watch - like filing lawsuits against publications that report on government corruption. Thein Sein's Ministry of Information even filed a lawsuit against the Eleven Media company for reporting on the government's trial against them.
Burma's journey to democracy is far from complete. Allowing people to say and write what they think about decisions going forward will help ensure that progress continues.
Rena Pederson, a former speechwriter at the U.S. Department of State, is the author of "The Burma Spring: Aung San Suu Kyi and the New Struggle for the Soul of a Nation."
Popular in the Community