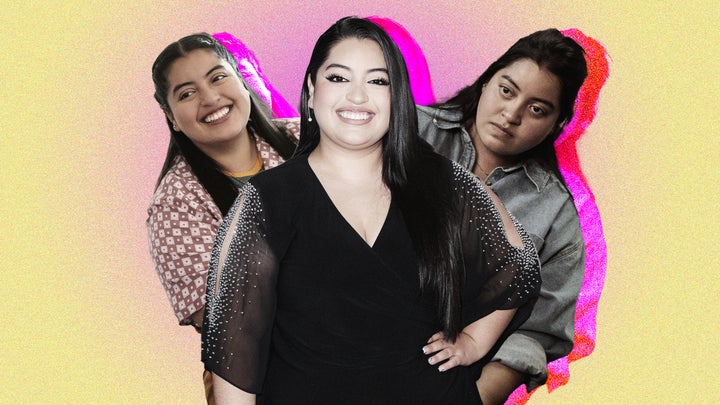 These days, folks often use the word "iconic" a bit too liberally. Like when a celebrity wears a fabulous dress to a red carpet event or an actor posts some worthy shade on social media. Even calling someone Hollywood's "It girl" has lost a lot of its flavor due to overuse.
But when someone manages to upstage Larry David, one of the funniest curmudgeons on TV, on his own show, as Keyla Monterroso Mejia has, then maybe we should just give the side-splittingly hilarious actor her due. If you've seen her play the remarkably untalented aspiring star Maria Sofia Estrada on "Curb Your Enthusiasm," then you already know what I mean.
Her comedy, as those who also caught her as a totally unserious teacher's aid undercutting Lisa Ann Walter's every effort on "Abbott Elementary" could attest, is bold, big, chaotic and utterly sincere. It's no wonder that she's now the star of Netflix's "Freeridge," the much-anticipated "On My Block" spinoff, where she is stealing the show once again.
And yet somehow, when you meet Mejia, 25, she seems just one of those things. "I'm so excited," she feverishly admitted as she jumped on a video call with me. "I'm so nervous. Oh, my god."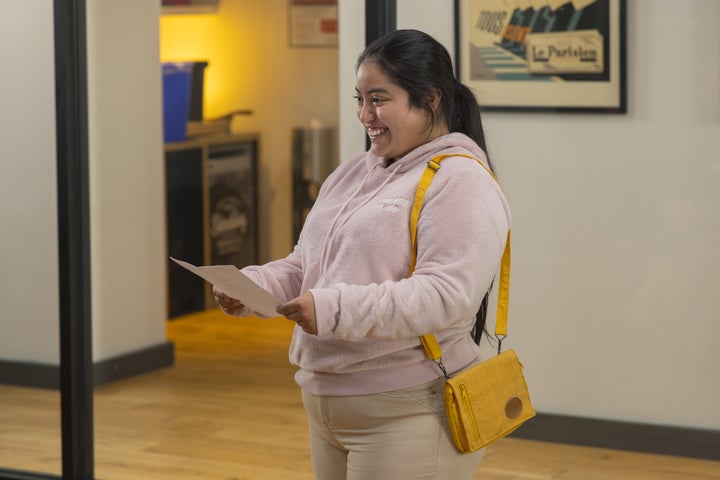 The earnestness is still very much there, and Mejia is, charmingly, much more grounded and aware than many of the characters she's played. But what is perhaps the most startling thing about her is that she's shy, which she confessed — as she often did — with a giggle.
It's that timidity, though, that makes Mejia so endearing and pushes her to give us some of the most ridiculously funny scenes. She has to go so far outside herself that she can't help but have a ball with it.
"My mom, brother, everyone will tell you I'm more quiet and reserved, and it's been really fun to get to express myself in these ways," the actor said. "I think I'm a little more self-conscious than these characters are."
Just that rapid-fire transition ― the first of many she has throughout our conversation ― from giddy excitement to thoughtful self-reflection gives you a lot of insight into who Mejia is.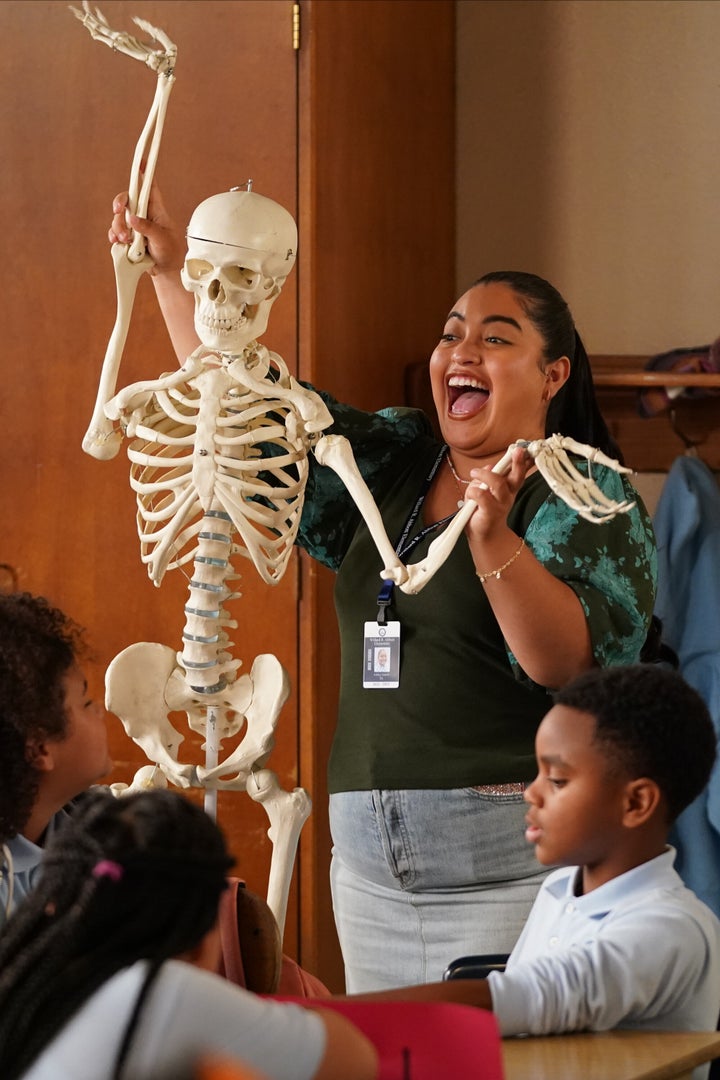 "You ever have this feeling of, like, 'Oh, I wish I could do that"? she asked me. "Or, 'I wish I could wear that, but I'm not as confident?'"
Like many people, she's an intriguing ball of contradictions; the type of star that, refreshingly, doesn't feel the need to put on airs about who she is off-screen.
"I think when I get to play these women, I am — I don't know how to say it in a nicer way — [like], 'fuck it,'" Mejia explained. "I'm not going to judge myself. I'm not going to worry about how I look or how I'm acting or what I'm saying. And it's really freeing."
It's also a far cry from who she was not too long ago. The first-generation elder child of parents from Mexico and Guatemala, Mejia recalls lacking self-esteem and being painfully shy growing up in California. But what sustained her was the world of make-believe.
"When I was little, I loved playing pretend more than other kids," she remembered. "I would take it really seriously and used to act like a teacher and made my little brother be a student and do homework. And other kids — they get bored within an hour or so."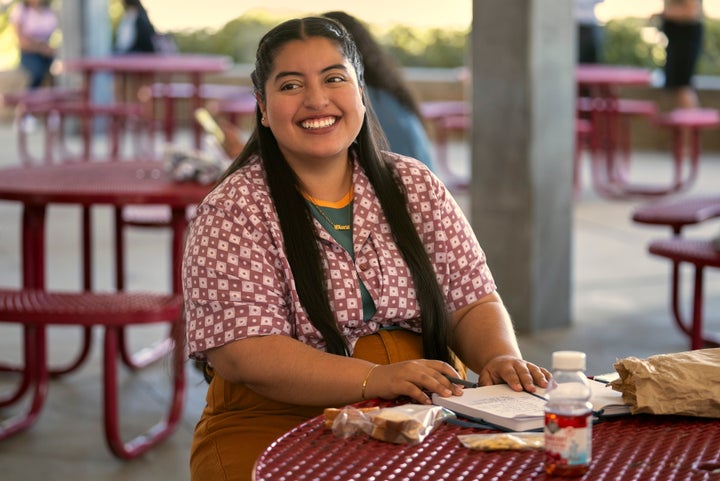 Once she discovered at around age 14 that acting was an actual job that she could get paid for, she threw herself into it, thankfully with her parents' full support. "I was able to do my own research and go into a performing arts high school and stuff and take on from there," Mejia said.
At this point, an entirely different thought entered her mind, letting me know that she's apparently still wrestling with the dichotomy between her actual self and her screen self.
"You know what's weird, not weird, but — people say there's a lot of people on set," the actor said. "There's not that many. Because everyone's behind the scenes, so I can't see them when I'm acting. I'm not aware that everyone's looking at you."
That is until reality sets in. "And then as soon as someone yells 'cut,' I'm in a cocoon, girl," she laughed. "I'm like, 'Oh my God.'"
It's these kinds of candid revelations that also help humanize Mejia's newest character, elder sibling Gloria on "Freeridge," making her instantly accessible, layered and fun to watch. In fact, when we meet her in episode one, she is tussling with her sister Ines (Bryana Salaz) in front of their entire high school.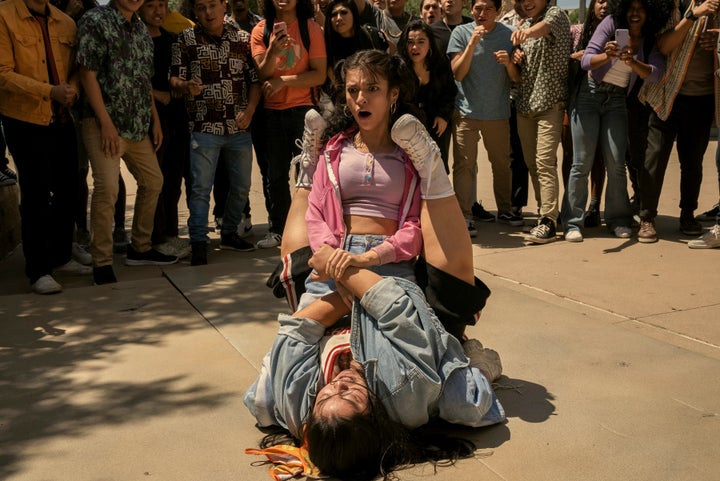 Fans of "On My Block" will remember all the drama among the show's core friend group (played by Sierra Capri, Jessica Marie Garcia, Brett Gray and Jason Genoa), Black and brown teens in South Central, Los Angeles, navigating life, love, gangs and a bag of stolen roller rink cash.
"Freeridge" is another heartfelt dramedy that takes some of that same grounded chaos (yes, there is such a thing, and this franchise has mastered it) and applies it to freshly complicated characters led by Mejia's Gloria, a teen with a whole new set of issues.
Those include an annoying younger sister, being a buttinksy, grieving her dead mother, worrying about her dad's health, a mysterious curse, keeping her friends happy and finding love.
And, oh yeah, the roller rink money resurfaces here.
Easter eggs like that are exactly the kind of things that excited Mejia, who was a massive fan of the original series. "Oh my gosh," she gushed. "That show — it was everything to me."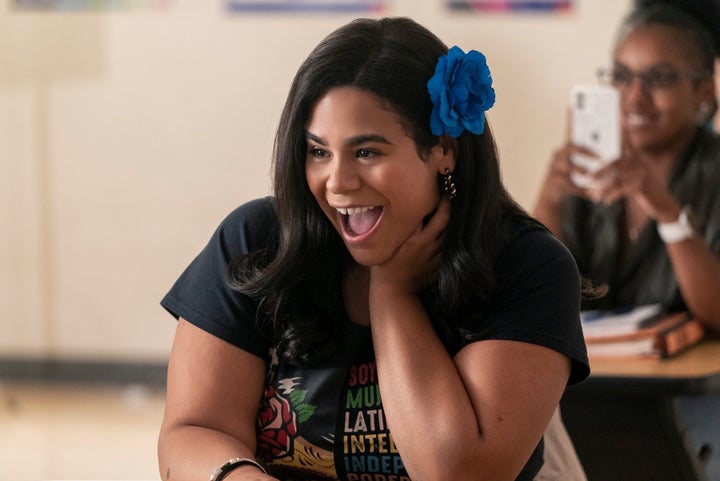 And it came right on time for her. "You know sometimes when you watch things at certain points of your life [when] they mean more because of what you're going through?" she asked. "I was really depressed and 'On My Block' was an escape to me. It gave me so much comfort."
The show also gave her a reflection of herself in Garcia's character Jasmine, a sex- and body-positive Latina teen who loved her dad and her friends dearly.
"I remember really looking at Jessica Marie Garcia and seeing myself and thinking, 'Holy shit!'" Mejia said. "'She looks like me and she's a character that I identify with.' And I remember she gave me so much hope."
So when it came to the auditions for "Freeridge," Mejia jumped at the opportunity to add her own spin to the franchise. She had her reservations, however.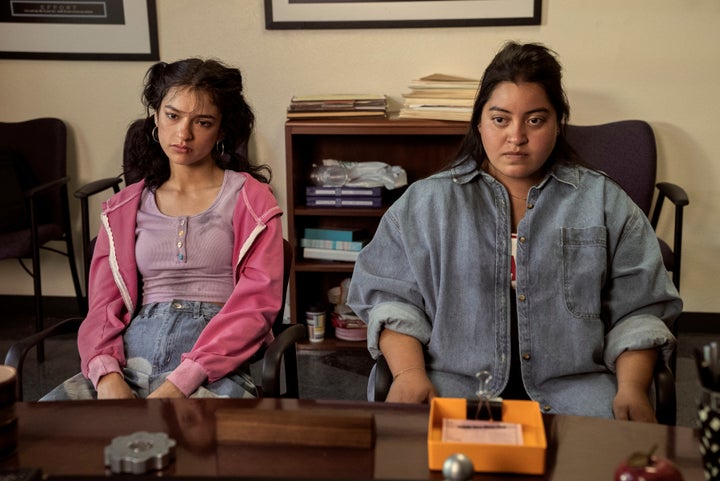 "I was like, 'As a fan, I don't know how I would feel about new people,'" she said. "I'm biased because obviously, it's me. I'm part of the new people. But if it wasn't me, I'd be like, 'I don't know about that.' So I was scared."
But then she read the script and was immediately obsessed with doing whatever it took to ace the audition process. "I remember wanting the role so badly," she said. "I was checking in every five minutes like, 'Have they called? Have they said anything?'"
As you watch Mejia embody Gloria throughout the first season of "Freeridge" — including her ticks, over-the-topness, vulnerability, and the fact that she loves fiercely and is a little all over the place — you begin to understand the source of the actor's anxiety. Gloria is the character she was born to play at this stage in her life.
Mejia giggled at the very thought of their similarities. "I felt like I knew her," she said. "I'm an older sister as well. I have a younger brother and I can relate to a lot of the things that she struggles with and how, at the end of the day, she just wants what's best for her family and her friends — maybe to an annoying extent."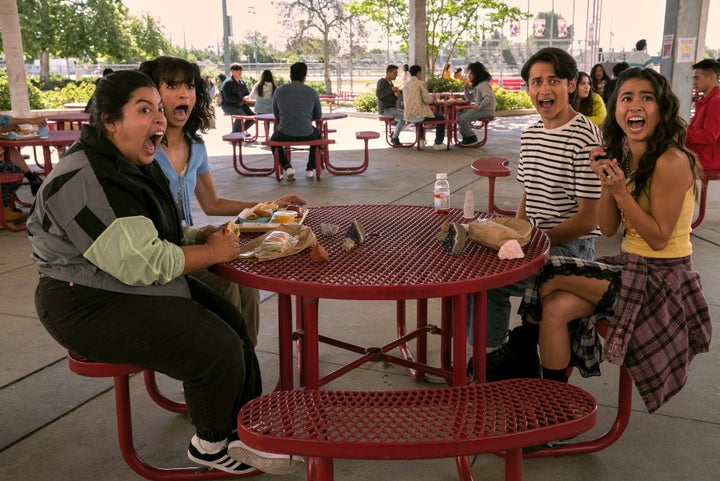 The actor knows that last part all too well from her own relationship with her family, and even sought help to work on it. "A couple years ago, I was exactly like Gloria and worked really hard in therapy to mind my own business and not meddle in the lives of other people," Mejia said plainly. She added: "I don't know why I have to feel like the savior of everyone."
Seeking guidance became a necessary step for a Pisces like herself, who used to put others' feelings above all else. "I think part of it was I was so busy dealing with other people's issues because I didn't want to deal with my own," Mejia recalled. "And I think sometimes Gloria is that way. But that was how I got in [to the role]."
With her delightful candor, comfort within her own body and sheer audacity to lay her emotions bare on screen, it might be easy to think of Mejia as someone to look up to. But that's not a position she is particularly conscious of, or in which she would even feel comfortable.
Still, she thinks about the ways her appearance or the way that she carries herself on screen can impact others. She noted that she used to be self-conscious about her arm hair ("I got it on my knuckles too," she said. "It's a whole thing") and was worried about how noticeable it would be on camera.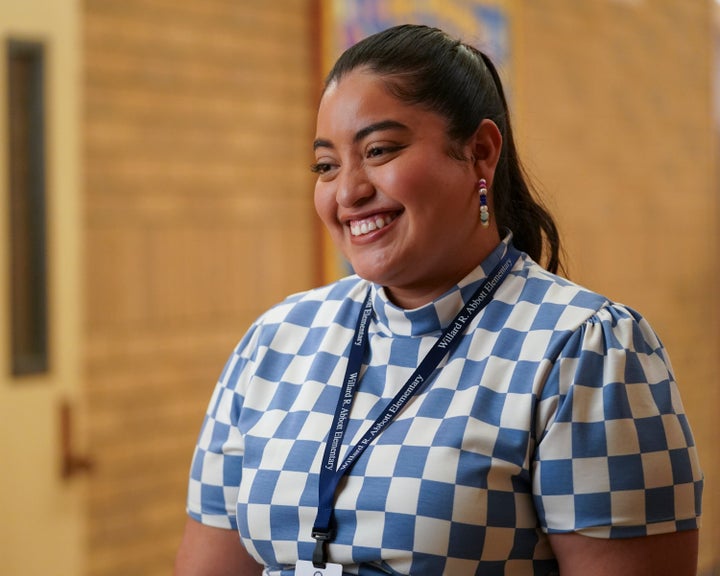 Now, Mejia realizes that many other young women might be able to relate to that. "I remember thinking, 'This is so ugly,'" she said. "Before we started shooting, I was like, 'Should I shave my arms? I don't want them to be on display.'" And I thought, 'No, I'm not going to do it.'"
She thought about her audience: "Because there's other girls like me and they'll see their arms. It was like, 'There's a little hair. It's not going to hurt anybody. Who cares?'"
The same goes for how her body appears on screen. "I think with the things that I wear as well, being confident in it and just not moving or sitting or standing in a way that's going to make me look skinnier," Mejia continued. "You know what I mean?"
She makes these small decisions to help audiences like her feel better or see themselves in her. Because, as she put it, "I know this is what I used to feel like."
But make no mistake, she's not trying to be the next Hollywood idol. "Not necessarily wanting to take on the responsibility of being a role model," Mejia added with a laugh. "I am so flawed. Is it even possible? It's not possible."
No, and that's what therapy is for.
Related
Popular in the Community